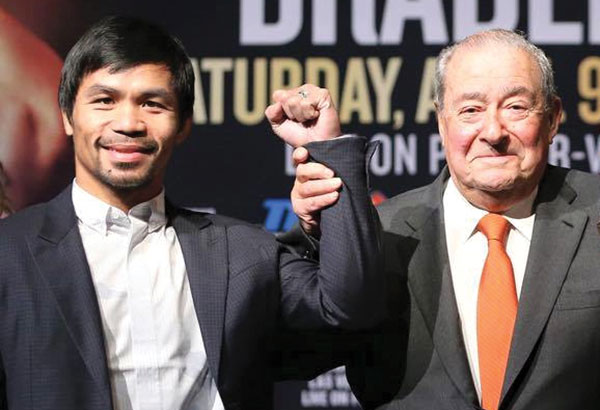 Manny Pacquiao and Bob Arum
No commitment, nothing sealed in Pacquiao-Arum meeting
MANILA, Philippines – Bob Arum's visit to General Santos City last Friday was "brief and cordial" with nothing concrete coming out of a two-hour closed-door meeting at Manny Pacquiao's sprawling mansion.
"Nothing was sealed," according to a source from within Team Pacquiao.
The new WBA welterweight champion did not issue a statement about what transpired during the meeting, which came nearly three weeks after his smashing TKO win over Argentina's Lucas Matthysse in Kuala Lumpur.
Arum played a lesser role in that fight, limited to broadcasting the title clash in the United States. Pacquiao played the role as lead promoter, in partnership with Golden Boy Promotions.
Aside from Arum and Pacquiao, also present during the meeting were Top Rank president Todd duBoef and a handful of persons associated to the senator.
A lawyer for Pacquiao was present "just in case legal matters were discussed."
"It was really a simple visit. Bob Arum reiterated that he's willing to help in any future plans of Manny Pacquiao," said the source.
An issue regarding the airing of the Matthysse fight on ESPN+ was discussed during the meeting. But the source said it's something for the lawyers to handle.
It was the first meeting between Pacquiao and Arum in over a year, since the Filipino boxer lost to Jeff Horn in a controversial fight in Brisbane in July 2017.
Pacquiao had maintained that the fight against Horn was his last under a long promotional contract with Top Rank, and that from hereon he will promote his own fights.
The impression was that Arum flew in, on board a private jet, to lure Pacquiao back under his wings, and continue a relationship that produced some of the great fights in boxing history.
Arum arrived in General Santos City at 10 a.m. and boarded the same private plane out of the country at around 4 p.m.
The source said Arum had mentioned a couple of potential opponents for Pacquiao should the 39-year-old wish to take them, including a rematch with Horn.
"But nothing was finalized," the source said.
"No commitment," he added.