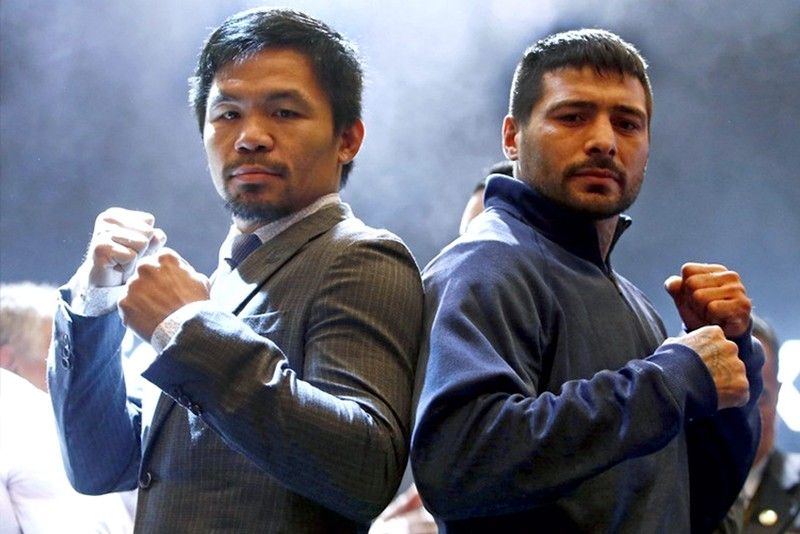 Manny Pacquiao and Lucas Matthysse pose in a photo shoot last Thursday.
whtc.com
Manny Pacquiao offered rematch in Argentina
Abac Cordero
(The Philippine Star) - April 21, 2018 - 12:00am
KUALA LUMPUR – Manny Pacquiao stated Friday he's not thinking of retirement yet while Argentine champion Lucas Matthysse sounded so confident of victory he has practically offered his challenger an immediate rematch.
The two boxers stayed glued to each other like friends, from Wednesday's press conference in Manila to late Thursday evening's flight to this Malaysian capital for yet another press event at the classy Le Meridien Hotel here.
"Definitely, this is not my last fight," said Pacquiao.
"I want my last fight to be in the Philippines. That is my dream. I have a couple more fights before I retire," he added.
It's nothing new that Pacquiao said he's not done yet in boxing. But he was asked by the local media here, who had seen him more times on TV than in person, if the July 15 fight with Matthysse could be his last fight.
"I want to be world champion again," he had said.
Matthysse, who hasn't gotten any decent sleep since he arrived in Manila early Wednesday, was asked if he would like to do a rematch with the Filipino icon should he be successful in his first defense of the 147-lb title.
He said yes.
"If it's a great fight then I would want to do a rematch if Manny is open to that. And if not, then I will fight anybody. It doesn't matter," said Matthysse.
At 35, he's four years younger than Pacquiao, who's in the final bend of an illustrious career. The Argentine has yet to get a taste of real stardom, and he might get it if he beats Pacquiao at the Axiata Arena here.
Matthysse won't think twice in giving Pacquiao a rematch – in Argentina.
"Obviously, if it's a good fight and there's a possible rematch I would love to invite Manny to fight me in Argentina. It will be a historic event," said the champion.
"I would love to defend my title in Argentina. I haven't fought there for many years now. I would love to fight there and defend my title," he added.
Aside from Pacquiao, there are good or great fighters at 147, champions that include Jeff Horn, Keith Thurman or Errol Spence.
Pacquiao and Matthysse flew in under cover of darkness Friday, at around 3:45 a.m., on board a chartered Philippine Airlines Airbus 320, with 70 or 80 others. The plane took off at the NAIA Terminal 2 a little past midnight, due to the late arrival of the two fighters, who had come to watch the finals of the Maharlika Pilipinas Basketball League in Muntinlupa.
Matthysse was asked what makes him think he could beat Pacquiao, the only fighter in history to win world titles in eight weight classes.