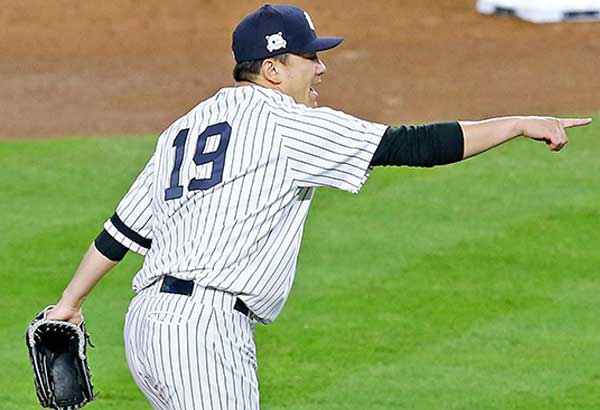 Masahiro Tanaka of the New York Yankees reacts after the end of the top of the seventh inning against the Houston Astros in Game Five of the American League Championship Series at Yankee Stadium in the Bronx borough of New York City. AFP
Tanaka, Yanks blank Astros, post 3-2 lead
(Associated Press) - October 19, 2017 - 4:00pm
NEW YORK – This time, it was Masahiro Tanaka who was untouchable on the mound.
And when the New York Yankees sent Houston ace Dallas Keuchel to an early exit, their rollicking crowd let loose with a cathartic roar that must have boomed all over the Bronx.
"New York is no joke," Keuchel said afterward.
One more big win, and these Yankees are World Series-bound.
Tanaka pitched seven innings of three-hit ball and New York finally solved a longtime nemesis at just the right moment, beating Keuchel and the Astros 5-0 on Wednesday for a 3-2 lead in the AL Championship Series.
"What a performance," Yankees third baseman Todd Frazier said about Tanaka. "Just gutsy."
Gary Sanchez hit an RBI single off Keuchel and later homered to help the wild-card Yankees win for the third straight day at home, moving them within one victory of their first pennant since 2009 and record 41st overall.
The teams head back to Houston for Game 6 on Friday night, when Justin Verlander and the reeling Astros will try to regain their footing following an off day and force a decisive Game 7. Luis Severino is scheduled to start for New York.