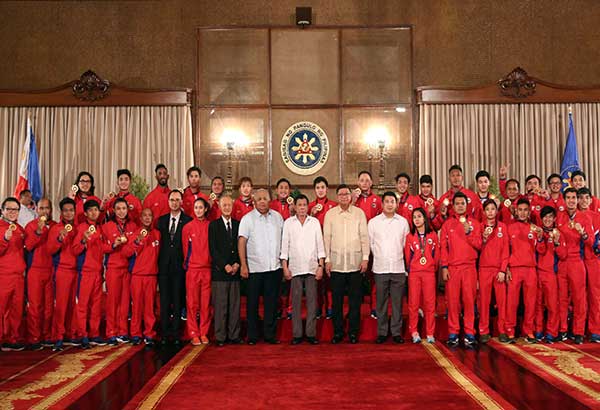 President Duterte looks at the gold medal of 29th SEA Games marathon winner Mary Joy Tabal during an awarding ceremony at Malacañang yesterday. KRIZJOHN ROSALES
DU30 gives SEAG medalists P16M bonus
Abac Cordero
(The Philippine Star) - September 13, 2017 - 4:00pm
MANILA, Philippines — President Duterte yesterday gave Filipino athletes who brought home medals from the 29th Southeast Asian Games in Malaysia cash incentives in elaborate rites in Malacañang.
The President, who squeezed time from his very busy schedule, welcomed the athletes, in their bright red track suits, and sports officials at Malacanang's Rizal Hall.
"I express my gratitude to the athletes. I congratulate you all, especially the medalists, for the accomplishment that brought honor to our country.
"You have prevailed and made our nation proud," the President added.
The contingent arrived at Malacañang on board three buses at 3 p.m. and had the chance to see the President after waiting for four-and-a-half hours.
But no one complained because for some if not most of the athletes, it's a rare opportunity to see the President.
Leading the gold medalists were back-to-back SEA Games triathlon champion Nikko Huelgas, marathon's Mary Joy Tabal, boxing's Eumir Felix Marcial, taekwondo's Sam Morrison, equestrian's John Syquia, wushu's Agatha Wong and billiard's Cheska Centeno.
Under the Incentives Act, each gold medal in the SEA Games is worth P300,000, silver medal P150,000 and bronze medal P60,000.
Only the gold medalists received their incentives directly from the President. But everybody, in small batches, had the chance to have their pictures taken with the President.
Close to P16 million were distributed to the athletes, who brought home 24 gold, 33 silver and 64 bronze medals from Kuala Lumpur.
Executive Secretary Salvador Medialdea, Presidential Adviser on Sports Dennis Uy and House Committee on Youth and Sports chairman Conrado Estrella III awarded the incentives to the silver and bronze medalists.
"Wear those medals with pride," Medialdea told the athletes, whom he praised for their "fire and ferocity" and their great ability to deal with pressure.
Uy gave the athletes a bigger reason to cheer: an additional bonus of P50,000 for every gold, P30,000 for a silver and P10,000 for a bronze.
Also present were Philippine Olympic Committee president Jose Cojuangco, Philippine Sports Commission chairman William Ramirez and his commissioners.
In team events, like basketball and ice hockey, the members divide the incentives equally among themselves.