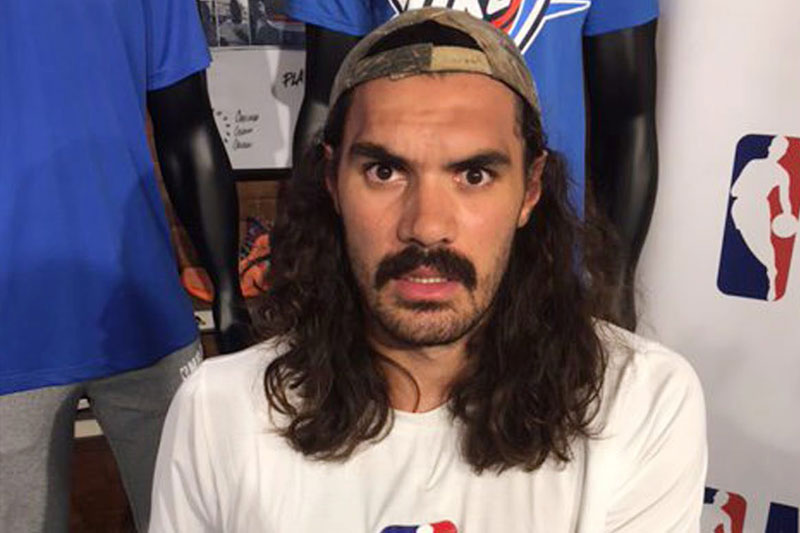 NBA star to get body tattoo from local artist
MANILA, Philippines - Oklahoma City Thunder center Steven Adams, who's in town to attend the NBA 3X event this weekend, said yesterday he would've liked to go up north and get a tattoo from 100-year-old Whang-od in Buscalan, Kalinga, but his schedule is too tight so the 7-foot New Zealander hopes to take another trip over for his dream body art.
Adams, 23, said he found out about Whang-od on Facebook. "I was going to get it done, I wanted to but the timing didn't work out (on this trip)," he said. "I'll try to work it out the next time (I visit). I've seen her video on Facebook. She just popped up. If I went, it would've been such a cool adventure. It would've been sick."
Whang-od has been imprinting tattoos in the traditional "batok" style for over 80 years. Celebrities like Rhian Ramos, Drew Arellano and Aiza Seguerra have journeyed to her camp in Buscalan for tattoos. Tourists seek her out as she's been featured in TV documentaries shown all over the world. Whang-od uses a mix of charcoal and water to engrave her designs with the thorn end of a calamansi or pomelo tree branch. A village elder, she has been nominated for recognition as a national artist.
Adams' right forearm was tattooed by New Zealand artist Andy Tauafiafi with a Polynesian design surrounding a stylized lettering of Funaki, his middle name. The tattoo reflects Adams' love of family, values, culture and his Tongan and Maori roots. Like PBA players Asi Taulava and Mo Tautuaa, Adams is half-Tongan. He is the youngest of the late Englishman Sid Adams' 18 children with five women. Adams' sister Valerie, 32, won the gold medal in shotput at the 2008 and 2012 Olympics and took the silver in Rio last year.
Adams was Oklahoma City's first round pick in the 2013 NBA draft. He earned $9.7 Million in his first four years as a pro. Last October, Adams signed a four-year, $100 Million contract extension. He averaged career highs of 11.3 points and 7.7 rebounds, shooting 57.1 percent from the field, as a starter last season. Adams teamed with Kevin Durant and Russell Westbrook in his first three campaigns as the Thunder advanced to the Western Conference Finals in 2013-14 under coach Scott Brooks and in 2015-16 under coach Billy Donovan. With Durant gone to Golden State, OKC lost to Houston in the first round of the playoffs last season. Paul George was recently added to the Thunder roster.