Looking at FEU's Game 1 win over UST
(Philstar.com) - November 25, 2015 - 10:11pm
MANILA, Philippines – How big was that Game One win by FEU over UST?
It comes at a big time especially after taking two losses to the Growling Tigers in the elimination round and two not so great performances heading into the Finals.
While one could say that they accomplished the same thing by taking Game One of the Season 77 Finals against NU (they lost the next two games), these are somewhat different circumstances.
For one, it arrested the assertion of their propensity to choke. This past season taught the Tamaraws many things - bouncing back from a terrible loss (that followed a big win), winning close games, comeback from deficits, and bucking poor performances from key players. It seems that Nash Racela's boys have found the right ingredients for a championship recipe. Now if they can serve a winning dessert…
In their two elimination round matches with Bong dela Cruz's Growling Tigers, I previously pointed out that there was no rhyme or reason to winning the rebounding battle etc. It came down to starter points, inside points, second chance points and UST's ability to come back.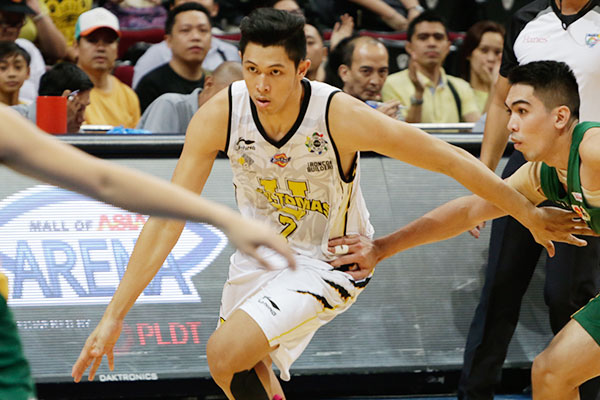 How did that play out in Game One?
Starter points: UST outscored FEU's 46-37 (the Tams' first five scoring is down because Mike Tolomia and Mac Belo have been coming off the bench of late).
Inside Points: equal at 34 each (FEU's Prince Orizu and Russel Escoto had better than 50% field goal accuracy inside)
Second chance points: FEU enjoyed a whopping 56-32 advantage on the boards with the Tamaraws scoring 17 second chance points (UST managed 11). Those six more points sure helped especially those rim rattling putbacks by Orizu.
Coming back: UST came back from the deficit but FEU successfully beat them back with their late fourth period stand. This is huge for FEU's collective psyche that they held and answered the Tigers' spirited rally.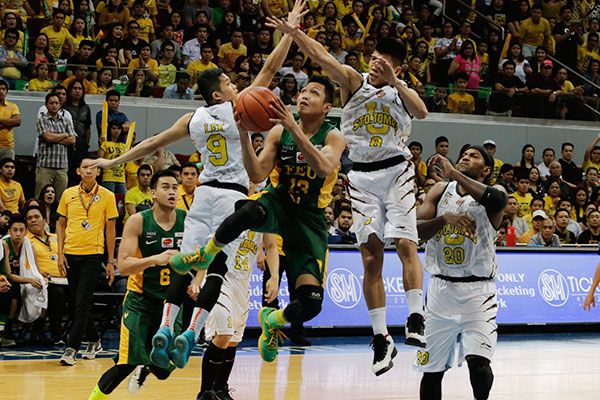 Here are some things that turned the tide for FEU:
FEU received a lot of contributions. Five players scored in double digits beginning with Roger Pogoy's 15 and followed by Mike Tolomia's 14, Mac Belo's 13, Russel Escoto's 12, and Prince Orizu's 10. It should be noted that this is the first time against UST this campaign where FEU's Big Three of Tolomia, Belo, and Pogoy all scored in double figures.
FEU played better as a team. The Tamaraws tallied more assists, 13-5. That really helps when the ball is whipped around.
One other thing… Ed Daquioag was missing for UST. Ed, who has been a huge pillar of strength for the Growling Tigers this season, where he averaged 16.4 points, 5.6 points, 2.2 assists,1.1 steals versus 3.4 turnovers. In Game One of this year's championship series, Daquioag compiled four points and five rebounds to go with four turnovers in an effective 24 minutes of action. He's had consecutive tough outings in the last two matches including the Final Four win over NU. In those two games, he's averaged 6.0 points and 6.5 rebounds. Not bad but poor by his standards. In fact, he's struggled this second round as teams have geared up to stop those lane incursions.
That is the fourth consecutive Finals match dating back to Season 76 where Daquioag hasn't done much.
Season 76 Finals Game One - four points
Season 76 Finals Game Two - zero points
Season 76 Finals Game Three - DNP
For sure Karim Abdul and Kevin Ferrer cannot do it alone. If they want to extend the series to a winner-take-all match, Daquioag must fire on all cylinders with the other two also making heavy contributions.
The two pertinent questions heading into Game Two will be: can FEU erase years of futility and close it out or does UST have another comeback in them?
It is going to be even more explosive.