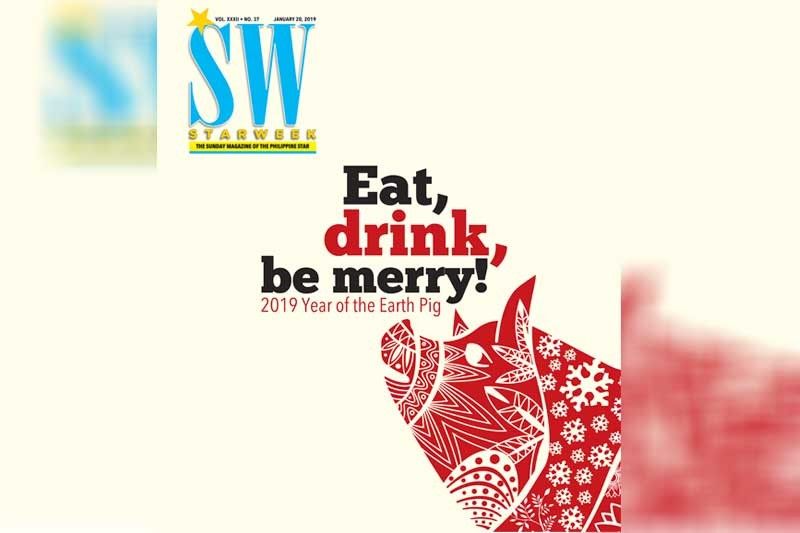 2019 Year of the Earth Pig
MANILA, Philippines — The Year of the Earth Pig begins on Feb. 5 and will end on Jan. 24, 2020. This period is significant because it marks the end of the 12-year cycle of the lunar calendar. The cycle begins with the year of the Rat followed by the years of the Ox, Tiger, Rabbit, Dragon, Snake, Horse, Sheep, Monkey, Rooster, Dog and ends with the year of the Pig.
During this last year of the cycle, most of us will get a deserved break from the fast-paced and oftentimes challenging 2018 Year of the Dog. It is a time for introspection and an opportune period to assess the past and plan for the future. Liken it to the last year of long schooling when we feel euphoric yet begin to anticipate what's going to be in store for us after graduation.
The general predictions for 2019 will be affected by the innate characteristics of the Pig and how the prevailing elements – principally Earth and secondarily Water, will interact with our individual animal signs. In the Chinese horoscope, the lunar year is influenced by five elements – metal, earth, wood, fire and water – which the Chinese believe are the basic components of the universe. The relationships or interactions between the five elements determine what's going to be in store for us during the year.
General Prospects for 2019
As an animal, the Pig does not have a very appealing image in the West and many people have prejudices against it. However, among the Chinese, the Pig symbolizes wealth and prosperity. We should therefore expect a time of plenty. Perhaps the old adage, "Eat, drink and be merry!" will be applicable to most of us in 2019.
Being sensitive is part of the nature of the Pig. He dislikes overly dramatic changes, major distractions and histrionics. So in general, we will experience a calmer year – fun but expect no significant changes. What will be in the spotlight this year is entertainment, good food, parties and feel-good occasions.
This calm nature of the Pig will also have an effect on global situations. While the prevailing elements this year are the yin Earth and the intrinsic Water element of the Pig, we could see destructive consequences when they interact. But the "Mother Earth" quality of the yin Earth is more gentle, so we can expect a calmer and more harmonious world. Peace and prosperity are the key words in the Year of the Pig.
However, this situation may at times be volatile, for the yin Earth sitting on top of Water is unstable and may cause some conflict and destruction. While there will be general peace around the world, there will be outbursts of violence and rebellions, although not long-lasting, in some parts of the Middle East and South America.
This phenomenon will also see some major natural calamities affect certain parts of the globe – catastrophes related to Earth (volcanic eruptions, mining disasters and earthquakes) and Water (severe flooding and storms).
The world economy will improve but will be unstable at times. This will be manifested by volatile stock markets and a roller coaster trend in oil prices. Industries related to yin Earth and Wood will perform well in the stock market and will experience growth. These industries include creative industries such as fashion, media and publishing; environment-related enterprises; and education. Also expected to experience growth are real estate, mining, insurance, F&B, retail and information-communication technology industries.
The property market will be on the upswing until the third quarter of the year, with the values of land and housing peaking during the third quarter. This year will therefore be an opportune time to invest in the property market.
Those born in the years of the Tiger, Rabbit and Sheep, animals that are most compatible with the Pig, will reap the most benefits in the Year of the Earth Pig. Opportunities and luck will come by easily. The hard work you've put in during the last 12 years will bear fruit this year. On the other hand, Snakes and Monkeys should be cautious for they are least compatible with the Pig. No major changes in your lives – professionally, financially and emotionally – should be undertaken in 2019.
On the whole, we can all sit back and relax, enjoy the fruits of our labor during the past years, as we celebrate the Year of the Earth Pig with enthusiasm and delight.
RAT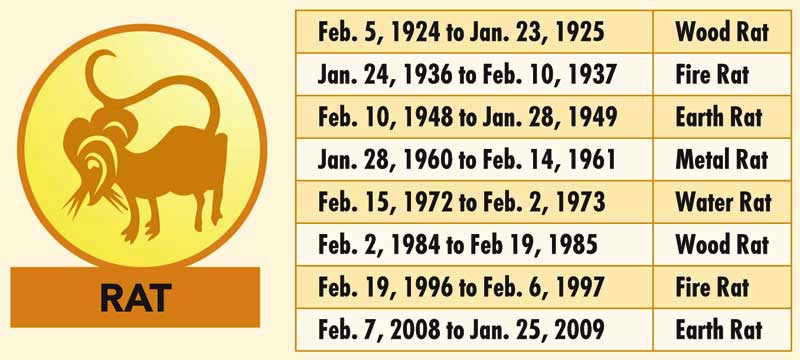 The person born in the year of the Rat is hardworking and thrifty. He rarely lets an opportunity pass and is constantly involved in many plans and schemes. Charming, intelligent and sociable, he is easy to get along with and enjoys parties and social gatherings. He cherishes friends, associates and family relations and often gets enmeshed in people's lives and affairs.
The Rat will enjoy a relatively calm and satisfying Year of the Pig. This means that good fortune will smile upon you this year – a period of happiness and loads of opportunities for professional and personal growth. This is especially true for Rats born in 1960 who will feel liberated from a major, personally constraining problem.
You will be quite busy with work this year. Your superiors will entrust you with important tasks that you'll need to prioritize over your normal workload. The first half of the year will be particularly hectic but you'll meet success during the second half. You should also use the first six months to finish projects that you've shelved for a while. If you own or run a business, this is not a good year for risky investments. And if you're part of a new venture, your group should carefully study the financial plan before proceeding. Your finances will improve beginning the middle of the year. Be circumspect with your expenditures as you'll need to have resources for an unexpected expense later in the year.
Your personal life will be stable and enjoyable. It will be a good time to assess important relationships and clear off unnecessary affiliations. In order to maintain positive relations with your partner, extra effort will be needed to keep the fire burning. Single Rats will have good prospects for a long-lasting romance but be careful to distinguish love from passion or the relationship will not prosper. Your health will be stable despite occasional fatigue, so try to find time to rejuvenate by going on a vacation or joining a health regimen. But mentally, you'll be at the top of your game in 2019.
OX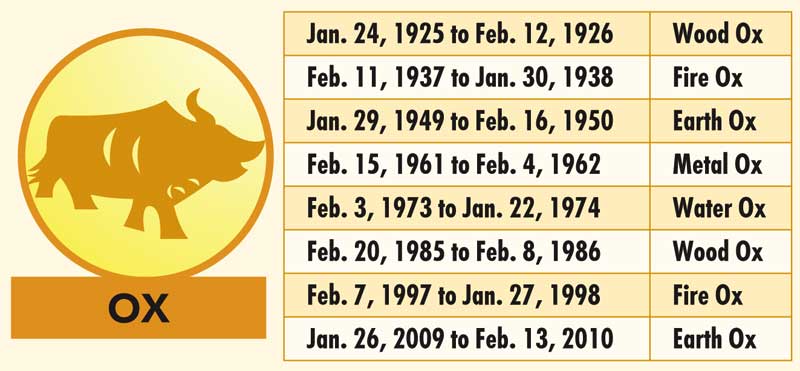 The Ox is an animal that symbolizes prosperity through determination and hard work. A person born under the Ox sign is dependable, calm and methodical. He is a tireless worker and can be entrusted with positions of authority and responsibility. Strong-willed and persistent, he can sometimes exhibit bad temper.
Oxen are among the luckiest persons in the Year of the Earth Pig. Almost all aspects of your life will meet with good fortune. And finally, you'll enjoy some sense of stability from which you'll enjoy the fruits of your hard labor in the past few years. Your key words this year are "new prospects" and they will come to you, sometimes, on a silver platter.
Professionally, 2019 will present new career prospects and opportunities to make money. If you've been thinking about it for some time, shifting careers or changing employment will be favorable this year. You will be loaded with work, but with perseverance, you will reap the rewards towards the yearend. Those involved in business should use more creativity and you'll benefit from the outcome. New projects will come your way, bringing additional income. Financially, you will enjoy a steady inflow from regular and unexpected sources. This year will therefore be a good time to shore up your savings for the future.
On personal matters, 2019 will be peaceful and oftentimes a happy year for the Oxen. Your family and friends will be a great source of support and emotional satisfaction. Always keep them in the loop for major personal decisions. Oxen who are currently attached will enjoy reinvigorated rapport with your partners. Single Oxen will meet new prospects for romance through a chance encounter during the second or third quarter of 2019. You should endeavor to join a social group or charity organization for your well-being. Your health will be generally good but you'll need to watch your food intake to prevent blood related illnesses.
TIGER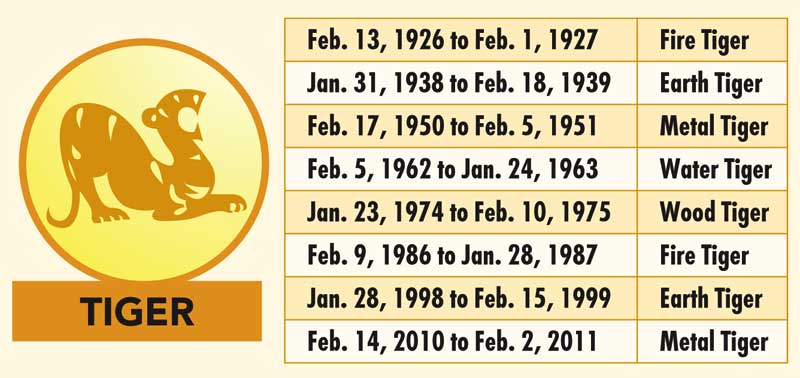 The Tiger symbolizes power, passion and daring. A Tiger therefore usually displays a rebellious, colorful and unpredictable character. He is a fearless and fiery fighter but on the other hand has a humanitarian and romantic streak. At his best, he is warm, sensitive and sympathetic; at his worst, he is obstinate, unreasonable and selfish.
The Year of the Pig will be a fulfilling year for Tigers. There will be challenges along the way but the yin Earth will bless you with more power and energy to help you surmount obstacles. All the hard work you've put in last year will bear fruit. This is also the year to aim for your long-planned goals.
Your career will be on the upswing in 2019. Expect some positive changes that will surprise and delight you. Those involved in business will enjoy substantial returns. However, try to avoid inking new deals during the second quarter of the year. Tigers planning to change professions will see opportunities arise during the third or fourth quarter of the year. Your keys to success in 2019 are two things – intuition and teamwork. Your finances will improve substantially but it is wise to settle loans and obligations first before spending on unnecessary things.
On the domestic front, you will enjoy happy moments with friends and family. Do not let professional success get to your head. It is important to strengthen relations with your loved ones by being accommodating and forgiving. However, the love life of single Tigers does not look promising. You will encounter some love interests but they are not long-time partner material. Enjoy their company but do not be too serious for now. For Tigers who are already in a solid relationship, this is a good time to settle down. Your health will be fine but in order to keep up with your hectic professional and social life, you'll need to exercise regularly. Taking on a new hobby will work wonders for you.
RABBIT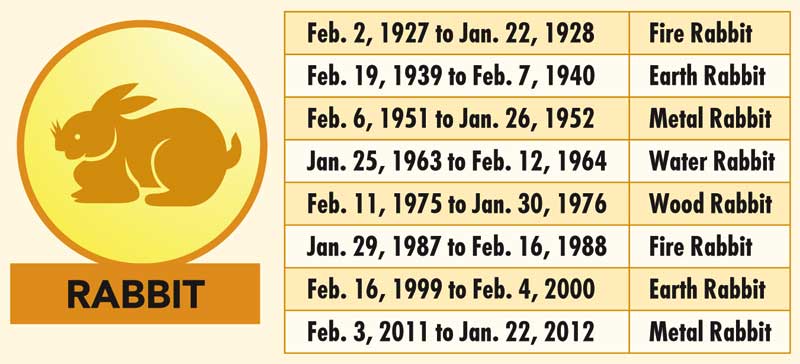 To the Chinese, the Rabbit symbolizes graciousness, good manners, sound counsel, kindness and sensitivity to beauty. The Rabbit is a witty and intelligent speaker and loves being involved in a good discussion. He is an efficient worker and has an extremely good memory.
Time to party! You will have an exciting and fulfilling 2019. The Pig will bring winds of change in your professional and social life. Manage these changes well and you'll see positive results. Your luck will also improve if you mind your own business and avoid disputes.
Developments in your career will be much better than previous years. Rabbits who are employed will get the promotion or salary raise that you've been longing for. Important projects that you started before 2019 will bear fruit and get you in good standing with authorities. Entrepreneurs will find business to be busy but smooth. Good communications will be the key to your success. However, while this year is an opportune time to start a new business, you'll need to read the fine print before signing any new venture. Your financial situation will improve with substantial inflows during the first and second quarters of the year. You'll encounter a minor financial glitch during the third quarter but the yearend will bring a good infusion of resources.
Your compatibility with the Pig will enhance your social and family life. You'll get the much-needed support from friends, and family gatherings will bring much joy. This year, you need to be extra supportive of your family for some of them will depend on you for moral and financial support. Single Rabbits will find it difficult to find Cupid so just lie low and concentrate on your career and family life. You need to be careful in August for mishaps or untoward incidents. Your health will be satisfactory but do stay away from funerals. Engage in outings with family and friends because the sun will bring you good fortune.
DRAGON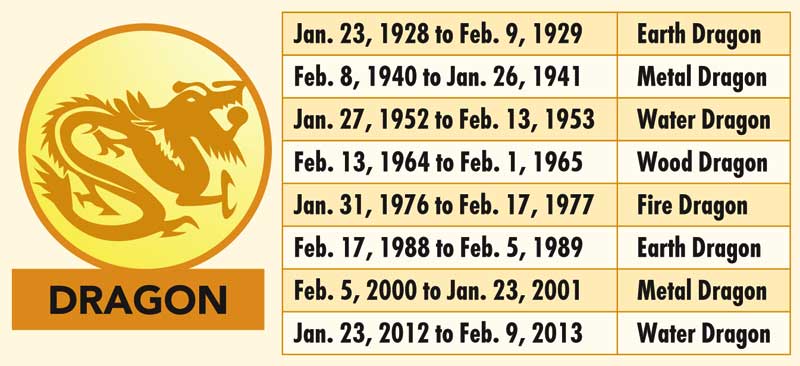 The Dragon is born under the sign of good luck and will do well in practically anything he attempts. He is magnanimous, full of vitality and is constantly on the go. Proud and aristocratic, the Dragon possesses an assertive personality. He could be egotistical, eccentric, dogmatic, whimsical, terribly demanding or unreasonable, but is never without a band of admirers.
The Dragon is not wholly compatible with the Pig. The calmness that the year brings will stifle your boundless energy. You must therefore learn to pace yourself and control your emotions for there will be two important changes that will impact your future. Dragons will need to carry out good deeds and do some charity work to ward off bad luck.
On the whole, your professional life will be uneventful in 2019. There will be no major upheavals in your work place and progress will be slow. Entrepreneurs will, however, find some lucky stars that will shine upon new business ventures. Dragons embarking on a new career will also enjoy a good start. Those working on commission – salesmen, realtors, financial advisors, etc. – will be particularly lucky in 2019. The financial situation of Dragons will improve but do not expect bountiful cash inflows. You'll therefore need to be careful with your financial moves as there could be some unexpected expenses during the third quarter.
Your social life could be busy but the calm nature of the Pig will come upon you and dampen your spirit to socialize. Rather than isolating yourself, spend more time with your family and friends for they will provide comfort and enjoyment. Those who have partners should exert extra effort to be more understanding. Lucky stars will shine upon single Dragons particularly during the first and second quarters of the year. Your love life will bloom, surprisingly with someone within your circle of friends or acquaintances. Your health will be a good but you'll need to embark on a major physical regimen to ward off any illness.
SNAKE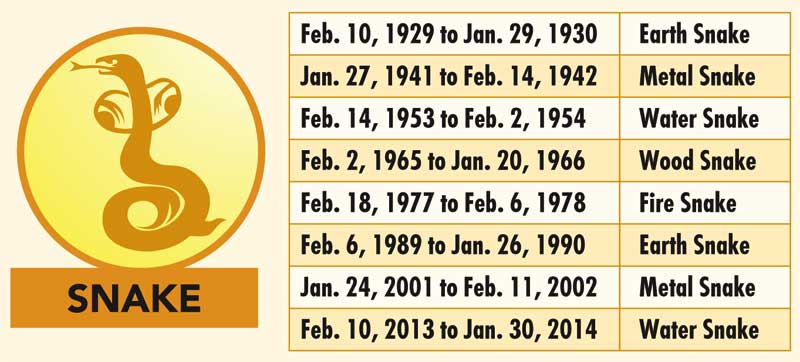 The Snake is the deepest thinker and the most mysterious in the Chinese zodiac. He is endowed with an inborn wisdom and intelligence. He treasures his privacy and possesses a calm and placid nature. Graceful, soft-spoken but with a good sense of humor, he loves good books, food, music and theater.
2019 will be a challenging year for Snakes. Professionally and personally, you will experience some difficulties. Your sensitive and belligerent ways could be your biggest roadblock this year. To overcome these challenges, face them in a perceptive and analytical manner. Otherwise, you'll have a relatively calm year, and the hard work you'll put in could become the foundation for exciting developments in the near future.
At work, be more patient and persevering. You will encounter some bumps and delays but do consult your superiors to lighten the load. They will prove to be quite helpful in solving problems. Part-time employees will have better luck this year as there will be more opportunities for permanent jobs.
Snakes will also face some difficulties regarding finances, particularly during the first half of the year. You'll need to plan your expenditures well and avoid indulgent purchases. The second half of the year will be better as more cash inflows are expected.
On the other hand, your social life will be quite active and enjoyable. Your long-term efforts to pursue or complete a major personal objective will be realized. For some Snakes who have been trying to reinvent themselves, this is your year. However, the love life of many Snakes will face some tough decisions, particularly those in a current or permanent relationship. For single Snakes it will likewise be an uneventful year with no romance stars in the horizon. Your health will be generally fine but do not ignore minor ailments or they could aggravate. Take time for a vacation to get away from stress. The outdoors will be good for you.
HORSE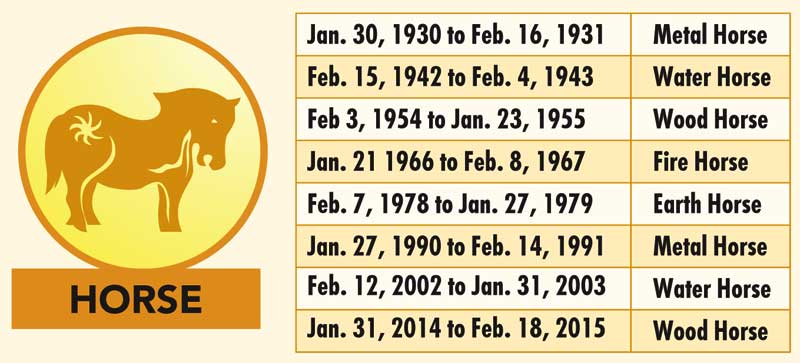 The Horse is cheerful, popular and quick-witted. He is very perceptive and loves to talk. He is quite physical and exudes raw sex appeal – the type who will fall in love easily and fall out of love just as easily. Impulsive and stubborn, he will want to have things done his way.
If 2018 was a good year for Horses, 2019 will be better. Your self-esteem and confidence will improve, thus allowing you to handle opportunities and challenges with greater ease. Almost all aspects of your life will experience a makeover. Your career will be on the upswing, romantic prospects will be rosy and investments will grow.
Your good communication skills and sociable nature will boost your career this year. Those into business or own ventures will see a marked improvement in sales and profit. Take gradual steps and avoid big expansion schemes. Horses working part-time will meet opportunities for a more stable profession. As a result of your professional success, your financial situation will greatly improve. Your first priority should be to pay off your financial obligations and loans. The rest should be saved rather than put in a new investment. You can also reserve some funds for a much-needed vacation that will improve your well-being.
While your professional life will be hectic, your social life will be subdued. Do not neglect your family and friends, and do be careful with what you say to them. They will provide you much needed support and enjoyment. Horses who are currently in a relationship should be more open about their deepest feelings to their partners. Single Horses will see excitement in their love life with romantic prospects arising during the second and third quarters of the year. Be honest with your feelings for the relationship to develop further.
As to your health, you will encounter some physical difficulties so it's advisable to kick off the year with proper diet and a regular exercise routine.
SHEEP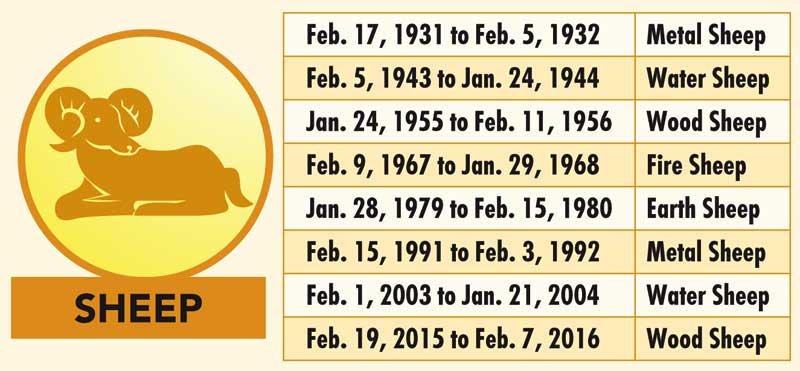 The Sheep is the most feminine sign in the Chinese zodiac. Known for his gentle and compassionate ways, he is considered the good Samaritan in the cycle. He is righteous, sincere and is easily affected by sob stories. Although he enjoys being with nature, the Sheep is usually a homebody.
Time for celebration! If the previous Years of the Rooster and Dog were difficult times for you, the Year of the Pig will bring you good luck in all aspects of your life. Your gentle nature and innate creativity augurs well with the qualities of the Pig. Sheep will enjoy greater freedom this year, which will propel you to reach your goals.
At work, you will be blessed with energy and concentration that will overcome your moodiness and help you get more things done. If you're employed, you'll get the nod of your superiors and merit that long-desired promotion. With creativity and team work, entrepreneurs will enjoy unqualified improvement in their business. Your professional progress will be most evident from end of July to November. Your financial situation will also improve but you'll need a workable budget plan to mitigate the effects of unplanned but necessary expenses.
2019 will be a good time to put order in your lifestyle. This is a time to rethink your priorities in life and zoom in on relationships that matter most to you. You'll need to balance your personal needs with those of your loved ones. Those in a permanent relationship should work on trust and mutual support. Single Sheep will see more excitement in their love life during the second half of the year. If you're in a relationship already, tying the knot will be auspicious this year. An active social life will bring new friends and romantic prospects for unattached Sheep. You're expected to be in the pink of health in 2019 but do be cautious of respiratory ailments. If not paid attention to immediately, these could prove problematic in the future.
MONKEY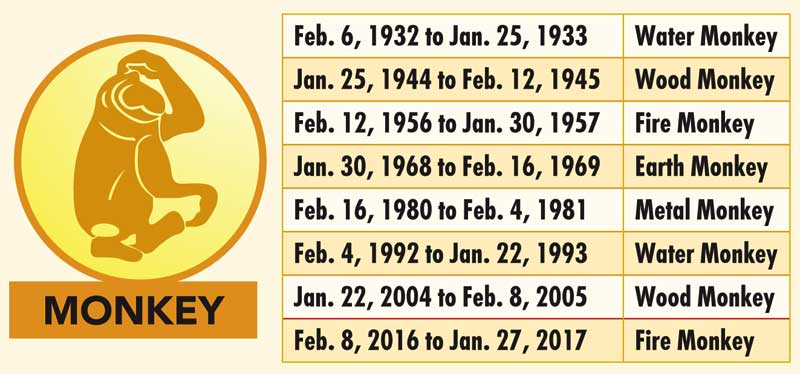 The Monkey has the closest affinity to man and therefore inherits most of his intelligence. He is quick-witted, clever and innovative, and can solve intricate problems with ease. The Monkey is innately warm, natural and spontaneous. He exudes self-confidence and has an enviable joie de vivre.
The Year of the Pig will see some ups and downs. In professional and social aspects, you'll be faced with major challenges. Your key word is caution. Avoid making quick decisions without thoroughly assessing the situation. It will also pay if you do not take too many risks.
Despite this, you should approach work with determination and perseverance. Show your capabilities to your bosses and bond with your peers and subordinates. Your professional success will be hard earned through the collective efforts of everyone in your office. Entrepreneurs involved in the creative industry and education will enjoy a successful year. Others should refrain from expanding their business or going into risky investments. The financial situation of most Monkeys will improve and it will a good time to enhance your standards of living. However, this must be planned carefully.
Your personal life will be challenging. Socially, you will be active but will feel disinterested most of the time. Monkeys with partners will experience difficulties with the relationship during the first half of the year. Jealousy will rear its ugly head for some of you. Spend more time with your loved ones and attend to their needs. Single Monkeys will have better luck, with several love prospects appearing throughout the year. You'll be surprised that the best romantic prospect will be someone you already know and comes from your present social circle.
Your health will be good throughout the year but your hectic work schedule will put a lot of strain on you. Have a lot of "me time" to unwind and go into a regular physical regimen or sports.
ROOSTER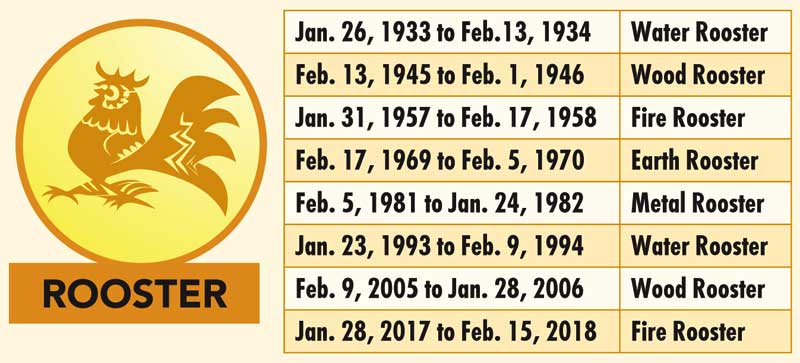 The Rooster is the most misunderstood of all the animal signs. Outwardly, he exhibits self-assurance and aggression; but at heart, he could be conservative and old-fashioned. Rooster men are usually attractive, even dashingly handsome. On the whole, the Rooster is sharp, neat, precise, organized, decisive and is good at handling money. He loves to budget everything.
2019 will be a moderately lucky year for Roosters. There won't be much change in your life so this will be an easy and comfortable time for you. You will encounter opportunities for growth and your key to success in the Year of the Pig is to pay attention. Watch what you say and do, and be alert for opportunities that will come your way.
Your professional life will be busy, although at times you'll feel lackadaisical towards work. Keep your focus and keep in pace with your peers or else be left out of the rat race. You'll also need to speak out more and communicate well in order to get the confidence of authorities. Those involved in business or politics will enjoy significant success this year. You can count on your friends to help achieve your goals. However, businessmen should postpone large investments to another year. Your financial standing will gradually improve throughout the year.
The domestic life of married Roosters will be uneventful but enjoyable. You'll have minor rifts with your partner but these will eventually be smoothened out. Single Roosters will have more fun in 2019. Female Roosters could experience "love at first sight" towards the end of the year. Male Roosters will find some love prospects but you'll need to preen yourself and show your true self. Roosters should socialize and travel more with your family and friends in order to de-stress from work. You'll have to watch out for your physical and mental conditions this year. Your key word for a healthy life in 2019 is monitoring. Have a regular check up and keep tabs on your diet.
DOG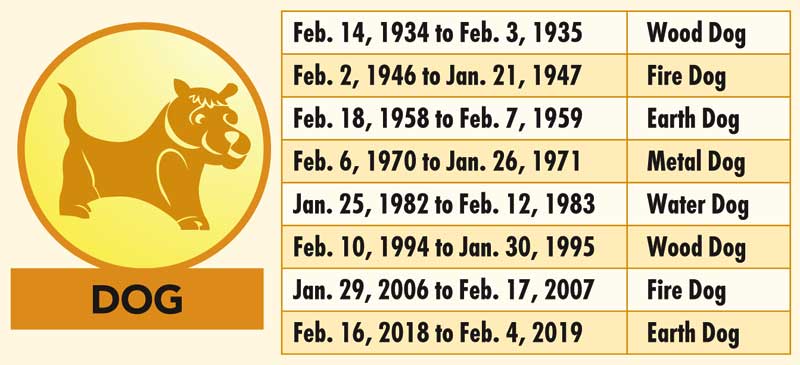 The Dog is honest, genuine, loyal, sincere and respects law and order – qualities of an ideal citizen. He is not materialistic and possesses humanitarian instincts. He is the type who will lay down his life for a friend or relative. However, he can suffer bouts of melancholy or when the situation calls for it, show flashes of temper.
2019 will be a much better year for Dogs compared to 2018. Now is the time to pursue your real interests rather than sticking to your routine. You are naturally cautious and analytical but in the Year of the Pig you'll be more carefree. Grab opportunities that will come your way and go for your ambitions.
Dogs will be particularly lucky at work this year. With hard work and confidence, you will be able to achieve your professional goals. Do not procrastinate when making important decisions. It also pays to consult your superiors or family members all the time. A promotion or raise could be in the horizon for most Dogs. For those planning to shift careers, this is the perfect time to do so. Entrepreneurs starting a new business will be blessed with lucky stars in 2019 and using your charm will make you even luckier. Your financial standing will improve but keep watch over your expenditures. There could be an unexpected major expense during the second quarter of the year.
Dogs will have to spend some time on social interactions – with your family, friends and colleagues – in order to boost your professional and personal success. Romance is very favorable this year, particularly for female Dogs. Prospects will arise during the first and third quarters of the year in your work place or through casual encounter. Your health will be fair with no major ailments expected this year. However, you should watch out for digestive system illnesses or those related to fatigue. It will help if you plan on a local or foreign vacation with your family to unwind from the hectic year of the Pig.
PIG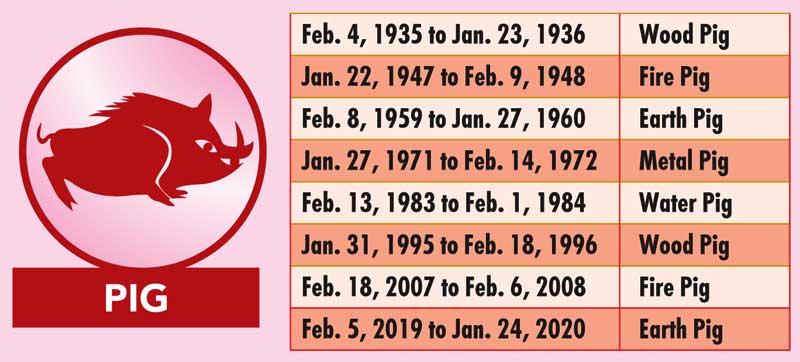 The Pig is the most easy-going and laid-back of all the signs. Cheerful, friendly and overflowing with good intentions, he does not bear grudges. He is the connoisseur of the Chinese zodiac and thus enjoys good food and has healthy appetite. Despite lacking strong ambitions, he is hardworking and is generally successful in life.
This is your year and in most aspects of your life, the lucky stars will align. Your personal, financial and health prospects are great. Professionally, however, this will be a challenging year for Pigs. Your key word to success in 2019 is "timing" or being able to recognize and grab opportunities as they come. Your luck will be enhanced by attending happy occasions such as weddings, baptisms and reunions.
Your professional life will experience several ups and downs but on the whole it will be uneventful. It will therefore be a good period to take stock of your past achievements as a basis for future growth. You should also endeavor to improve your skills in areas you deem yourself weak. Pigs intending to open a new business venture or invest in expansion are advised to postpone it until after 2019. However, you will enjoy improved finances with steady inflows throughout the year. An unexpected windfall could also come during the second or third quarter of the year.
Your joie de vivre will be heightened this year. This is the time to enjoy good food, joyful gatherings and great company. Your personal relationships will be enhanced and you'll find yourself the center of attention in many occasions with family and friends. Romance is also expected to intensify this year. Single Pigs could develop a love interest in someone from your circle of friends. Those who are in a committed relationship will see romance heightened but you'll need to be more available to your loved ones. Your physical and mental health will be good and you'll be blessed with energy most of the time. However, it is best to avoid places with negative qi such as hospitals, funeral parlors and cemeteries.