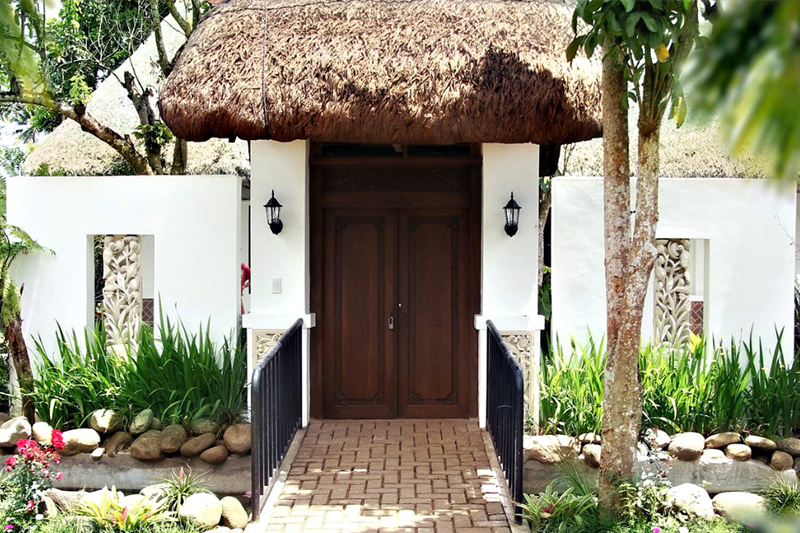 Huts are available for visitors to spend the night.
A farm sustained by passion
Chit U. Juan
(The Philippine Star) - January 14, 2018 - 12:00am
MANILA, Philippines - After spending a few days with the Filipino community in Jakarta and having the beef rendang from Dewi Sri Farm at the Great Women Café, I felt I needed to see where all the good food was coming from – a nine hectare property in Pila, Laguna with rice fields, fish ponds and lots of plants and flowers. It is a veritable museum of tropical plants and owners Daniel and Fe Laurente have done a good job at collecting species from around ASEAN during their job stints and travels.
Daniel is a geologist and Fe is a foodie, or rather, both of them are foodies. While Daniel attends to the hydroponic gardens and fixes the fish ponds, Fe is busy concocting a jam from roselle flowers and fixing up a fern salad. And the most fantastic revelation is that they do this part time. Part time?! Nine hectares? I could not even do 1,800 square meters part time well. What's the secret?
Passion permeates the atmosphere as Daniel describes his aloe vera plants, his ferns and his orchids. This guy is here just one or two weekends a month as he has a full time day job as a professional geologist abroad. The farm is left with an able staff led by Oliver, an IT graduate we mistook for an agricultural expert. Oliver speaks with authority about their collection of Christmas plants, rare orchids and "weed-like" ferns that got into our salad for lunch.
Fe softly speaks about her department – cooking up all these regional dishes, learned from their travels and made with ingredients from the farm.
I felt welcome along with my ECHOstore partners Jeannie and Reena because we had met Fe in Jakarta a few weeks before the farm visit. Even if it was a lunch reunion of Indonesian expats from the 80s – couples who at one time or another made Jakarta their home – the honorary ambassador or diplomat Thelma Victorio made sure everyone was introduced to us as she did when we were in the Indonesian capital. Thelma has stayed in Jakarta for almost 30 years but travels back and forth for consultancy engagements and for her passion project the Barong Batik – a clothing line made with a fusion of fine Philippine jusi (banana fiber) and designed by her business partner Freddy Mercado Jr. with batik chops and batik tulis in Indonesia. (See STARweek issue of July 2, 2017 for a related article on barong batik).
Before lunch, we were served local Laguna-baked bread called bonete with kesong puti (white cheese from carabaos milk) and roselle flower jam. There was a house blend of Philippine coffee which went well with the mid morning merienda.
Lunch was a feast of bulalo soup with heart of palm (ubod), steamed kangkong (water spinach) with bagoong (shrimp paste), spinach with tofu and the fish was gourami, an Asian fish from Daniel's pond, one teriyaki grilled and the other just salted and fried. As you eat the vegetables you wonder how these can grow hydroponically, in a clean sterile environment. That was to be explained during our farm tour – after lunch.
Dessert was buko (young coconut) pudding with green tea that you spike with your own choice of leaves – peppermint, tarragon or wintermint. The tea will immediately take the natural flavor from the leaves as soon as you drop it in the hot drink.
The tour starts with Oliver showing us where our food came from. This is really "farm to table" as we saw the ferns for our salad and finally the spinach and kangkong in the hydroponic area. Though many argue about hydroponic not being soil-based or organic per the strict definition, believers defend that hydroponic is cleaner and faster-growing than soil-based. It is up to the consumer to decide which to eat – but both are of course cleaner than vegetables you do not know the sources of. For example, watercress and kangkong may grow in waters that have run-offs from dangerous sources.
Organic and hydroponic are different from each other. One is grown in soil with its natural habitat and hydroponic mimics the soil nutrients in a solution containing what the plant requires. It's your choice.
We also went to each hut or house available for visitors to sleep in – a Bali hut, for example, that can sleep groups of 10 or more, or a smaller place for a couple or a small family.
We then walked through a stone lined path that takes you to the fish pond and to where you can see the rice fields.
Farm tourism is now the trend as more homes open up to visitors and more farm owners make their places sustainable by offering day tours and sleep overs.
Dewi is named after their youngest daughter, a talented young lass who is only 17 years old and who helps Fe entertain the visitors. But I must give it to this couple who, while managing this farm part-time, is able to keep their jobs in Jakarta and watch over Dewi's schooling as well. Some people have all the time in Manila yet are not able to even start a farm.
It is an inspiration to see such a thriving business which not only offers educational tours (the plants and trees are labeled for easy identification) but gustatory lunches as well. This is in line with the "farm to table" trend and surely can be a model resort/farm/meeting venue for other places and entrepreneurs to replicate. All doable but the prime ingredient is something you cannot buy: PASSION.
Find yours as Daniel and Fe have found theirs. Passion and business indeed make a happy and successful combination.
Dewi Sri Farm is in Pila, Laguna. You can find them in Facebook : Dewi Sri Farm