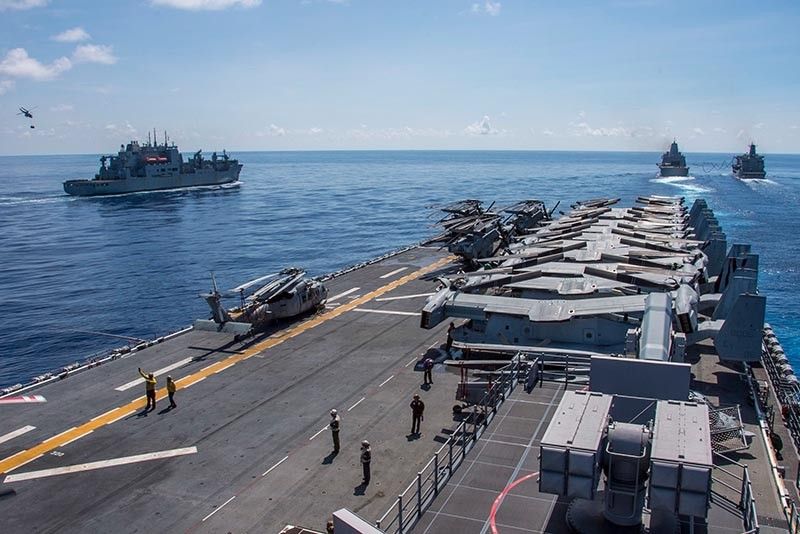 In this Oct. 3, 2016 photo, Lewis and Clark-class dry cargo ship USNS Washington Chambers (T-AKE 11), left, conducts a vertical replenishment with amphibious assault ship USS Bonhomme Richard (LHD 6), while amphibious transport dock ship USS Green Bay (LPD 20) conducts a fueling at sea with Military Sealift Command fleet replenishment oiler USNS Walter S. Diehl. Bonhomme Richard, flagship of the Bonhomme Richard Expeditionary Strike Group, is operating in the South China Sea in support of security and stability in the Indo-Asia Pacific region.
US Navy/Jeanette Mullinax/Released
Commentary: The folly of appeasing China's expansion into the South China Sea
On May 18, 2018, the People's Liberation Army's Air Force (PLAAF) announced that it had landed an H-6K bomber on one of its outposts in the South China Sea.
Its official statement declared that the exercise—including takeoff and landing on islands and reefs in the South China Sea—was geared to improve the PLAAF's ability to reach all territory, conduct strikes at any time, and strike in all directions.
A Singapore-based Chinese academic, Professor Wang Mingliang, off-handedly commented that the takeoff and landing exercise of the Chinese bomber will help the PLAAF strengthen its combat capability to deal with maritime security threats. This means that the PLAAF bombers operating from any of the Chinese outposts can conduct routine peacetime patrol and wartime air interdiction operations in the South China Sea.
This will also put the Philippines, Singapore and much of Indonesia within the range of Chinese strategic airpower. This will make it very risky for the U.S. Air Force (USAAF) and U.S. Navy to establish and operate air bases in archipelagic Southeast Asia because they will be under the shadow of Chinese airpower.
The landing of the H-6K bomber in its outpost is part of China's efforts to dominate the South and East China Seas as it extends its security perimeter and reinforces its strategic clout over these crucial sea lanes of communication linking the Indian and the Pacific Oceans.
In 2015, China began constructing artificial islands over the eight reefs it occupied in the Spratlys, namely Hughes, Johnson, Gaven, Fiery Cross and Mischief Reefs. On April 9, 2015, the Chinese foreign ministry acknowledged China's massive artificial island constructions in the Spratlys as it justified this effort as a means of "satisfying necessary military defense requirements" while at the same time providing "civilian facilities such as typhoon shelters, fishing services, and civil administration offices" for China, its neighbors, and international vessels sailing in the South China Sea."
Last month, U.S. intelligence revealed that China has installed Surface-to-Air missiles (SAMs) and anti-ship/anti-cruise ballistic missiles (ACBMs), along with their necessary surveillance and fire-control radars on those artificial islands. The Chinese SAMS are aimed to counter carrier-based fighter bombers, and the ACBMs are intended to counter air or sea launched cruise missiles.
During peacetime, these outposts are high-profile symbols of China's determination to defend its expansive claim in the South China Sea. At the times of war, attacking these artificial islands are now a serious strategic challenge to America's carrier battle groups operating in the Western Pacific. This pressing security issue will probably be raised by U.S. Secretary of Defense James Mattis who will deliver the key note speech in the 2018 Shangri-La Dialogue that will be held in Singapore from June 1 to 3.
Blatant violation of international law
The 2016 Permanent Court of Arbitration (PCA) ruling stated that Chinese land reclamation and construction projects in the South China Sea infringe on the Philippines' territorial rights and violate international law. The PCA also clarified that China's claim based on the nine-dash line has neither legal nor historical foundation; and that no country can lawfully assert "historic rights" in the high seas.
The ruling exposed China's expansive maritime claim as a component of its concerted long-term maritime strategy aimed to erode American preponderant position in the region, weaken the credibility of U.S. security commitments in East Asia, fragment ASEAN and other regional bodies, and coerce specific regional states to accommodate its self-defined and self-proclaimed "core interests."
The PCA ruling also revealed that the maritime dispute between China and the other littoral states such as the Philippines is part and parcel of an old-fashioned great power competition between an emergent regional power and a status quo power in East Asia. Using its historic claim as the legal basis of its maritime expansion, China was able to occupy, build-up, and construct military-grade facilities on a network of seven disputed land features in the South China Sea.
These fortified land features can be fully militarized within days and utilized to intimidate other littoral states, as well as complicate U.S. naval operations in the South China Sea, short of creating an all-out conflict. This will enable the PLA to fully deploy advanced submarines and surface combatants, for longer-ranged strike warfare, and more sophisticated aircraft to delay or deter U.S. response to regional crisis, such as over the Taiwan Straits or in the Senkaku Islands.
Consequently, the PCA ruling requires states in the region to take sides—either to be on the side of international law (or the status quo) or against it (revisionism leading to China's domination of the South China Sea).
The folly of appeasement
Despite growing international and domestic concerns over the recent Chinese actions in the South China Sea, President Rodrigo Duterte reiterated that he would not provoke China into war. He questioned where the Philippines would end up should war erupt in the South China Sea and whether the U.S. would remain on the side of the Philippines.
The more feasible solution, he said, would be to accommodate Chinese expansion by forging a joint exploration fact with this regional power bent on altering the territorial status quo and violating international law.
The current administration believes that its appeasement policy toward China is worth pursuing because its makes the country a beneficiary of the OBOR initiative.
However, by appeasing an expansionist power, the Duterte administration is supporting China's long-term strategy to push the U.S. out of the East Asia as it builds a maritime great wall in the South and East China Seas. More significantly, it also colluding with China in violating the same international law that it is supposed to uphold in the light of the 2016 PCA Ruling in favor of the Philippines.
With the upcoming Shangri-La Dialogue, wherein prominent world leaders are expected to affirm their strategic policies on attaining their respective nation's security, the Philippines might be able to pick up valuable strategies and lessons from said leaders.
___
Dr. Renato Cruz de Castro is a trustee and convenor of the National Security and East Asian Affairs Program of independent think tank Stratbase ADR Institute.