EDITORIAL - Holiday crowding
October 13, 2021 | 12:00am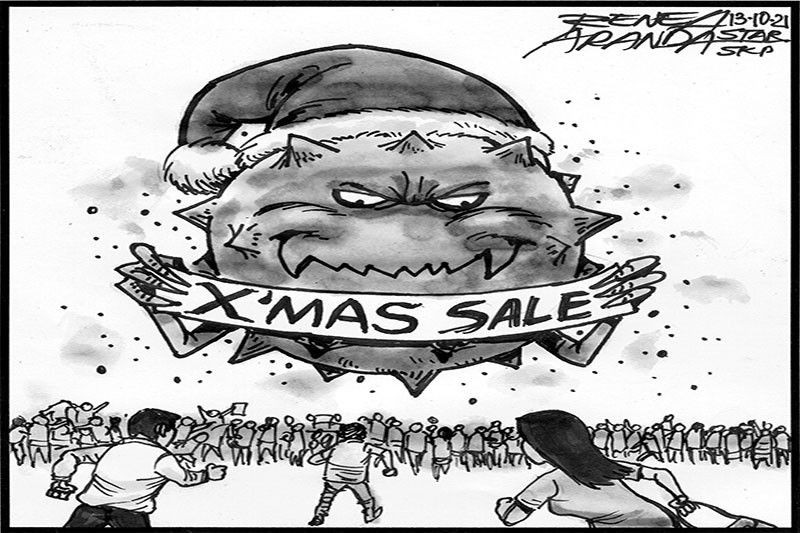 If COVID infections are slowing down in Metro Manila, it is due to a combination of factors. As health officials have stressed, these are the ongoing vaccination together with continued adherence to COVID health safety protocols.
By now, everyone knows the drill: wear a mask and – where required such as mass transportation – a face shield; wash hands or disinfect regularly; practice cough and sneeze hygiene; maintain physical distance. This last protocol, as news reports are showing, is going out the window as the holiday season sets in.
Images of crowds in public markets such as in Manila's Divisoria area show disregard for distancing protocols. While vaccination has gained momentum in the National Capital Region and the COVID surge appears to be abating, the highly contagious Delta variant is still around.
Delta has been responsible for the so-called pandemic of the unvaccinated in the United States as well as numerous cases of breakthrough infections among the fully jabbed. In the Philippines, unvaccinated minors and the elderly with comorbidities are getting infected. Yesterday, 236 more COVID deaths were recorded, bringing the total to 39,896.
With 8,615 new cases recorded yesterday, for a total of 2,683,372, the Philippines now ranks seventh worldwide in terms of COVID infections, according to a tally by Johns Hopkins University.
While the new cases are going down, the trend must be sustained if more businesses are to be reopened for the holiday season. It would be unfortunate if another surge forces a return to tighter restrictions during the fourth quarter, when businesses are hoping for recovery as people prepare for Christmas.
Incentives are being dangled to overcome vaccine hesitancy. Equally important, however, is continued adherence to health protocols. Local government units and barangay personnel cannot abdicate their duty of enforcing distancing rules and other COVID safety practices that have contributed to the containment of Delta.
This pandemic has shown that the coronavirus can bounce back, with even more virulence. Every effort must be made to prevent this from happening in the case of Delta. It would be unfortunate if the lockdowns in the third quarter to contain the surge would go to waste.