EDITORIAL - Mental health care for all
October 12, 2021 | 12:00am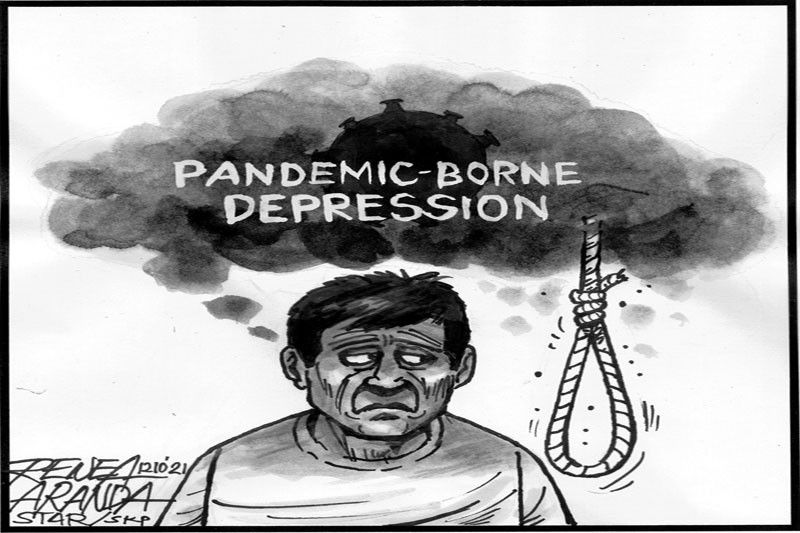 Republic Act 11038 or the Mental Health Act was passed in 2018. Its implementing rules and regulations were released in January 2019. Funding, however, was always a problem for both RA 11038 and the Universal Health Care Law or RA 11223, passed in February 2019.
Even before the pandemic forced millions including school children to remain indoors, public health care was already inadequate especially for the poor, and mental health care even more so. COVID-19 has placed an even heavier burden on the public health care system.
While health professionals have warned that the pandemic has led to a spike in mental disorders and stressed the importance of dealing with the problem, resources are focused on dealing with COVID critical care. A year and a half into the pandemic lockdowns, only five percent of public healthcare expenditure is allotted for mental health. The Philippines' ratio of only 0.41 psychiatrists for every 100,000 people is lower than those of other countries with similar economic size in the Western Pacific.
As the country observes Mental Health Week, experts estimate that six million Filipinos are living with depression and anxiety, making mental illness the third most common disability in the country. A World Health Organization study conducted last year indicated that some 3.6 million Filipinos were afflicted with at least one type of mental, neurological or substance use disorder.
Groups involved in suicide prevention have reported a spike in calls for help on their hotlines since the start of the pandemic. The suicide rate in the country has been placed at 3.2 per 100,000 population, with the rate higher among males. The figures, however, are believed to be underreported.
Unemployment and related problems have always been a major factor in mental disorders. In the pandemic, illness and, for those left behind by the nearly 40,000 who have died of COVID, profound loss have aggravated the mental and emotional distress.
The problem is not unique to the Philippines. The WHO's latest Mental Health Atlas covering 171 countries showed that despite greater awareness of mental health issues, there has been no corresponding scale-up in the quality of mental health services worldwide. Even as the pandemic has worsened mental health problems, it has also stalled progress in the attainment of targets in the WHO's Comprehensive Mental Health Action Plan.
As with other aspects of health care, dealing with mental health problems is hardest for the poor. This year, Mental Health Day was marked on Oct. 10 with the theme "mental health in an unequal world." The call is to make mental health care for all a reality.