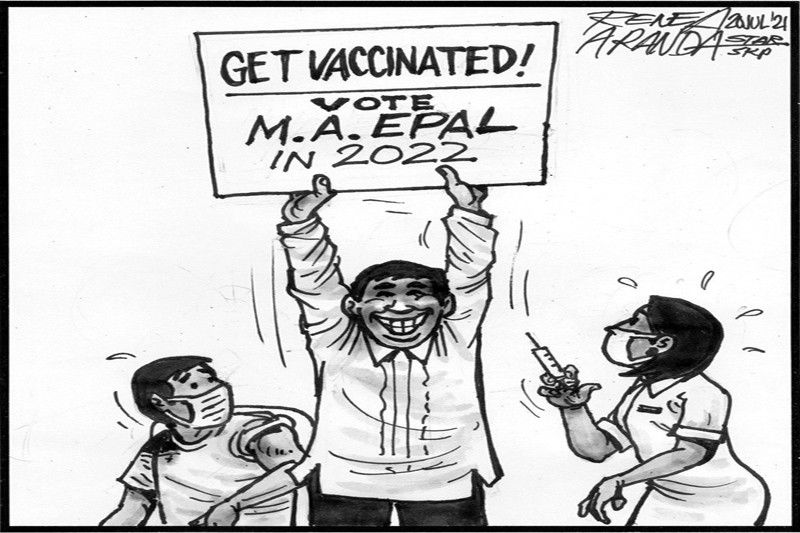 EDITORIAL - Hijacking the vaccination program
(The Philippine Star) - July 20, 2021 - 12:00am
Probably inspired by the idea of finding opportunity in a crisis, certain politicians are taking advantage of the worst global health emergency in a century to project themselves as the 2022 general elections approach.
This is according to poll watchdog Kontradaya, which is urging the Commission on Elections to publicly call out certain politicians for "underhanded" ways of using the COVID-19 vaccination program for self-promotion.
Kontradaya is also calling on the Department of Health and the Inter-Agency Task Force for the Management of Emerging Infectious Diseases to investigate the "politicization" of the vaccination program.
COVID vaccines are donated to the Philippines by foreign countries, provided through the global vaccine-sharing COVAX Facility initiated by the World Health Organization, or procured by the government using taxpayers' money, so no politician can take personal credit for access to the jabs. Yet Kontradaya pointed out that politicians' tarpaulins are displayed at vaccination sites or are featured in online vaccine registration sites.
A Supreme Court ruling has tied the hands of the Comelec in cracking down on premature campaigning; the SC said there is no such thing. The ruling has opened the floodgates for every epal or credit-grabbing activity especially of incumbent elective officials. Certain executive officials known to be eyeing elective posts in 2022 are also part of the IATF.
If authorities are unable or unwilling to clamp down on officials who are – as described by Kontradaya – hijacking the vaccination program for self-promotion, the public can do the work by posting photos of the epals' tarpaulins, images and online posts that ride on the program. The best punishment is to remember them on election day. The brazen self-promotion gives a good indication of the type of public service that the epals can offer.