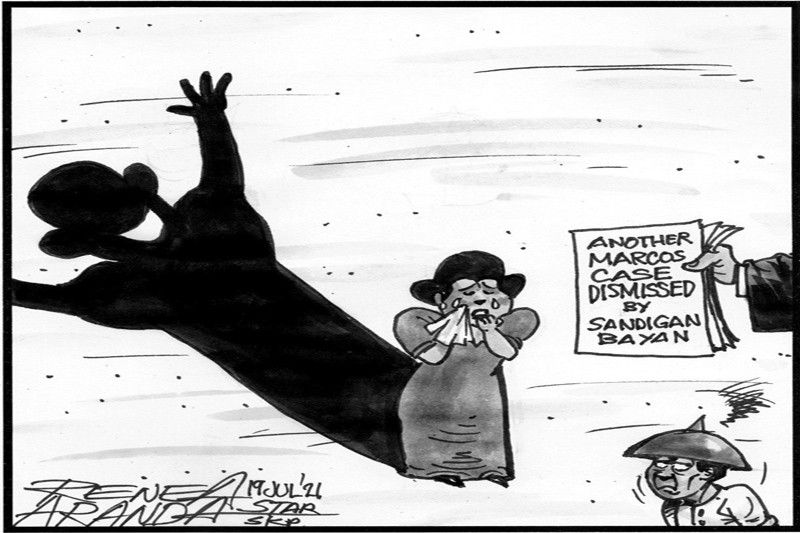 EDITORIAL - Still on a roll
(The Philippine Star) - July 19, 2021 - 12:00am
Nearly four decades after being chased out of the country by people power over gross human rights violations and large-scale corruption, dictator Ferdinand Marcos and his widow Imelda continue to be on a roll.
Their latest legal victory, supposedly for insufficiency of evidence, was handed to the Marcoses by the Sandiganbayan's Fourth Division chaired by Alex Quiroz, who penned the decision that had the concurrence of members Lorifel Pahimna and Edgardo Caldona.
The decision, promulgated on June 30 but released only last Friday, dismissed the civil suit filed on July 22, 1987 by the Presidential Commission on Good Government for the payment of damages as well as forfeiture of alleged ill-gotten assets of the Marcoses together with Ricardo Silverio and Pablo Carlos Jr. The PCGG accused Silverio and Carlos of acting as "dummies, nominees or agents" of the Marcoses in several corporations, and giving the Marcos couple "improper payments such as kickbacks and/or commissions in hundreds of thousands of US dollars."
In turn, Silverio and Carlos were accused of receiving huge sweetheart loans and other credit accommodations from various government financing institutions, as well as "special accommodations, privileges and exemptions" from the central bank favoring Silverio's Delta Motors Inc. and other business ventures.
It was the fifth victory for the Marcoses before the Sandiganbayan since 2019 alone, involving PCGG efforts to seize billions in assets believed to be ill-gotten. Since the collapse of the dictatorship in 1986, the PCGG has filed 43 civil forfeiture cases against the Marcoses and their cronies. Over three decades later, 16 cases remain pending, one has been archived indefinitely, 24 have been dismissed, and a disappointing two have been won by the PCGG. In one of the two, in which Imelda Marcos was found guilty of graft, she had been allowed to remain free on bail on account of her age. Since there is no way that she can ever revert to being a spring chicken, she may never see the interior of a prison cell.
The message here is that corruption pays, and offers rich rewards in this country. Either the PCGG reeks of incompetence, or the Marcoses – as critics of the Philippine justice system suspect – are experts at dangling offers that no one can refuse. The lesson that many public officials have taken to heart, seeing the fortunes of the Marcoses, is that if you're going to steal from the people in this country, you better steal big.