EDITORIAL - Parks for children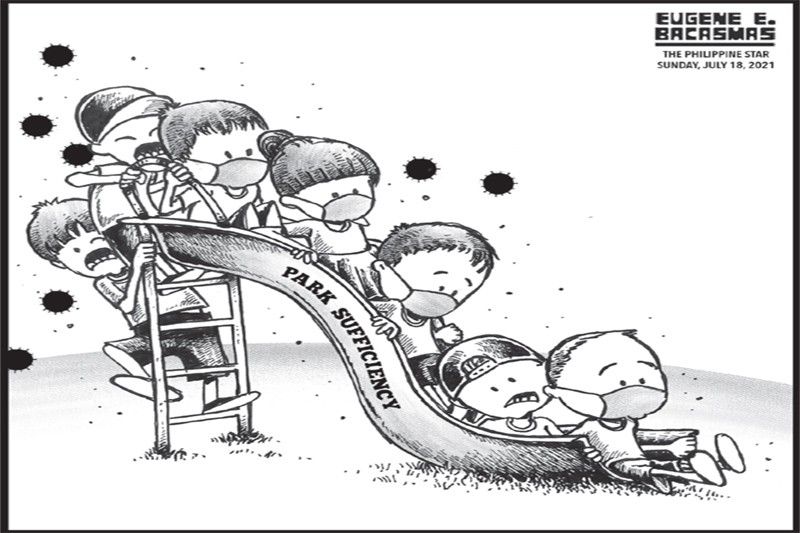 The easing of mobility restrictions on children aged five and older has highlighted a long running problem particularly in Metro Manila and other crowded urban centers: the lack of parks and open playgrounds.
Before the pandemic, young children ran around and teenagers played basketball in the streets because their communities lacked the facilities for healthy outdoor recreational activities. Those who weren't keen on the outdoors could while away their time on other activities in malls.
With the COVID pandemic, however, children were barred from going outside their homes. Child welfare advocates have lamented that the confinement has affected the physical and mental well being of children. With COVID cases easing in the past weeks, the restriction on certain outdoor spaces particularly parks was lifted for those aged five and older.
One problem that quickly became evident, particularly in the overcrowded National Capital Region, was the lack of suitable open spaces. NCR mayors have had to seek guidance from the national government on what constitutes a park, especially in areas where there are no such open spaces.
Would a parking lot serve as a park? What about a basketball court set up along a rarely used side street? Some groups asked if open areas at the top of mall buildings, developed into recreational sites, can serve as parks for children. The Metropolitan Manila Development Authority said no, because going up would still mean entering the mall. The MMDA has also stressed that the easing of restrictions does not allow children to play in the streets.
With authorities still clarifying the rules, however, children can now be seen in many parts of Metro Manila playing in the streets and in any vacant lot near their homes. Many of the children particularly in informal settlements are without masks or face shields, and there is no attempt to observe social distancing.
With the Delta variant now spreading, with two cases including one death reported in the city of Manila, care is needed in preventing children from getting infected or serving as carriers of the coronavirus.
While the case for children's mental health is sound, the government must identify exactly where they can be allowed to roam. At the same time, authorities will have to tell barangay officials to do their job and ensure that COVID safety protocols are strictly observed in areas where children are allowed. For the long term, this problem should give urgency to the need for more open spaces, preferably with greenery, in every community.