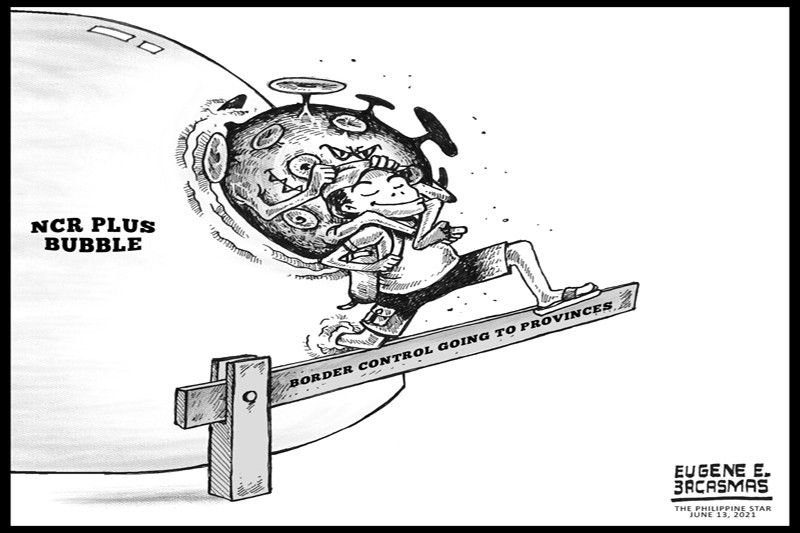 EDITORIAL - Border control
(The Philippine Star) - June 13, 2021 - 12:00am
With 6,686 new COVID-19 cases nationwide as of last Friday and 196 more people succumbing to the disease, SARS-CoV-2 and its variants remain a serious health risk in this country. Of the more than 1.3 million people infected so far in the Philippines, 61,345 were active cases as of Friday, with the capacity to sicken more people and add to the 22,507 dead.
While infections have slowed down in the National Capital Region and the neighboring provinces of Bulacan, Cavite, Laguna and Rizal, the coronavirus continues to spread at a worrisome rate particularly in parts of Mindanao and the Visayas. Travelers from the NCR Plus are believed to have brought more infectious variants that are now causing the spikes.
Records show that Davao City now has the highest number of infections, and more areas outside the NCR Plus are seeking tighter quarantine classifications as their healthcare facilities begin to be overwhelmed by the COVID surge.
In the NCR Plus, meanwhile, restrictions have been further eased to revive jobs and livelihoods. Fully vaccinated senior citizens can now leave their homes for non-essential activities including limited leisure travel. Gyms, skating rinks, areas for non-contact sports, museums and historical sites have also been allowed to reopen.
Experts, however, have warned of the constant possibility of another surge, this time in the opposite direction, from outside the NCR Plus and back to the capital region.
Apart from everyone being urged to continue strictly adhering to minimum health protocols, the experts are calling for the retention of strict border controls within the NCR Plus bubble, at least until enough people have been vaccinated to safely presume COVID containment.
This shouldn't be too painful for both the public and the government. Officials in charge of the pandemic response have given assurance that COVID vaccines are expected to arrive in bulk in the coming months. People have sacrificed for more than a year, and should be able to wait a few more months before border restrictions are substantially lifted.
The surge since March this year, which has just started abating, showed its heavy toll on both lives and livelihoods in the NCR Plus, with all economic forecasts for the year for the Philippines consequently downgraded. Surely no one wants a repeat through another surge.