EDITORIAL - Capitulation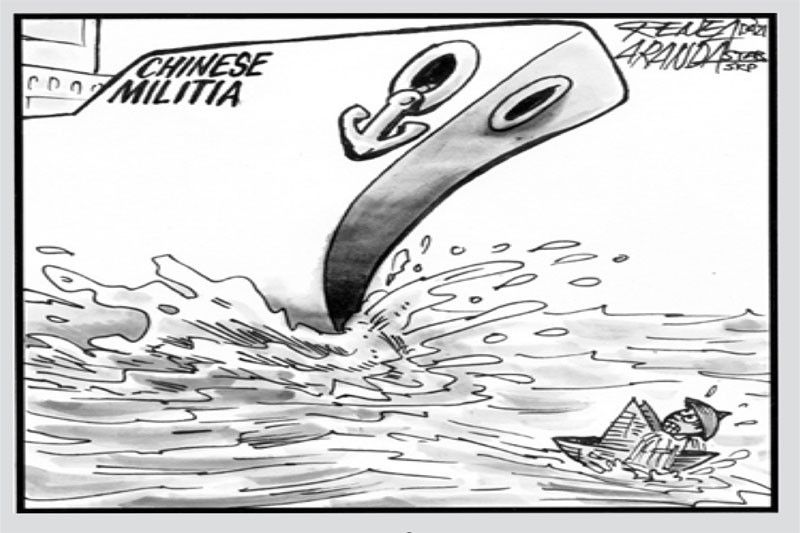 This the cost of kowtowing to another country: your fishermen cannot fish and journalists are chased away within your own waters.
The latest incident involves a crew of ABS-CBN News, which had set off on a civilian vessel from Palawan last week to check reports of Chinese boats swarming within the Philippines' 200-mile exclusive economic zone or EEZ in the West Philippine Sea. The news team reportedly intended to visit Ayungin Shoal, which hosts one of nine Philippine military detachments in the WPS.
Just within 90 nautical miles from Palawan, however, a white ship marked Chinese Coast Guard CCG 5101 challenged the news team. The journalists reported, with video to support the story, that two smaller ships emerged to support the CCG vessel. A check showed that the smaller boats, painted in military colors, were Houbei Type 22 missile-equipped fast attack craft. The Filipino captain of the civilian craft decided to turn back, but it was reportedly followed for another hour by the Chinese vessels.
The incident came on the heels of the Armed Forces of the Philippines reporting last month that some 220 Chinese militia vessels were swarming near Julian Felipe Reef, 175 nautical miles off Palawan. Beijing claimed the vessels were not militias but fishing boats taking shelter within the reef due to bad weather. There was no weather disturbance recorded at the time, however, and there was hardly any fishing that could have been done by boats lashed together like a wall.
The Philippines has protested the swarming. The AFP, however, warned journalists to exercise "prudence" in covering the WPS. Why should Filipinos worry about this within Philippine territory? Filipinos need prudence only when venturing within the EEZ of China and the other countries around the South China Sea.
The news team was only within 90 miles off Palawan, and Ayungin is one of the shoals in the SCS over which the Philippines was awarded sovereign rights by the Permanent Court of Arbitration in The Hague. Why should the Chinese Coast Guard, which is under military command, challenge the presence of Filipinos in our own territory?
For the past five years, this administration has been bending over backwards to promote friendship with Beijing and get it to recognize international rules. This accommodation brought the COVID pestilence to the country in the early days of the pandemic. The only thing the administration has received in return is a donation of one million COVID vaccines made in China; Filipino taxpayers will have to pay for additional jabs. While the two countries have long-standing friendly ties, it's time to reassess a policy that smacks of capitulation.