EDITORIAL - Another law vs red tape
October 18, 2020 | 12:00am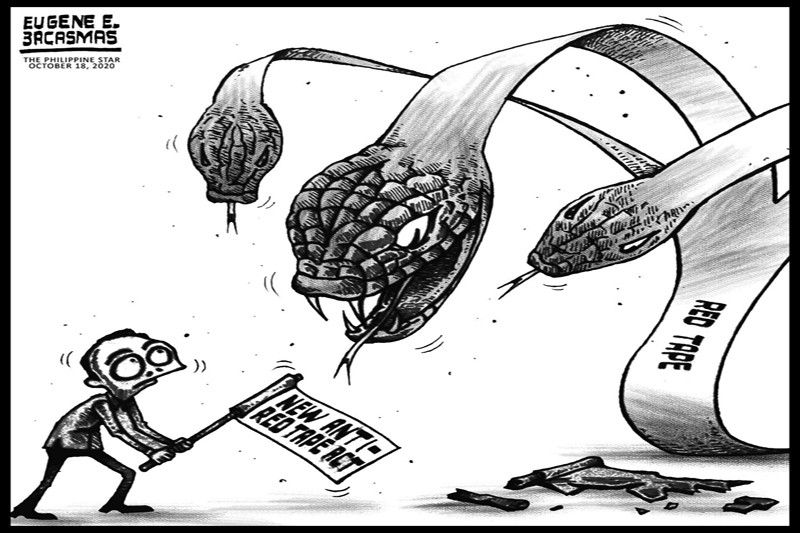 The country already has two laws meant to cut red tape. One, Republic Act 9485 or the Anti-Red Tape Act, was passed back in 2007. The second one, amending this law, was enacted on May 28, 2018: RA 11032 or the Ease of Doing Business Law. RA 11032 also created the Anti-Red Tape Authority or ARTA. The implementing rules and regulations for the law were released last year.
Still, Congress has seen it fit to grant President Duterte special powers to further cut red tape and expedite the issuance of government licenses and permits that are necessary for the response to the COVID-19 pandemic, including the recovery effort. Both chambers of Congress have passed on final reading their respective versions of the measure. Bicameral deliberations are expected to be just as speedy before the final bill is sent to Malacañang for the President's signature.
The special powers cover licenses and permits down to the local government level. Since assuming power, the President has often called for an end to red tape, which is a source of corruption. Specific periods have been set for processing transactions with government, with three working days set for simple matters. Several government agencies initiated computerization programs to minimize opportunities for graft.
Yet it seems old habits die hard, especially when there are people who benefit from red tape. Streamlining systems and procedures has also proved challenging for certain agencies. ARTA officials have noted that in some cases, red tape and inefficient procedures were simply exported to digital versions in the computerization efforts.
The persistence of the problem was highlighted when the President was informed by a telecommunications company official about the mountain of red tape in both national and local government agencies, which telcos must hurdle before they can set up cell sites or towers that are critical for boosting internet service. This weakness has been one of the biggest hindrances in the country's forced shift to blended learning.
The government can pursue a carrot-and-stick approach to promoting anti-red tape efforts. Crooks in government who deliberately make doing business difficult must be ferreted out, penalized or even booted out of the service. Special powers to cut red tape will help during the period of public health emergency. Structural reforms, however, are needed to eliminate red tape for good.