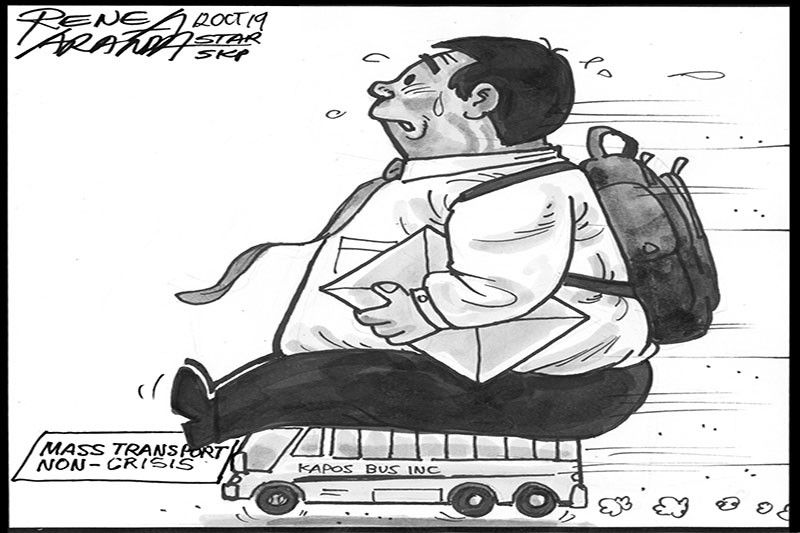 (The Philippine Star) - October 12, 2019 - 12:00am
There were no bodyguards to help in grabbing a ride, or police motorcycle escorts to part the traffic. On a dare, presidential spokesman Salvador Panelo took the jeepney yesterday to go to work.
His morning rush hour drive from his home in Marikina to his office usually takes about an hour. Yesterday at 5:15 a.m., he took a roundabout way, from a relative's home in New Manila, Quezon City to Marikina – close to an hour on a jeepney – and then on to Manila. When he finally reached Malacañang, on the motorcycle of a Good Samaritan who picked him up in Nagtahan, Panelo calculated that his commute had taken a grueling three hours and 40 minutes.
Millions of commuters endure such situations every working day; the suffering is worse during rainy days. Millions of others slog through horrid traffic in their private vehicles. Now the Light Rail Transit 2 needs rehabilitation for up to nine months, compelling thousands of regular LRT 2 commuters to take ground transportation. It can only aggravate the traffic jams, which are expected to worsen with the approach of Christmas.
And yet the presidential spokesman, after his exhausting morning commute, stuck to his assessment that there is no crisis in mass transportation. Panelo had invited more flak by explaining that it couldn't be a transport crisis because there is no paralysis and people could still get to their destinations. If the trip is taking longer, leave home early, he advised the public.
If his commute time is typical, and if the situation is similar during the evening rush hour, it means a regular commuter between Marikina and Manila can spend nearly eight hours a day on the road. Eight hours is the typical working time for regular employees. You don't need a detailed study to realize how much productivity is lost to that kind of traffic mess, which has its roots in the acute inadequacy of mass transportation.
For many years now, the situation has called for urgent action — which is how some people may describe a crisis. Beyond the dispute over semantics, Panelo's experience as a commuter should bring home to policy makers the urgency of dealing with the problems of mass transportation and traffic.