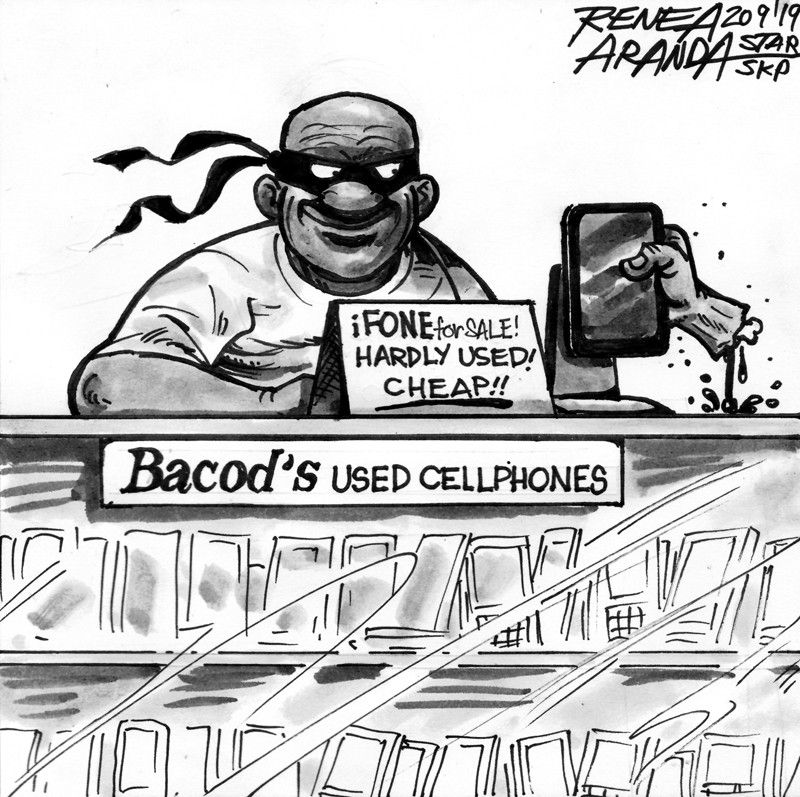 EDITORIAL - Accomplices to homicide
(The Philippine Star) - September 20, 2019 - 12:00am
In September 2015, a 17-year-old student of hotel and restaurant management was stabbed dead in a jeepney by a man who robbed the boy of his cell phone in Quiapo, Manila. When arrested at his home in Caloocan, the killer said he was drunk and needed money.
On Dec. 1 last year, the body of a 23-year-old who was pursuing a master's degree in disaster resilience at the Ateneo de Manila University was found in Barangay Concepcion in Marikina. His neck and chest bore stab wounds and his cell phone was missing.
Yes, people would kill for a cell phone. Not necessarily for personal use, but for selling to fences. As the killer of the boy in Quiapo said, he needed money. Armed robbery and other crimes against property are encouraged by fences. If your car side mirror or tire rim is stolen in Quezon City, you can try looking for it along Banawe Street. But there are too many car parts outlets in that area so the search might prove futile. Police have arrested certain scrap buyers where copper wires pilfered from public utility cables have been found. Aluminum ladders stolen from households are also sold to such fences.
So the public is applauding the move of the Manila city government to clamp down on fences. Mayor Isko Moreno warned the management of Tutuban shopping center in Divisoria and Isetann mall in Quiapo of closure if stolen cell phones and other gadgets continued to be sold in their premises. Moreno issued the warning following a weekend police raid during which six persons were arrested at Isetann for violating the anti-fencing law or Presidential Decree 1612.
The raid was conducted amid complaints by victims of robbery and snatching that stolen cell phones were being sold at kiosks in the mall. City business licensing inspectors had chanced upon a 14-year-old boy who was trying to sell a stolen phone to a vendor at one of the kiosks. When questioned, the boy said the phone was snatched from a student by a man who instructed him to sell the gadget. Over 300 phones were confiscated during the raids on the two malls.
Fences abet crimes against property and may unwittingly become accomplices to homicide. Any campaign against theft and armed robbery must include a crackdown on fencing.