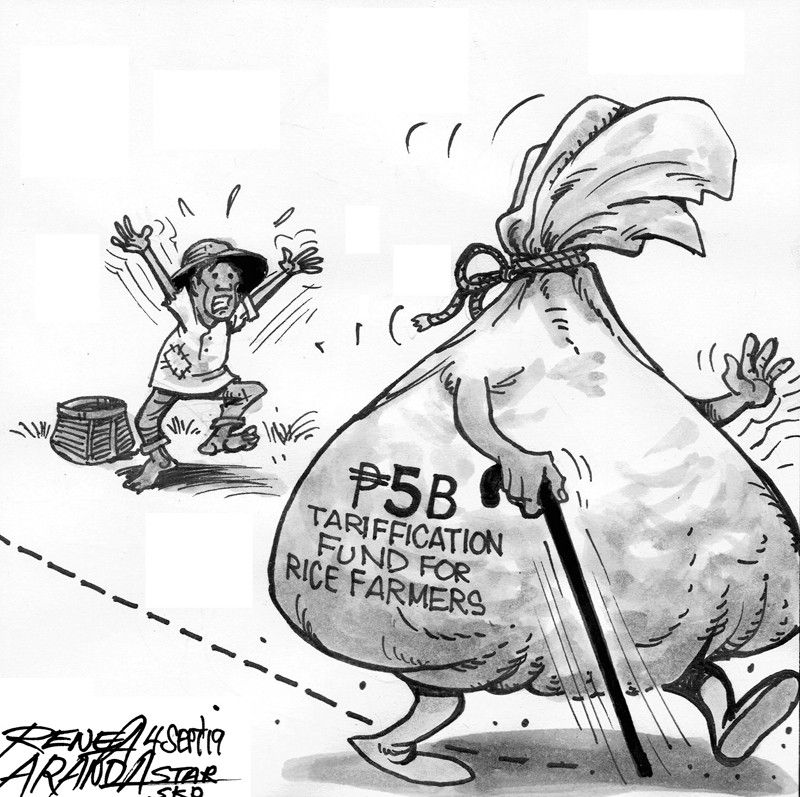 EDITORIAL - Headed for extinction
(The Philippine Star) - September 4, 2019 - 12:00am
From the start it was the principal concern in the rice tariffication law: opening the floodgates to rice importation would kill the country's rice farmers. A fund to be set up, meant to boost the productivity of the farmers, was prone to corruption and mismanagement.
Now, "unli" rice importation has led to concerns about dumping, and the government is considering measures including higher tariffs to regulate the imports. A P5-billion fund is being allocated to support farmers, even as the Senate is still trying to find out where the initial P5 billion disbursed last year in preparation for rice tariffication has ended up. The P5 billion was in advance of the billions in tariffs expected from the easing of quantitative restrictions on imported rice.
Farmers are groaning that since the start of tariffication, palay prices have plummeted to as low as P7 per kilo and no more than P12 per kilo, from the pre-tariffication prices of P17 to P20. Opponents of tariffication are saying we told you so.
Consumers are of course happy about the drop in rice prices. Defenders of tariffication have also pointed out that farmers themselves are consumers of the national staple and are benefiting from the lower prices.
But the country remains largely agricultural, and millions of farmers and their families depend on rice production. Tariffication is supposed to help them not only boost production but also to export rice. This laudable intention depends heavily on the speedy rollout of measures to boost rice production, and on the proper management and utilization of the import tariffs. There are indications that these aren't happening. Worse, the government is seeing signs of dumping.
By the time the problems are fully addressed, it may be too late for the Filipino farmer. The country cannot be fully dependent on imports for the supply of its staple. Local rice production must be saved from extinction.