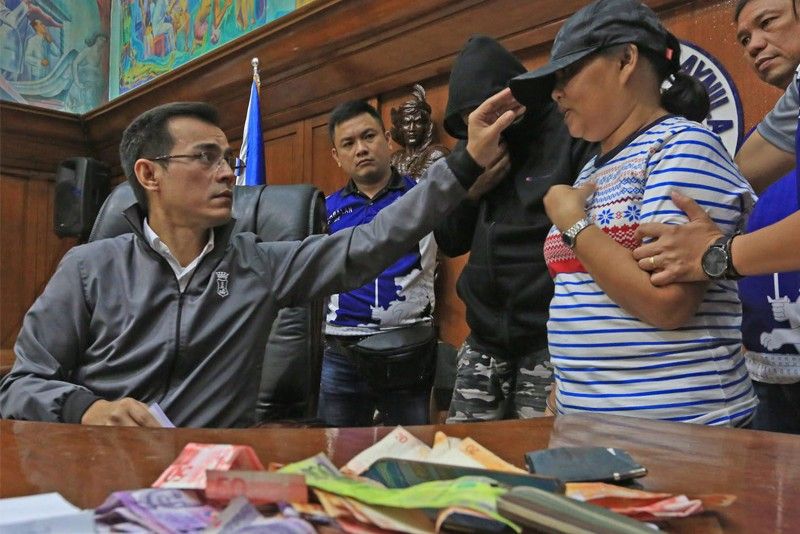 Isko is only fixing Manila's "broken windows." "Only" makes it seem so easy. But a million and one blights demand attention. The city is so rundown by decades of neglect. Racketeers and squatters abound. Isko will need to remold the thinking of Manilans.
Edd Gumban
Isko Moreno simply fixing Manila's 'broken windows'
GOTCHA
-
Jarius Bondoc
(The Philippine Star) - August 16, 2019 - 12:00am
Filipinos marvel at new Manila Mayor Isko Moreno because he's a magician. All he did was hose down dirty roads, parks and markets. And presto! In the process he curbed street chaos and bureaucratic sleaze, and is making the national capital livable again.
Isko is only fixing Manila's "broken windows." "Only" makes it seem so easy. But a million and one blights demand attention. The city is so rundown by decades of neglect. Racketeers and squatters abound. Isko will need to remold the thinking of Manilans.
"Broken Windows Theory" holds that an epidemic of disorder is the result of little untidiness left to fester. American sociologists James Q. Wilson and George Kelling in 1982 likened it to a building's broken window. If unrepaired, passersby will think nobody cares. Soon vandals will break more windows and trespass. Trouble will spill out to the street. Citizens will avoid the area. Thugs will take over, peddling drugs, mugging, and murdering. Conversely, fixing the broken window at once spreads the spirit of neatness. People notice. Other buildings are spruced up. The district prospers.
The theory was put to test in the New York City subway system in the 1990s. Hired as transit authority consultant, Kelling invited fellow believer David Gunn to run the multibillion-dollar upgrading. Part of it was confronting vandalism. At night street gangs spray-painted graffiti on the coaches, but Gunn had them all scrubbed cleaned and fresh for the next morning's run. Months later, their "masterpieces" never seeing the light of day, the vandals gave up. Then Gunn took on the fare-beaters whom the police, busy with serious crimes, thought too minor. Gunn worried that if riders jumping the turnstiles went unpunished, then more would try to get away with it too. They'd sneer, "If they don't pay, why should I?" Disrespect for rules would reign. William Bratton, head of the transit police, made sure not a single broken window, in the form of fare-beaters, was left unfixed. Plainclothes lawmen made a show of arresting the toll jumpers. In the process they discovered: one in seven arrestees had a pending warrant, and one in 20 illegally was carrying a firearm. Noticing the fare cheats being nabbed, subway muggers stayed away.
Mayor Isko too unintentionally unearthed crimes. On his first week in office he evicted illegal street hawkers from the Divisoria-Santa Cruz accessoria districts. Their littering and traffic clogging had to end once and for all. To Isko's surprise, he was offered P5 million a day bribe – P150 million a month or P1.8 billion a year – to let them stay. It turned out that a syndicate involving barangay, city hall, and police officials were involved. Huge amounts were collected from the vendors in exchange for illegally occupying the streets and sidewalks. Through the years sub-rackets had evolved, ranging from illegal water and electricity connections for the stalls, to unlicensed permanent constructions. A monopoly even made a killing renting out parasols, plastic stools, and folding beds to the hawkers.
The flushing out of the syndicate led to the dismissal of crooked public supervisors. The prosperity is palpable. With illegal vendors gone, vehicles started moving. Engine emissions and noise lessened. Shoppers and legitimate storeowners began to breath easy. Police foot patrols increased, along with tourists. Pickpockets and panhandlers disappeared. Barangay councils and police precincts in other districts of Manila felt compelled to follow suit.
"Broken Windows Theory" is credited in part for the decline in New York City's crime rate during Rudi Giuliani's mayoralty. With Bratton elevated to police commissioner, the duo took a zero-tolerance approach to low-level offenses, including public drunkenness. Eliminated were the notorious squeegee men, who ostensibly washed the windshields of cars stalled in traffic but actually extorted cash. Societal and individual attitudes changed due to conscious constant tidying up, noted science journalist Malcolm Gladwell in his bestseller "Tipping Point." Other factors contributed: the crack cocaine epidemic had declined, the economy perked up, and youth offenders found gainful work or simply grew old so turned away from crime.
Perhaps noticing Isko's success, President Rody Duterte has ordered a nationwide clearing of public roads. Interior Sec. Eduardo Año is to suspend and indict local government executives who fail to comply. Laggards shall be assumed to be in on rackets. Pilot replication area is Metro Manila, where traffic congestion is worst.
Authorities would do well to study "Broken Windows Theory." They cannot let the smallest infractions go unfixed. That includes illegal parkers, sidewalk encroachers, park hobos, drugged street children, reckless jitney and tricycle drivers, jaywalkers, and litterbugs. If successful, they can then take on building owners with no parking bays, land-grabbers, and river polluters. Health, sanitation, and environment would improve. Manila Bay and other waterways would be rehabbed.
The concept is plain: neatness undercuts crime.
* * *
"Dede-Land", Hotdog De-Dennis Garcia's primammary painting exhibit, unstraps breaststrokes of his favorite imagined female body part. Aug. 19-30, at Art Center, 4th Floor, SM Megamall, EDSA, Mandaluyong.
* * *
Catch Sapol radio show, Saturdays, 8-10 a.m., DWIZ (882-AM).
Gotcha archives: www.philstar.com/columns/134276/gotcha