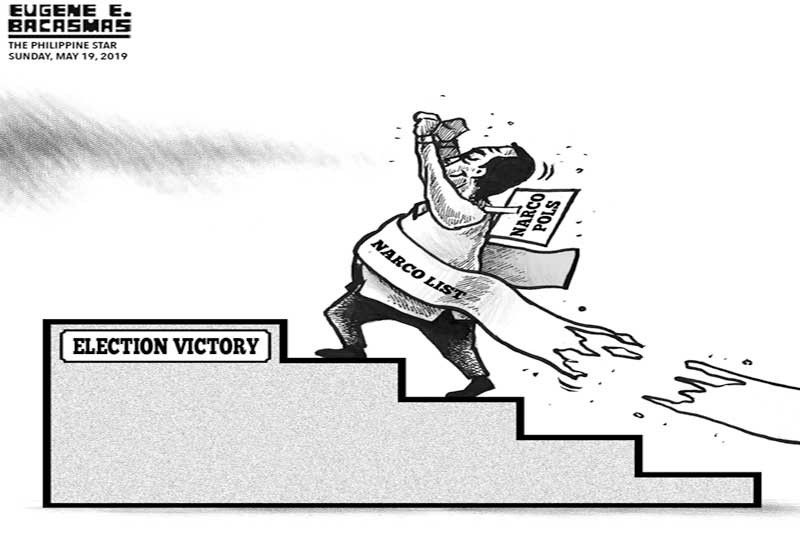 EDITORIAL - 'Narco pols' win
(The Philippine Star) - May 19, 2019 - 12:00am
Election season is not the best time to reveal the supposed transgressions of politicians; people tend to brush aside the accusations as mere black propaganda.
This must be one of the reasons why 36 of the 46 politicians who were identified among those on President Duterte's so-called narco list pushed ahead with their election bids – and 25 of them won.
The 46 were publicly identified as those facing formal investigation before the Office of the Ombudsman in connection with the illegal drug trade. Administration officials said the names were released to help voters make informed choices.
Perhaps the voters believed in the presumption of innocence and ignored the shame campaign. Some probably didn't care as long as they benefited from the alleged narco politician's patronage.
Drug money is big money, which can be used for dispensing political favors. Narco politics is a real threat in this country, aggravating corruption and undermining democracy. The government is correct in going after narco politicians.
But suspicions must be proven and evidence presented to establish guilt beyond reasonable doubt, so that the narco politician can be sent behind bars and permanently disqualified from holding public office. The anti-money laundering police and revenue officials should also work to prevent narco politicians and their relatives from enjoying the fruits of illegal drug deals.
The election results illustrate that this battle requires much more than shaming suspected narcos. Among those who were named, the Philippine Drug Enforcement Agency counted 18 who won as mayor, three as vice mayor, two as congressmen, one as vice governor and another as councilor. PDEA officials, looking on the bright side, said that without the identification of those on the narco list, more of them might have won.
The Office of the Ombudsman should do its part by speeding up the investigation of the complaints filed against the alleged narco politicians, not only to establish guilt but also to clear the innocent. The same goes for the judiciary, which should implement measures to speed up the adjudication of cases.
The snail's pace and overall inefficiency of the country's justice system encourage criminality. If politicians dip their hands into the illegal drug trade, it is because they think the risks are worth it and they can get away with it.