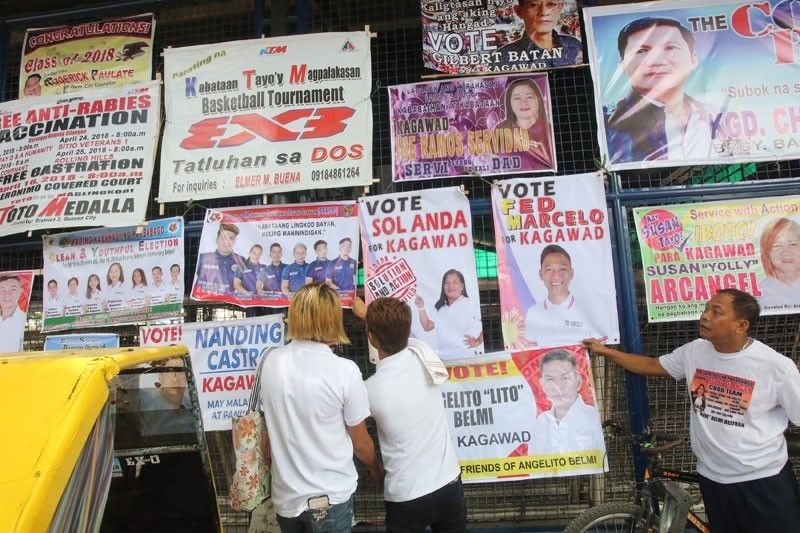 INTROSPECTIVE
-
Tony Katigbak
(The Philippine Star) - May 7, 2019 - 12:00am
Yes, the title is in reference to the current biggest movie in the world, topping charts and breaking box office records worldwide, but it's also in reference to us right now. As far as elections go – we are in the endgame this week and the choices we decide to make could change everything for our country in the next few years. I truly hope that we, collectively, make the right choices.
With the election looming next week the candidates are making a mad dash toward the finish line. If surveys are to be believed we have already seen a peek at what the election slate is going to look like, but then again we never know. It all depends on the people who may or may not change their minds when they troop to the polls.
Personally, while last minute campaigning is expected I feel that the majority of people have already made up their minds. Save for a few last minute changes my list has been ready for awhile and I can only hope that people have done their due diligence and created their own "Magic 12" before even going to the polling locations on May 13. This is, after all, a very important decision and shouldn't be made on a whim on the day itself. We all have to remember that our choices will come back to us – either to our benefit or to haunt us in the years ahead.
The promises and PR campaigns are going in heavy and all sorts of information surround us. Some campaigns are definitely eye-catching and promise us this and that. Some make their candidates look cool, others make their candidates look cheesy but they were all expertly designed to reach a specific type of voter. I suppose if you are targeting the bigger majority of the voter pie you'll be okay to make a bit of a fool of yourself to the other percentage. After all, they make mock or laugh but at the end of the day the gimmick is going to get you the job.
Personally, I hope that voters are more critical this time around. I know it's high hopes but I want to believe that the democratic process still works. This has come into question in recent years, considering that a large (the largest) population of our voters are not as educated and are more easily swayed by campaigns that give out free rice or bank on a candidate's entertainment background as a platform. This has not served us well in the past and I am truly hoping for a change.
That's the catch though isn't it? We all bellyache for change and complain when we don't get it, but we fail to realize that this change starts with us. We can't keep doing the same thing over and over again and expect to get different results. That's the very definition of insanity. If we keep electing the same type of people over and over again and then complain that the corruption continues and nothing is changing in the Philippines than who is partly to blame? Do we think that these types of candidates are going to change? Why do we suddenly believe them now?
This is especially true for candidates who already have a spotty record to begin with. Once someone steals, or cheats, or worse – says telling the truth is not an important part of being an elected official then you already know what you're going to get if you put them into office. They are not going to magically change overnight or during the course of the campaign period. They have shown us who they really are and if the voters reward them by putting them in power than they are going to do what they have always done in the past. After all, why should they change when they are never going to be held accountable?
Let's all take a long hard look at the candidates and make our choices wisely – not based on who is handsome or who has been in office the longest. Those are hardly a good basis for who is going to do the best job. We have a chance now to make a real difference for the Philippines. Let's not waste it once again.
* * *
I've written about this previously, but I'm glad we are finally going to implement a National ID system this year. As mentioned before this program aims to consolidate all government issued identification into one online integrated system that can be used to verify the identities of individuals availing of public services or using public transportation. Once this system is implemented it can be used in all government offices for all purposes.
Granted some people are still fearful of the opportunities for corruption that this presents but we can't ignore the convenience. We are probably the only country with a multitude of IDs and we are always asked for more than one whenever we do transactions. Whether its Driver's License or Postal ID or Voter's ID we just have too many and if we can consolidate everything efficiently into one system that will be easier for everyone.
Again though, I highlight the word efficiently. We have had issues with government offices issuing IDs (and license plates and so forth and so on) in the past so we will have to wait and see the ease and speed of which this National ID will be disseminated. My wife applied for her Voter's ID and was told – with all the normalcy in the world – that it would be ready anywhere from three to five years. Ridiculous. Apparently they don't want to get people's hopes up. Well, it's been a few years and counting and we're still waiting.
So I am optimistic about the National ID system and how it can make things much more streamlined and convenient, but I'll wait and see how it is actually rolled out before coming to a definitive conclusion.