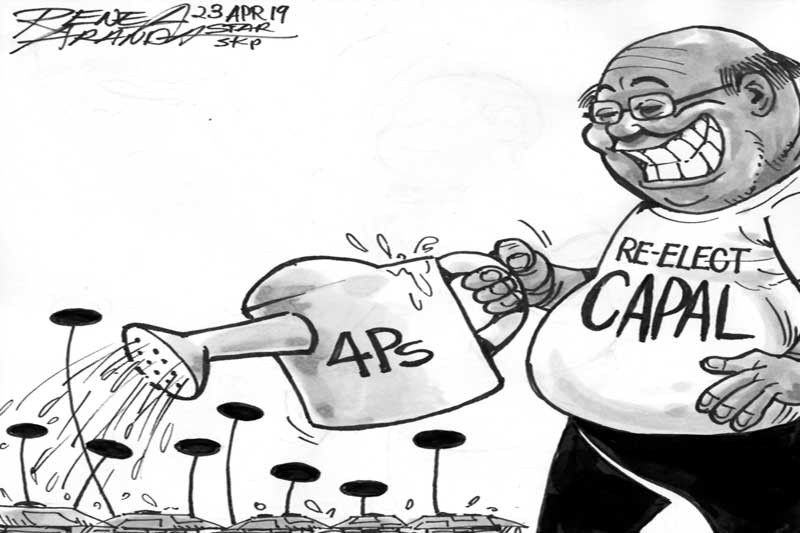 EDITORIAL - Epals keep out
(The Philippine Star) - April 23, 2019 - 12:00am
It must be a Pavlovian reaction: a politician sees a worthy government program in which he has invested nothing by way of time, effort and money except through his taxes, and he begins salivating at the opportunity for free self-aggrandizement.
The so-called epal urge tends to be strongest during election campaigns. At least one agency engaged in frontline services – the Department of Social Welfare and Development – has reportedly complained of unwanted political presence during events involving DSWD payouts to the public. The complaint prompted the Department of the Interior and Local Government to order local officials running in the upcoming elections to stay away from such events.
The nature of the DSWD program was not specified. But the department is in charge of the conditional cash transfer or Pantawid Pamilyang Pilipino Program. The so-called 4Ps is a poverty alleviation program that was originally designed to keep politics out of the selection of beneficiaries and the actual cash disbursements.
The World Bank, a major donor to the program, did not want to participate if politics would be injected into the 4Ps. To get the program out of the hands of politicians, it was designed so that beneficiaries would collect their cash directly from ATMs rather than from offices or individuals.
Over the years, however, there have been reports of barangay officials being given a role in selecting beneficiaries, and using the program to campaign for themselves or certain candidates during elections. There have been complaints of beneficiaries being disqualified from the program for refusing to go along with partisan activities.
While the actual cash transfer is still through ATMs, some government officials have found a way to go around this limitation by holding public events wherein information regarding the 4Ps is disseminated, in the presence of the epals. The order of the interior department is a welcome move that must be fully enforced.