EDITORIAL - Power through the vote
February 25, 2019 | 12:00am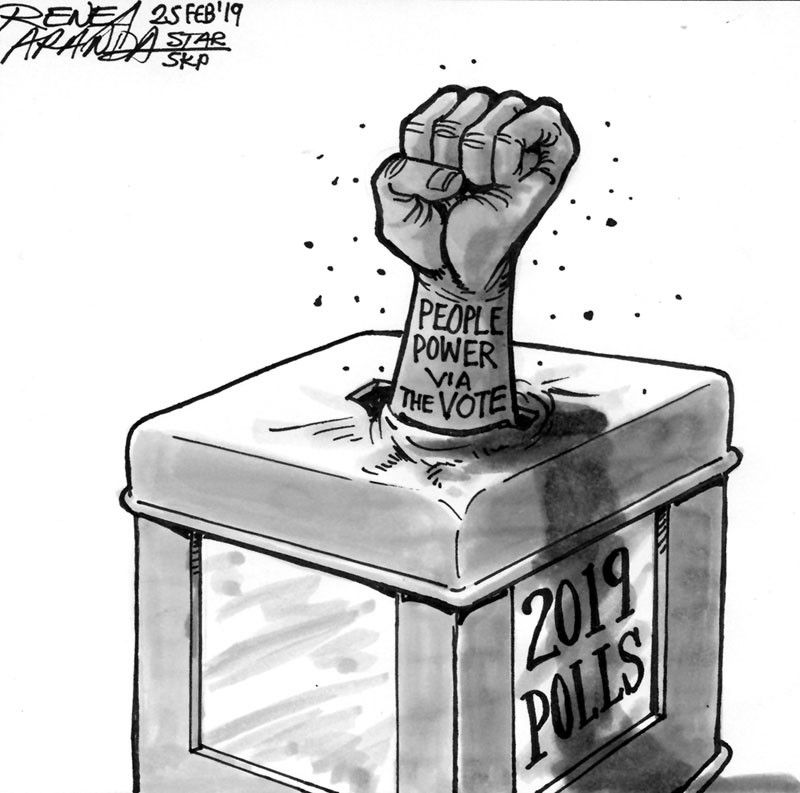 The crowds have progressively thinned for the annual celebration, and people power fatigue appears to have set in years ago. But the legacies of the 1986 people power revolt have endured.
As the nation marks the 33rd anniversary of the peaceful uprising that toppled the conjugal dictatorship of Ferdinand and Imelda Marcos, Filipinos are also preparing for the midterm elections in May. Such free electoral exercises were among the expressions of the people's will that Marcos and his martial law regime suppressed.
The so-called Freedom Constitution, with its provisions to guard against the return of authoritarian rule, remains untouched. Human rights violations did not end with the collapse of the Marcos dictatorship, and have become a major concern today. But the Constitution, which guarantees basic rights, still serves as the basis for determining when lines have been crossed and civil liberties have been compromised in what the government considers as the pursuit of national interest.
The legislature, although dominated in one chamber by administration allies, continues to provide checks and balances to the executive. And the judiciary, although often coming under fire for inefficiency, corruption and seeming subservience to political interests and the executive, is nowhere like the one that was controlled by Malacañang before the people power revolt.
Those who were part of the struggle against the Marcos dictatorship warn that they are seeing signs of a return to the days of living in fear of the abuse of state power. This is what the annual remembrance of those four days in February 1986 continues to achieve, no matter how thin the crowd at EDSA might be: a renewal of the commitment to be eternally vigilant against the return of dictatorial rule.
Today's commemoration should also serve as a reminder that the ultimate expression of the people's will in a democracy lies ahead, through the power of the vote. The power should be wielded wisely.