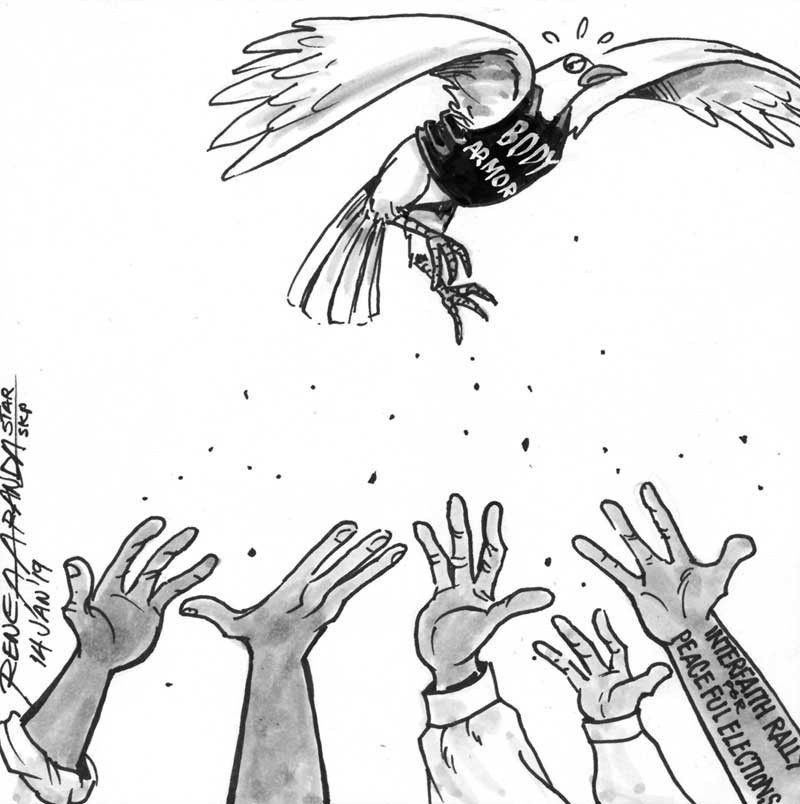 EDITORIAL - Unity for peace
(The Philippine Star) - January 14, 2019 - 12:00am
In Quezon City, an interfaith march for unity was held and doves symbolizing peace were released. In Pangasinan, white balloons were meant to deliver the same message.
As the official election period started, several candidates gathered yesterday together with officials of the Commission on Elections, Department of the Interior and Local Government, the military and police as well as civic groups. They committed to work together to make the midterm elections in May honest, orderly and peaceful. Candidates who attended the gathering signed billboards displaying an "integrity pledge."
Perhaps more candidates will express the same commitment. Armed violence and accusations of poll fraud have marred every electoral exercise for practically all positions in this country. Violence has become so commonplace that having about 80 poll-related murders in an election season is considered normal. The failure to catch murderers has bred impunity and undermined the democratic expression of the people's will.
Law enforcers have shown that catching murderers is possible if they put their minds to it. The speedy arrest of suspects in the killing of Ako Bicol party-list representative Rodel Batocabe illustrated this.
The groups that gathered yesterday for the so-called unity walk for peace should include members of the judiciary, so that judges can commit to a speedy adjudication of cases related to election violence.
Litigation in the country's worst case of election violence – the 2009 massacre of 58 people in Maguindanao – continues to crawl along. If it takes a decade to resolve a murder case, politicians could be willing to take the risk and resort to assassination, if it means permanently eliminating their rival and keeping their hold on power.
The commitments made yesterday to unite for peace are commendable. Now the message must be spread and the commitment translated into action. In every election, Filipinos aspire for HOPE, or honest, peaceful and orderly elections. It's time to go beyond hoping.