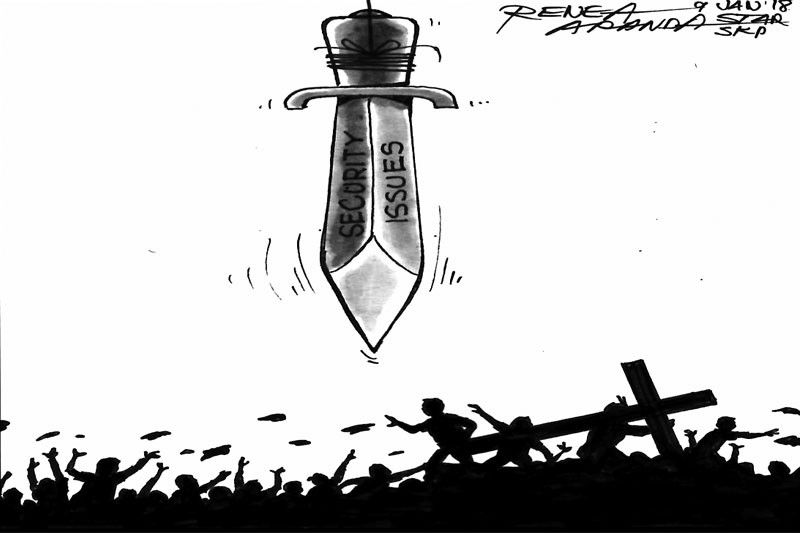 (The Philippine Star) - January 9, 2019 - 12:00am
The crowds started gathering on Monday at the Quiapo Church, followed by a short procession in nearby streets, for the blessing of replicas of the Black Nazarene. Today a massive crowd of devotees, estimated by police at several millions, will once again join the annual traslacion – the procession of the statue of the Black Nazarene around the city of Manila.
It can be easy for troublemakers to wreak havoc in such a gathering. Fortunately, there has been no such problem in the past. Injuries have been reported and devotees have collapsed from the rigors of the procession. There have been cases of petty thievery. So far, however, there has been no major security problem during the traslacion.
This is no reason to relax one's guard. If previous processions have been without security problems, it can be attributed not only to the behavior of the devotees but also to the success of security preparations. Even the switching off of mobile phone signals along the procession route, deemed extreme by certain quarters, is a precaution against explosives being set off remotely using telecommunications devices.
The Philippine National Police has given assurance that every measure is in place to secure today's procession. PNP efforts, however, are best complemented by public vigilance. Devotees themselves must police their own ranks, watching out for those who might be overwhelmed by the physical rigors of the procession or be victimized by criminals and other troublemakers.
Some measures may be considered overreactions, especially when security officials have announced that they have not received reports about threats targeting the traslacion. Still, it can't be said often enough that it's better to be safe than sorry.