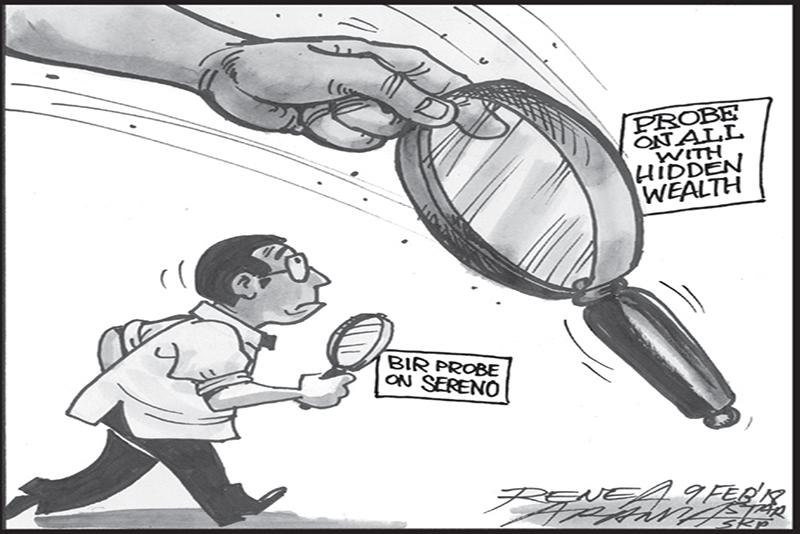 EDITORIAL - Hitting where it hurts
(The Philippine Star) - February 9, 2018 - 12:00am
In a rare move, the House of Representatives has ordered the Bureau of Internal Revenue to conduct a tax probe on Chief Justice Maria Lourdes Sereno. Specifically, the BIR was tasked to look into the earnings and tax payments of Sereno from 2004 to 2010, when she was one of the lawyers for the government in its case against NAIA Terminal 3 builder Philippine International Air Terminals Co. Inc.
The PIATCO issue has been raised against Sereno even before she was promoted to Chief Justice, upon her appointment to the Supreme Court. She has denied any anomalies in her financial declarations, including in her official statements of assets, liabilities and net worth. The House committee on justice says Sereno also failed to file her SALNs for many years when she worked as a law professor at the University of the Philippines in Diliman.
Since the House has taken this tack in going after alleged wrongdoing, authorities should pursue a similar approach in pinning down other public officials suspected of amassing ill-gotten wealth. The Office of the Ombudsman and, where possible, the Anti-Money Laundering Council can coordinate with the BIR in this pursuit.
This can be useful even in President Duterte's campaign against so-called narco politicians. They shouldn't be difficult to spot; drug traffickers and their coddlers can rarely resist flaunting their wealth, even if it is dirty money. Tax probes can also be initiated against politicians believed to be engaged in jueteng and smuggling as well as the corrupt in the Bureau of Customs and other graft-ridden agencies.
Even Congress members can be subjected to tax probes. Lawmakers have stubbornly resisted proposals to pass anti-racketeering legislation. A tax investigation is the next best thing, with the anti-money laundering police later brought in to build a tighter case.
Congressmen have said they expected Sereno to be impeached next month. Her tax payments and asset declarations are likely to be included in the articles of impeachment to be sent to the Senate. Authorities should not stop with the Chief Justice; there are other public officials whose unexplained wealth calls for a tax probe.