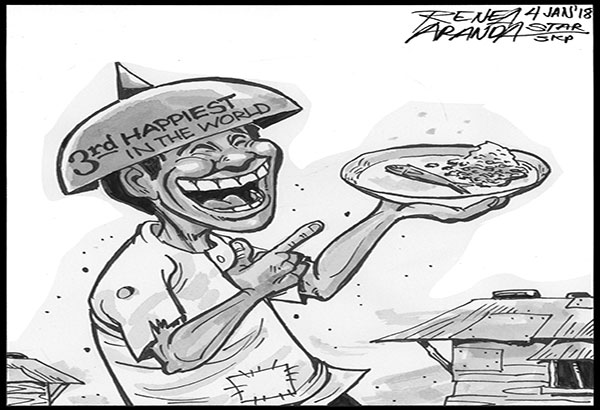 (The Philippine Star) - January 4, 2018 - 12:00am
Even in the worst of times, Filipinos are quick to smile and laugh troubles away. So it's no surprise that the Philippines ranked as the third happiest among 55 countries, after Fiji and Colombia, in a survey conducted from October to December 2017 by Gallup International, with 53,769 respondents.
Iran, currently reeling from anti-government protests, ranked as the least happiest country, followed by Iraq and Ukraine. In Gallup's annual Global End of Year Survey in 2016, the Philippines also ranked third happiest after Fiji and China.
In the latest Gallup survey, the Philippines tied with Kosovo at eighth place in the Hope Index, which Indonesia topped. The Philippines also ranked fifth in the Economic Optimism Index, with Nigeria placing first.
Laughter is said to be the best medicine, and being cheerful in the face of adversity is always good for mental, physical and emotional health. As important as a person's level of optimism, however, are the material and other aspects that reflect the quality of life.
In April 2012, the United Nations Sustainable Development Solutions Network published the first World Happiness Report, which measured people's satisfaction in 14 areas related not only to emotional well-being but also to work, health, safety, food and shelter, government and politics including level of corruption, social issues, education and families, citizen engagement, religion and ethics, business and economic factors, communications and technology, transportation, and environment and energy.
The survey was inspired by Bhutan, which uses a so-called gross national happiness rather than gross domestic product as its principal development indicator. Since the first World Happiness Report was released, the most advanced economies have led the pack.
In last year's annual World Happiness Report, the top 10 among the 155 countries covered were Norway, Denmark, Iceland, Switzerland, Finland, the Netherlands, Canada, New Zealand, Australia and Sweden. The Philippines ranked 72nd. It was an improvement of 10 notches from the previous year, but still a far cry from the country's third place in the Gallup Happiness Index.
Filipinos are a cheerful, optimistic lot, regardless of the quality of governance and living standards. We will always rank high in Gallup's Happiness Index. At the start of a new year, the challenge for the Duterte administration is to see a dramatic improvement for the country in the UN's World Happiness Report.