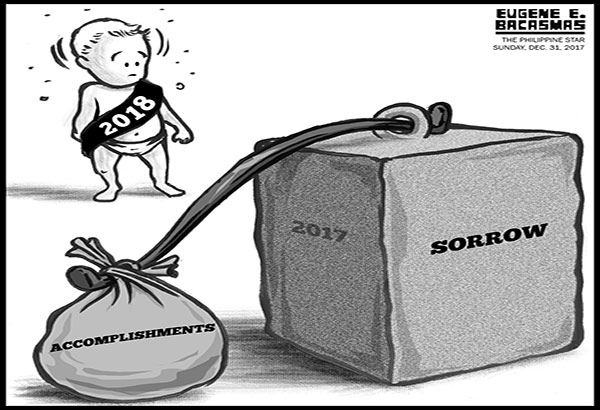 EDITORIAL - Accomplishments and sorrow
(The Philippine Star) - December 31, 2017 - 12:00am
President Duterte and Malacañang officials summed up the year that is soon to pass: accomplishments were achieved in several areas, but there was also deep sorrow, all the way to the final week of 2017.
The siege of Marawi embodied this. A city was almost entirely lost as Maute terrorists, inspired by the Islamic State's armies of death, launched an attack. Civilians died and homes were razed over five months of blistering firefights. Soldiers and police commandos lost their lives in the battle to retake the city. But the government forces emerged victorious, killing most of the militants including the Maute brothers and IS "emir" Isnilon Hapilon. President Duterte can also consider it his accomplishment that the Supreme Court upheld his Mindanao-wide martial law, and Congress extended it all the way to the end of 2018.
Before the year was over, the President enacted several of his legislative priorities, particularly the TRAIN or Tax Reform for Acceleration and Inclusion – a critical component of his so-called "Build Build Build" infrastructure program. The annual national appropriation for 2018 was also passed on time.
Despite concerns initially raised by the declaration of martial law all over Mindanao, the country successfully hosted the summit and related meetings of the Association of Southeast Asian Nations as the grouping celebrated its 50th year. The country's hosting of the Miss Universe contest was also without a hitch.
The year had its share of turbulence: Sen. Leila de Lima was arrested; Andres Bautista was impeached and resigned as elections chairman; Chief Justice Maria Lourdes Sereno is battling impeachment. The President's son Paolo and son-in-law Manases Carpio were implicated in the smuggling of P6.4 billion worth of shabu.
The final month of the year was also marked by deadly disasters. Tropical Storm Vinta left at least 240 people dead and many more still missing in Mindanao as it unleashed flash floods and landslides that buried entire communities. Before Christmas Day, Vinta made a second landfall in Palawan, leaving 11 people dead and at least 27 missing. Vinta followed Tropical Storm Urduja, which killed at least 54 people as it roared across the Visayas. The search for the missing from Vinta had not yet ended when a fire engulfed the NCCC shopping mall in Davao City before Christmas Day, killing 38 people.
Apart from these deaths, it was also a sorrowful Christmas for those who lost their loved ones in the bloody campaign against illegal drugs. The killing of teenagers took the police out of the lead role in the war, and the number of deaths under investigation has since dropped dramatically. This touch of humanity in a complex war can be considered another accomplishment, as the nation prepares for a new year.