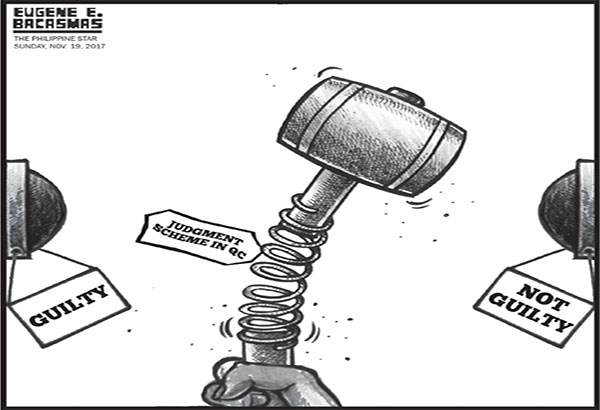 EDITORIAL - National Judgment Day
(The Philippine Star) - November 18, 2017 - 4:00pm
That was an impressive display of swift justice the other day in Quezon City. More than a hundred inmates of the city jail were brought to the Hall of Justice, where the resolution of their cases was fast-tracked.
Even the eight who were convicted and turned over to the Bureau of Corrections should be glad that judgment was swift. The happiest, naturally, were those who were cleared and released – an initial 27 inmates, with the cases of about 30 others still under verification.
The exercise, now on its third year, is called National Judgment Day, and it shows that speedy justice is possible in this country. The swift adjudication is also a boon to the city jail, which has a capacity for only 1,000 inmates but currently houses 3,400.
Jail congestion and clogged court dockets are depressingly common across the country. The war on drugs filled local jails to overflowing, forcing inmates to take turns sleeping on floors and causing diseases to spread in detention cells packed like cattle cars.
Inmates, whether guilty or not, are not the only ones who suffer from the slow administration of justice. The country has gained notoriety for its snail-paced, inefficient and corrupted justice system. The problem has become a major hindrance to investments, entrepreneurship and development efforts. The weakness has also driven those deprived of justice to take up arms and join insurgencies.
National Judgment Day shows that delayed justice can be the exception rather than the rule. Obviously, not all cases can be resolved in one day. But other countries with brutally efficient justice systems have shown how quickly adjudication can be completed, with credible judgment rendered. Members of the Philippine judiciary together with the prosecution service should work to expand this initiative to include bigger and more complex cases. Every day should be National Judgment Day.