EDITORIAL - Third worst in Asia
November 10, 2017 | 4:00pm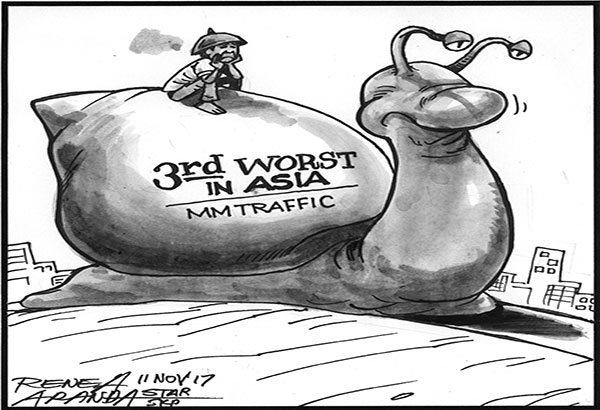 The previous administration believed traffic gridlocks indicated progress and a booming economy. In a way this is true, but chronic traffic jams also indicate mismanagement. And the inefficiency is costly. Studies have placed economic losses due to traffic jams in the billions annually.
In a recent survey, Metro Manila ranked as the third worst in terms of city traffic in Asia, behind Thai capital Bangkok and Indonesian capital Jakarta. The survey, commissioned by ride-sharing company Uber, was conducted in the past two months and covered about 300 commuters each in Bangkok, Vietnam's Hanoi and Ho Chi Minh cities, Hong Kong, Jakarta, Malaysian capital Kuala Lumpur, Manila, Singapore, Taipei and Indonesia's Surabaya. Hanoi and Kuala Lumpur ranked fourth and fifth worst in the survey.
Based on time wasted while stuck in traffic plus the impact on transportation costs, the survey estimates that traffic jams on city roads in Southeast Asia cost from two to five percent of gross domestic product every year. Traffic gridlocks also account for up to 80 percent of air pollution in the region, according to the study.
Manila residents have endured horrid traffic jams for many years now. Two years ago, users of the road navigation app Waze, participating in a survey for the Global Driver Satisfaction Index, picked Metro Manila as the worst place in the world to drive, with traffic making the average daily road commute more than 45 minutes. In Bangkok, the current average daily commute is 96 minutes.
The survey was commissioned by Uber to help pitch the virtues of ride-sharing, but it also highlights the need for better transport infrastructure especially as populations keep growing in Asia's mega cities. In Manila, this need must be met with urgency. The Metro Rail Transit 3 looks headed for a major breakdown and a long overhaul. When that happens, it will put an additional burden on the public transport system, aggravating traffic jams. President Duterte has promised to embark on a "build, build, build" infrastructure program. The public is waiting for this program to start taking off.