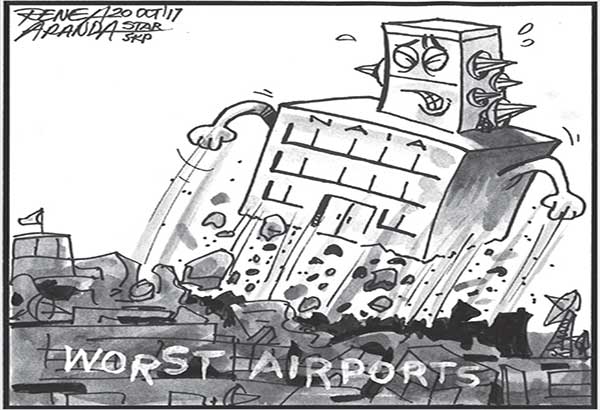 EDITORIAL - Now join the best
(The Philippine Star) - October 19, 2017 - 4:00pm
After hitting rock bottom, there's no other way to go but up. Never mind if it took some time: the Ninoy Aquino International Airport is finally out of the list of the world's worst airports. People voting in the popular travel website The Guide to Sleeping in Airports have excluded the NAIA from the world's 20 worst gateways.
The new team at the NAIA now has two missions. One is to remain out of the worst list. The other is to aim for entry into the ranks of the world's best. The state of disrepair of the NAIA Terminal 1, together with stories of extortion by airport personnel compounded later by the bullet-planting scandal, put the NAIA at the top of the worst list from 2011 to 2013. It improved to fourth worst in 2015 and eighth worst in Asia, and was rated the fifth worst in the region as of last year.
Betraying a failure to understand the functions of a modern airport, air transport officials in the previous administration said airports are not meant for sleeping. This was aggravated by the fact that the NAIA suffered in comparison with other main gateways in this part of the world. Asia is home to airports competing to be the world's best, among them South Korea's Incheon airport and Singapore's Changi, with airports in Japan, China and Taiwan also aiming for No. 1. Malaysia and Thailand are moving to catch up.
Renovations at the original NAIA terminal and the full operation of the NAIA 3 gradually improved travelers' perceptions of the NAIA. One of President Duterte's earliest moves was to put an end to the bullet planting.
The improvements, however, can be reversed. Long lines at NAIA immigration counters persist. Congestion continues to delay flights, whether taking off or landing. At the Centennial Terminal 2, the air conditioning breakdown is starting to rival the chronic glitches in the Metro Rail Transit 3. Staying out of the worst list is a continuing effort. Rankings are only as good as the last survey.