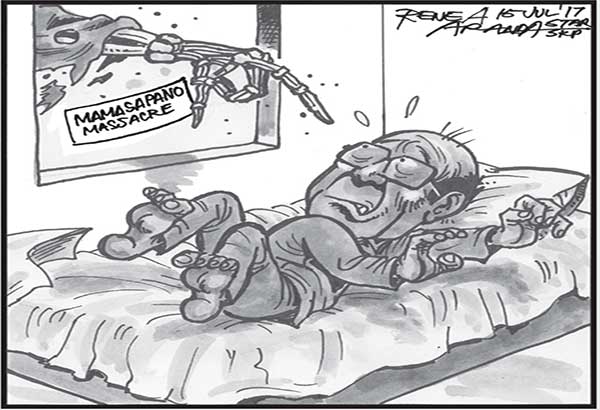 EDITORIAL - One step closer to justice
(The Philippine Star) - July 14, 2017 - 4:00pm
Over two years after the bloody encounter, the Office of the Ombudsman has ordered the indictment before the Sandiganbayan of former president Benigno Aquino III for the police raid in Mamasapano, Maguindanao that left 44 Special Action Force commandos dead.
Aquino is expected to seek a reconsideration of the order. He is accused of usurpation of authority and graft in allowing director general Alan Purisima, at the time suspended as Philippine National Police chief on corruption charges, to supervise the SAF operation in January 2015 to capture Zulkifli bin Hir or Marwan, an international terrorist with a $5-million prize on his head. Purisima and the SAF commander at the time, Getulio Napeñas, will face trial together with Aquino.
The charges against Aquino, Purisima and Napeñas are similar to the findings in the Senate probe on the raid, in which the 44 SAF commandos were killed by combined teams of the Moro Islamic Liberation Front, its supposed breakaway faction the Bangsamoro Islamic Freedom Fighters and members of a private armed group who were protecting Marwan and Filipino terrorist Basit Usman.
Aquino's camp said yesterday that the indictment appeared to be based on a "misappreciation of some facts" that led to "erroneous conclusions." Filing a motion for reconsideration is the right of the accused. Both the aggrieved parties and the accused, however, also have a right to speedy adjudication. It shouldn't take another two years for the ombudsman to decide on a motion for reconsideration and, if warranted, to forward the case to the anti-graft court.
In the past months, inordinate delays in filing cases by the ombudsman have been cited by several trial courts in dismissing various complaints against government officials. The Mamasapano case should not follow the same route. Aquino and his co-accused would want their innocence established based on facts and not due to a technicality. Relatives of the 44 slain SAF commandos, for their part, deserve speedy justice.
The Senate conducted an exhaustive inquiry into the circumstances surrounding the raid, preparing voluminous records of the probe. Once a motion for reconsideration is filed, the Office of the Ombudsman should resolve it with dispatch. There is no excuse for delayed justice in this case.