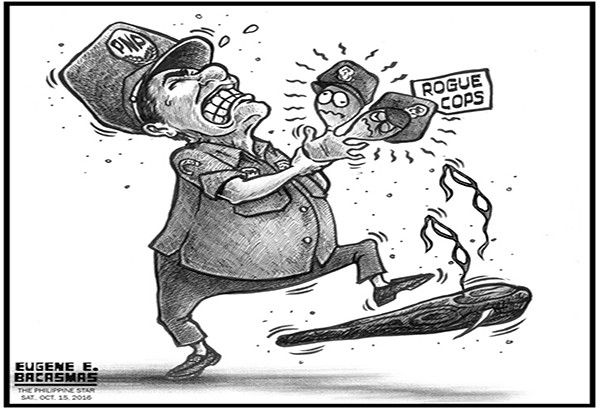 The Duterte administration has claimed responsibility for about half of over 3,500 deaths related to the drug war in the past three months, stressing that these were cases wherein the suspects resisted and forced the arresting officers to shoot in self-defense. The government has maintained that it does not condone extrajudicial or vigilante killings.
So authorities must come down hard on any police officer suspected of summarily executing anyone and hiding behind the mantle of fighting the drug menace. There are indications that this was the case in the murder of Zenaida Luz late last Sunday night in Oriental Mindoro.
Luz was no drug dealer but the regional officer of the Citizens Crime Watch, who organized livelihood projects for drug dependents who wanted to reform. She reportedly received a text message from a man claiming involvement in killings and seeking her help to protect his wife and child. When Luz went out of her house to wait for the man, a motorcycle pulled up and one of the riders opened fire, killing her. A barangay chairman witnessed the attack and alerted the police, who chased the gunmen.
After a brief firefight, the police collared the gunmen. To their surprise, the suspects – one wearing a bonnet and hooded jacket and the other a wig and mask – turned out to be Senior Inspector Magdaleno Pimentel Jr. of the provincial police Public Safety Company and Inspector Markson Almeranez, police chief of Socorro town in the province.
The good news here is that the two have been sacked and charged with murder and multiple attempted murder for shooting at the arresting cops. But the case tends to validate fears that the vicious war on drugs, with police authorized to shoot to kill under certain circumstances, is encouraging vigilante killings perpetrated by police themselves.
Fears have also been raised about encouraging the spread of "cardboard justice," in which even personal grudges not related to drugs are settled through murder. The killers get away as long as they portray the victim as a drug offender, through messages scrawled on cardboard.
The best way to reassure the public that such abuses are not tolerated is by conducting a thorough probe of at least the most blatantly questionable killings. If the Internal Affairs Service of the Philippine National Police is overwhelmed by the sheer number of cases, the National Bureau of Investigation can be tapped for assistance. If the administration insists on the legitimacy of its brutal war, it must make sure that abuses are discouraged, the innocent are protected and justice is served.