Legacies of war: Comfort women continue their struggle
January 24, 2016 | 9:00am
In 1942, when Maria Rosa Henson was only 14 years old, she was caught while gathering firewood by a Japanese officer and two other soldiers, and brutally raped. Two weeks later, it happened again. In her anger, she joined the anti-Japanese Hukbalahap guerillas, only to be captured after a year and taken to a garrison in a converted hospital, where she encountered six other women.
She and the other women were forced—under threat of death—into a state of continual sexual slavery. "Sometimes 12 soldiers would force me to have sex with them and then they would allow me to rest for a while, then about 12 soldiers would have sex with me all over again. There was no rest; they had sex with me every minute. That's why we were very tired. They would allow you to rest only when all of them had already finished."
She died in 1997, at the age of 70.
This week, our president will host Japanese Emperor Akihito and Empress Michiko on their first state visit to the Philippines—symbolizing our close existing ties—that will include visits to war memorials honoring World War II's fallen Japanese and Filipino soldiers. Not surprisingly, our country's few surviving "comfort women" and their advocates are looking askance at both governments.
Last month, a deal between Japan and South Korea was reached, finally addressing the demands of South Korean comfort women, who had also been victims of sexual slavery by the Japanese military during the Second World War. The agreement included an apology by Japanese Prime Minister Shinzo Abe and an $8.3 million fund for survivors. Many thought it was indeed a momentous event for women's rights advocates and for the hundreds of thousands of comfort women who had suffered during this period.
Records show that over 200,000 women and girls—not only from the Philippines and Korea but also such far-flung countries as Burma, Australia, Taiwan, China, the Netherlands, Nauru, Vietnam, Timor, and Malaysia—were forced into sexual slavery during World War II. Many of them were forcibly transported to military camps or garrisons and repeatedly raped throughout their period of confinement.
But survivors and advocates alike greeted the agreement with protests, decrying that the "victory" was far from what they had hoped for—for Japan to admit legal responsibility and pay formal reparations to both living and dead comfort women.
In a media interview, Christine Ahn—founder and executive director of Women Cross DMZ, a global movement of Nobel Peace Laureates, feminist authors, peace activists and human rights lawyers for peace in South Korea—said that the Japan-Korea deal was a travesty and that it only sought to silence the South Korean government and the surviving halmonies (Korean grandmothers) themselves.
Still, the halmonies have at least been acknowledged as victims—with their government representing them in the agreement. But what about our lolas (grandmas), the Filipina comfort women who endured decades of neglect on their own? How far from "victory" are they? And how has the Philippine government helped them in their elusive quest for justice?
??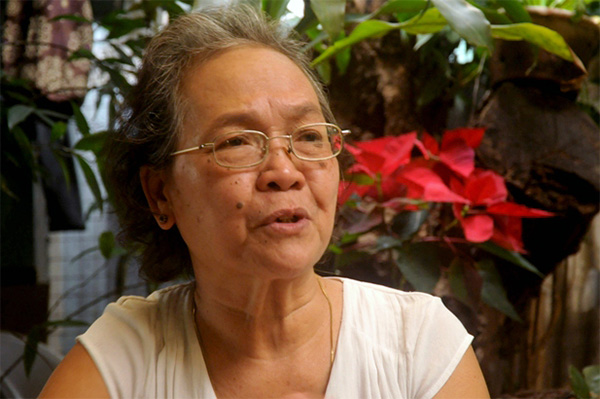 ??
Extremadura recounts the struggles of the lolas. HDPRC
"The legal battle is over for the lolas," Rechilda Extremadura reveals with a heavy heart. "We have lost all our battles in court and have nowhere else to go."
Extremadura—a comfort women's rights advocate for over two decades—is the executive director of Liga Ng Mga Lolang Pilipina (Lila Pilipina), an organization of former comfort women and their advocates. She explained that Lila Pilipina's members filed individual suits in Tokyo's District Court in 1998, but lost. The same cases were filed before the appellate court of Japan, but were dismissed in 2000. Upon elevating the case to Japan's highest court, they lost in 2003. In the United States, they also filed a class suit in the District of Columbia's District Court in 2000, but that case was dismissed with finality in 2006.
Despite recognition by the United Nations, Lila Pilipina has not won a single battle in court. The UN has called upon Japan's government to provide effective redress to victims of wartime sexual slavery during World War II, yet over the years it "has failed to pursue a comprehensive, impartial and lasting resolution."
In this country alone, Japan established about 30 comfort stations, in which an estimated 1,000 victims were sexually enslaved. About 174 lolas came out as comfort women in the 1990s. Today, 104 have already died, and only 70 remain alive. Heart-breaking, indeed, to learn that the battle for the lolas is almost over as they, one by one, go to their graves with the terrible grievances they've suffered still, tragically, un-redressed.
For the lolas themselves, it remains a battle well-fought; they've spent every moment of their twilight years fighting for their rights—seeking the justice they deserve. But did the government exhaust all possible options to fight for the lolas?
"Not much has been done for the lolas," Lila Pilipina's Extremadura claims. "When we lost the case in Tokyo District Court in 1998, we were told that our case was a state matter. We would have had a better chance of winning if the government had helped us out." But it didn't.
"When President (Benigno) Aquino was still in Congress, he was very supportive of the plight of the lolas," Extremadura said, "When he was elected as president, he was even quoted by the Japanese media in 2010 that he (knew) the issue very well ('I recognize that this is a neglect of the past administration and I am bound to correct it now')," she quotes the president. However, according to Extremadura, that support didn't go very far—their subsequent request for a dialogue was turned down.
Human Rights lawyer Atty. Harry Roque shares Extremadura's sentiments, expressing dismay at the government's apparent lack of concern for the comfort women. "Are Filipinas raped and ravaged by the Japanese Imperial Army during World War II any less human than their South Korean counterparts? What is our government doing about the case of the Filipino comfort women whose claims against Japan have remained pending?"
Atty. Roque stood as lawyer to the Malaya Lolas—a group of comfort women who survived the Mapanique, Tarlac siege during World War II—when they filed a petition to the Supreme Court in 2004; the petition, however, was dismissed in 2010.
Not all has been lost, however. During the time of FVR, the Philippines did manage to get some sort of recognition—albeit unofficial—of Japan's responsibility for our comfort women. In her own way, my own mother, former Senator Leticia Ramos-Shahani, struggled to make them aware of their obligations. By working with Japanese women parliamentarians, she achieved a breakthrough of sorts when she secured a grant of $21 million to build the TESDA Women's Center. A succeeding generation of women, especially those who are poor and disempowered, has since been able to receive training to develop further skills to enable them to gain employment and take advantage of new work opportunities. Of course, this was neither an official apology nor an adequate form of reparation, but it was at least an example of what could be accomplished if Filipina and Japanese women, moving forward, decided to work together on an issue of common concern.
??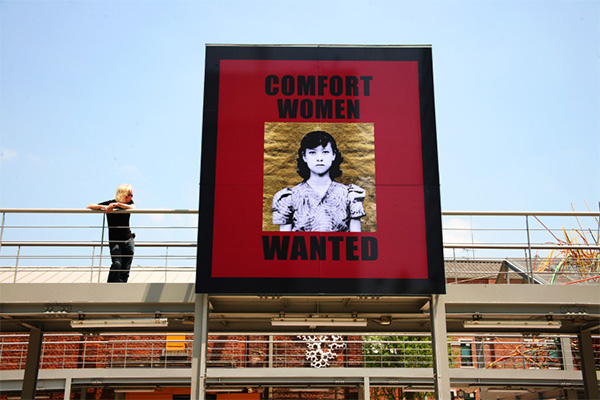 ??
Chang-Jin Lee, "Comfort Women Wanted," the Incheon Women Artists' Biennale, Korea, 2009. Photo courtesy of the artist.
In a recent press conference, President Aquino said that he was "considering" raising the comfort women issue during the Emperor's visit. "We were told before that Japan's obligation then (to the Philippines) had apparently been fulfilled. But we've got nothing to lose if we ask them to help us."
Should the president's statement spark a glimmer of hope in the hearts of the lolas? Our president's public support for them before the Emperor and Empress of Japan could be very powerful symbolically. On the level of realpolitik, however, our chances at a resolution—even one as deficient as the Korean agreement—remain tenuous. The geopolitical and economic power differentials between the Philippines and Korea—from the point of view of Japan—are simply too great.
The Emperor, we should also remember, is the son of Emperor Hirohito, under whose "Showa" period a sense of ethnic Yamato superiority hardened into an ideology that led to multiple war crimes—under the banner of the "Greater East Asia Co-Prosperity Sphere." Moreover, Emperor Akihito is only one political leader in Japan. At present, Prime Minister Abe and his Liberal Democratic Party (LDP) are aggressively pursuing a highly nationalistic and militaristic agenda that includes a great deal of historical revisionism. Japan itself is split along these lines and we are simply not as important to the ruling LDP agenda as Korea is.
Despite these present circumstances—and the past's disheartening losses and neglect—advocates, and the remaining lolas themselves, continue in a spirit of unwavering courage. Extremadura quotes Lola Virginia—now in her late 80s—about why she will not stop fighting for justice: "We have been living with this kind of pain for so long. We learned to live with our pain. We struggled, we survived until now but we will never stop fighting because we are doing this for the future generation. So that they will not have the same pains we do."
The lolas aren't getting any younger—they are dying one by one. It seems disheartening that all their—and our—attempts to seek redress from the Japanese government, let alone support from various administrations—have failed. No official apology is likely ever to come; nor anything by way of compensation. We can easily imagine the men in both governments thinking: "But these are all old women. They'll die in another five or six years. Then the problem will go away. So why should we bother? In the larger scheme of things, their lives don't matter."
But this is precisely the issue. Do the lives of the lolas' matter? Are they worth commemorating? Usually we reserve such acts for heroes, overwhelmingly male, who have stood up to defend the country. But aren't the lolas heroes as well? Not only did they survive the vicious onslaught of Japanese forces, suffering as much, if not more, tortuous treatment experienced by guerillas. They also survived to tell their stories and seek accountability from both the Japanese and Philippine government.
It is this survival and tenacity against great odds that are worth celebrating. Living deeply wounded lives, they could have easily just given up. Instead, they have persistently cried out for recognition and reparation in the face of brutal indifference. Surely, their stories of enslavement and survival, and their unflagging attempts to be heard and compensated can only be inspiring.
They, too, are national heroes.
And if neither the Japanese nor the Philippine state can acknowledge this fact, then we who have been moved by their lives, are obligated to do so. Together with Lila Pilipina and other sympathetic groups, we should find ways to gather and publish their stories, so future generations can read them. We should build a memorial in their honor, perhaps in the Libingan ng mga Bayani or at the National Museum, and include them in the commemoration of heroes days. Their travails should be written into history textbooks and depicted in films. The Philippine Commission on Women could perhaps coordinate these efforts.
Given the sad history of failure to seek recognition from all of the above, the lolas' lives can only matter if we who care about them make it so and convince others to do so. Recognition from peers, rather than from those in authority is perhaps a way to move from a tragic history of oblivion to an ethic of care. In that way, we can begin to provide hope not only for the lolas, but for others who struggle for social justice.