Caught in the storm of progress: IPs in Sarangani
As Christmas draws near, I thought I would share an experience that had a deep personal impact on me. Recently, my staff and I went to Sarangani for a team-building exercise, and we were struck by its lush and pristine beauty. In that three-day trip (during which we were guests of the gracious Governor Steve Solon and his lovely wife Michelle), we were able to visit two indigenous people (IP) communities—the Blaans in Malungon and the T'bolis in Kiamba. Slowly, they recounted to us their many struggles in upholding their rights and preserving their complex and long-held traditions.
Sarangani, which belongs to Region 12 or the SOCCSKSARGEN (South Cotabato, Cotabato, Sultan Kudarat, Sarangani and General Santos) region in Mindanao, is among the provinces in the country with the most culturally diverse populations. It has about six IP groups—the Blaan, T'boli, Tagakaolo, Manobo, Kalagan, and Ubo. The Blaans characterize the largest minority in the province: they are distributed in five of the seven municipalities of Sarangani. In fact, 37% of the population on the municipality of Malapatan are Blaans.
Two months ago, lumads from various provinces across the country trooped to Manila for the 2015 Manilakbayan. Most of them traveled by land and by foot to reach the city, hoping to gain support for their call to government to end the alleged militarization and killings in lumad communities. For several weeks, their fight for land ownership and against violence were headlined in the news.
During our visit, however, things seemed relatively peaceful. As Fred Basino, a Blaan and the first Indigenous Peoples Mandatory Representative (IPMR) of Sarangani, put it, killings and violence are isolated cases in their province, but this is not to say that the IPs do not face deep challenges of their own. Their struggle has to do with the recognition and preservation of culture; a struggle that may not be as violent, but one that may be equally difficult and disheartening.
Basino detailed the various challenges that IP communities in Sarangani face today. He said that even his journey to be officially declared as IPMR was a struggle. "It took me three years before I was able to sit as IPMR. Although it was in the law that IP communities have the right to representation, many LGUs routinely fail to abide."
Basino was referring to Republic Act 8371 or the Indigenous Peoples Rights Act of 1997, which was enacted into law during the term of then President Fidel V. Ramos. This law provides IP communities with the right to participate fully at all levels of decision-making in matters that may affect their rights and lives. It also provides them to have mandatory representation in all policy-making bodies and legislative councils.
In an interview with the media a few months ago, Atty. Adolf Ryan Lantion, hearing officer of Region 12's National Commission on Indigenous Peoples Region, said that LGUs that failed to have an IPMR could face criminal charges. He added that, although some LGUs had valid reasons (lack of funds and difficulty in the selection process) for not appointing an IPMR, they are still not excused.
Basino added: "I don't understand the essence of it being mandatory when LGUs are not strictly monitored whether they implement it or not." He observed that having an IPMR in the local government is supposed to help the LGU understand the concerns of IPs. Thus, the IPMR serves as the voice of the entire IP community.
He noted that all IPMRs are given a maximum of three terms, with three years for each term. He assumed office last November, which means his term will expire in 2018. After him, representatives from the T'boli and Tagakaolo will take over for the next two terms. "Since there are three major IP groups in Sarangani—T'boli, Blaan, and Tagakaolo—we decided to have term-sequencing. As a Blaan, I will take the first term, then I will be followed by a representative of the T'boli, then the Tagakaolo. That way, we all have equal opportunity to exercise leadership and serve our fellow IPs."
Today, one out of eight municipalities and 60 out of 140 barangays are yet to have IPMRs in Sarangani.
And since provincial government programs for IPs remain unclear, Basino plans to introduce amendments to certain local regulations and pass a resolution for a sustainable development agenda for IPs. One of the issues they hope to address is large-scale mining. This is a particular cause for concern, especially when mining firms reportedly seek the assistance of the Mines and Geosciences Bureau to declare portions of ancestral domain as mineral reserves, effectively undermining the IPs' right to Free and Prior Informed Consent so they can extract the minerals there.
In the meanwhile, Lyn Buti Lambago, the founder and overall teacher at Lemuhen Cultural Dance Troupe in Kiamba, described the struggle T'bolis faced in trying to keep their traditions alive. The troupe started in October 2007 with only seven performers. She was encouraged by then Mayor Rommel Falgui to teach children and organize a group of performers and artists. The mayor was also generous enough to donate their first instrument, the Tnonggong (a small T'boli drum). He also gave them 10 sets of T'boli outfits for girls and five for boys.
??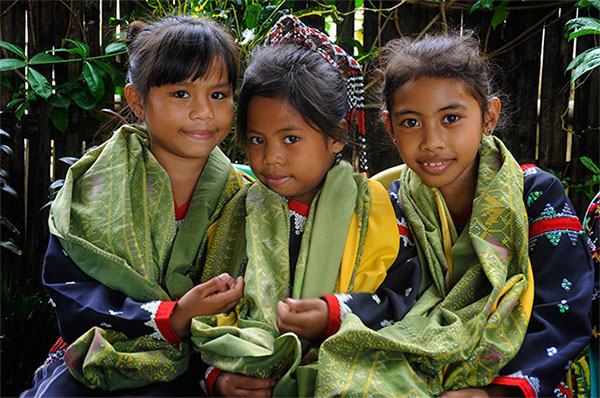 ??
HDPRC
Today, there are 41 children that are part of the dance troupe—25 in elementary, nine in high school, two in college (but are not able to continue their schooling due to a lack of finances) and two out-of-school. Lyn also shared that there were four former members who quit because they got married early.
She observed that one of the problems in engaging the children has to do with the lack of incentives given to them. Many have difficulty in finishing school due to a lack of financial support.
Lyn, who only finished second-year high school herself, remains well aware of how important her role is in preserving their natural heritage. "I only want to teach children our rich culture. I want them to learn and realize the importance of preserving it and passing in on to the next generation of T'bolis. I want them to appreciate and not feel embarrassed by our traditional dances, clothing, and music. I want them to be proud to be T'boli," she said.
However, Lyn admitted that it was also difficult to engage young T'bolis nowadays, especially with the emergence of technology in IP communities. "Some are pre-occupied with the internet, television, and cellphones, and can barely concentrate… Because of cellphones, four of our members got married very early. They found textmates. Some also engaged in more adult activities because they saw (these things) on television."
But IP stories in Sarangani are hardly gloomy and hopeless. The Blaans in Malungon, for instance, have been successful in preserving their culture and providing opportunities for the community. They maintain the Lamlifew Village Museum, the first village museum in the country inaugurated by the National Museum in 2007. It was initiated by the Lamlifew Tribal Women's Association, the first duly SEC-registered cultural organization completely initiated and operated by an IP community. The women in Lamlifew Village set up a cooperative-style beading workshop and have worked to promote and enhance skills in ikat-dyeing and weaving, with the help of women elders.
??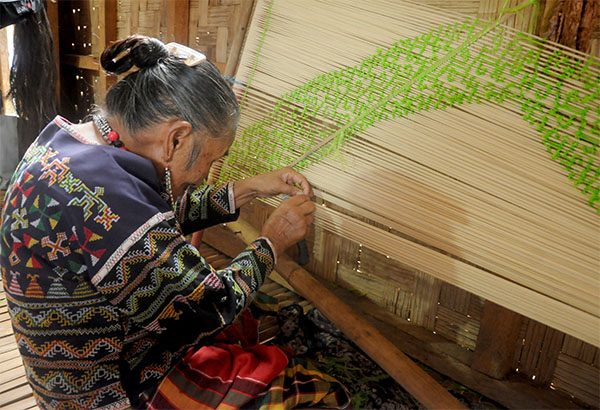 ??
One of the remaining master weavers in Sarangani is found in the Lamlifew Village Museum. HDPRC
For years, the village has been in partnership with the provincial government's Indigenous Peoples Development Program, which is the first Philippine provincial government office created to focus on the well-being of IPs. The provincial government of Sarangani is known for promoting and upholding the rights of IP communities. In fact, IP rights and welfare are among the ten primary programs of Sarangani, otherwise dubbed the "Sulong Tribu Program." This program initiates and supports sites that are schools of living traditions for Blaan, Tagakaolo and T'boli. It also helps promote cultural enterprise through tourism where tour guides, local catering, museum and souvenirs become a means of income for the community, similar to what has been extended to the Lamlifew Village Museum.
??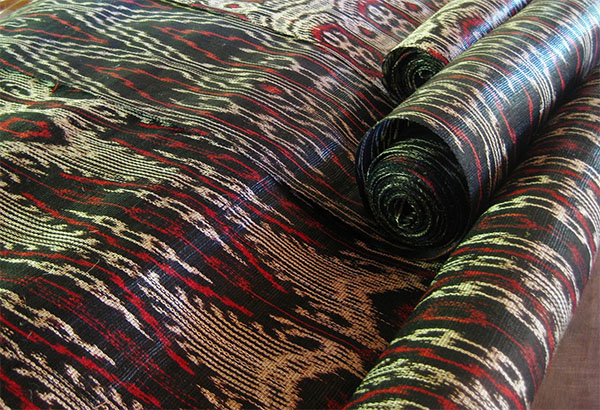 ??
The intricate design of the T'nalak cloth are traditionally woven by T'boli "dream weavers"—it is believed that they conceive the patterns for the weaving through their dreams. Photo by Joan Sugal
According to Michelle Solon—President of both the Sarangani Provincial Tourism Council and Region 12 Tourism Council, and the governor's wife—the provincial government has always been supportive of the IP communities. In fact, many IPs have worked for the provincial government, both for rank-and-file and elective positions. She also added that the governor himself sees the need to help the IPs improve the School of Living Tradition sites and strengthen cultural enterprise, as well as enhance their rice productivity. The provincial government also works closely with the Department of Education to increase the number of IP teachers and strengthen IP education.
??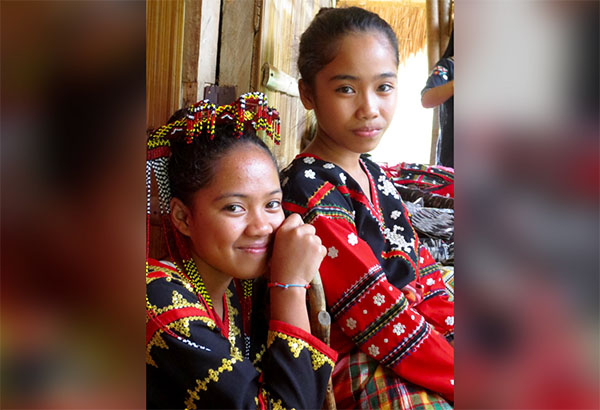 ??
The T'bolis in nearby Lake Sebu are equally admired for their beautifully-crafted clothes and beadwork. Photo by Vicente Rafael
The T'bolis in Sarangani and Lake Sebu, as well as other IP groups not only in Mindanao but in other regions of the country, have their own traditional narrative histories. It is unfortunate that some have begun to die because of a lack of financial and political support not only from the government but from the communities themselves.

Of course, it can be argued that the integration of IPs into the LGU bureaucracy may be a cure that is, in fact, worse than the disease itself. Political assimilation that endows some with authority over others may at some point lead to the erosion of cultural values that include an egalitarian regard for the collective. However, given the precariousness of IP life, it behooves the state to provide them with the means with which to protect and advance their interests. Thus: the Catch-22 that increasingly confronts indigenous peoples in the country today.
Still, Sarangani remains among one of the most breathtaking places in the country. But more than its stunning views, it is the people and their traditions who are the lifeblood of the province. And it is precisely their way of life that is constantly being threatened by the surging storms of progress. They seek, with whatever resources they have, to stem this tide, and to transform it for their benefit. We, both inside and outside of government, bear a responsibility to help them.