Why Aquino, Putin wore 'Star Trek' tunics at APEC
November 11, 2014 | 6:08pm
MANILA, Philippines — Social media on Tuesday threw around comments pointing similarities between the world leaders' silk shirts at the Asia-Pacific Economic Summit (APEC) and Star Trek characters' costumes.
Leaders from the 21 Pacific Rim member-economies arrived for the welcome dinner hosted by Chinese President Xi Jinping and his wife, Peng Liyuan, on Monday night and posed for the traditional collective photo.
Are world leaders meeting at APEC or a Star Trek convention?! pic.twitter.com/Eo4HqPIkLD

— Tom Steinfort (@tomsteinfort) November 10, 2014
compare please. #APEC2014 pic.twitter.com/bIuqyew4UV

— Kris Cheng (@krislc) November 10, 2014
Philippine President Benigno Aquino III stood beside Russian President Vladimir Putin wearing the same shade of purple and Brunei Darussalam Prime Minister Sultan Haji Hassanal Bolkiah, whose suit was of a dark brown color.
Wearing the host's national dress for the annual "family photo" has been an APEC tradition. As this year's summit was set in Beijing, China, the fashion choice was a modified, pocketless version of the Mao suit.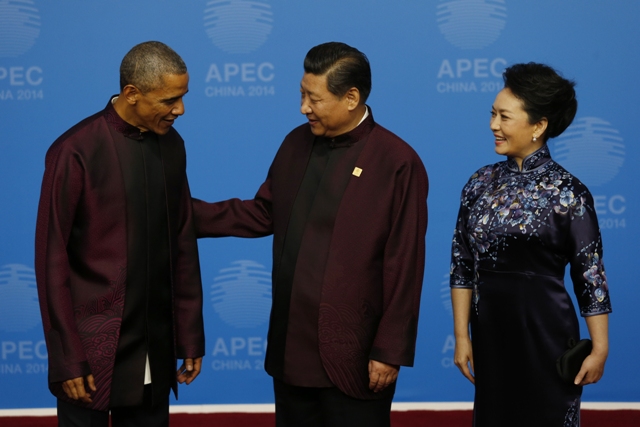 United Sates President Barack Obama, left, is greeted by Chinese President Xi Jinping who is hosting a welcome dinner for APEC leaders, and his wife Peng Liyuan, at the Beijing National Aquatics Center in Beijing, Monday, Nov. 10, 2014. AP/Ng Han Guan
The Mao suit, which can be traced back to Chinese revolutionary Sun Yat-sen's designs, became a symbol of proletarian unity regularly worn by party cadres, according to the University of Washington's Visual Sourcebook of Chinese Civilization.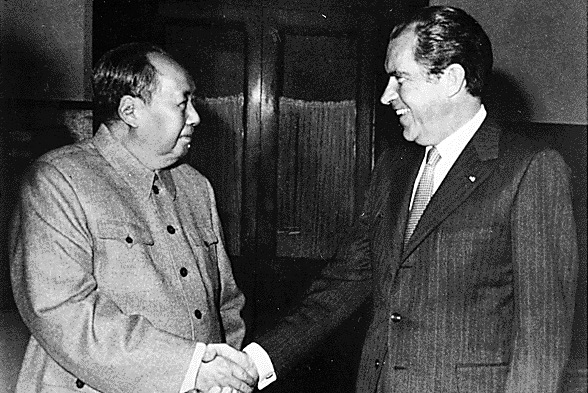 Chinese Communist Party leader Mao Zedong meets US President Richard Nixon in 1972. US National Archives
While the Mao suit is occasionally worn in formal occasions by Chinese officials, it has become rarer as days passed.
The APEC tradition, meanwhile, began when former American President Bill Clinton gave participating leaders bombadier jackets at the APEC meeting in Seattle.
World leaders also wore the Barong Tagalog during the 1996 summit in the Subic Bay, Philippines.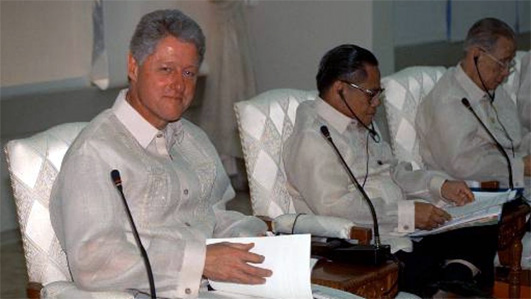 Former US President Bill Clinton, along with other world leaders, wear the Philippines' traditional barong tagalog during the 1996 APEC Summit in Subic Bay, Pampanga. AP/Joe Marquette