Fake cop shoots homeless man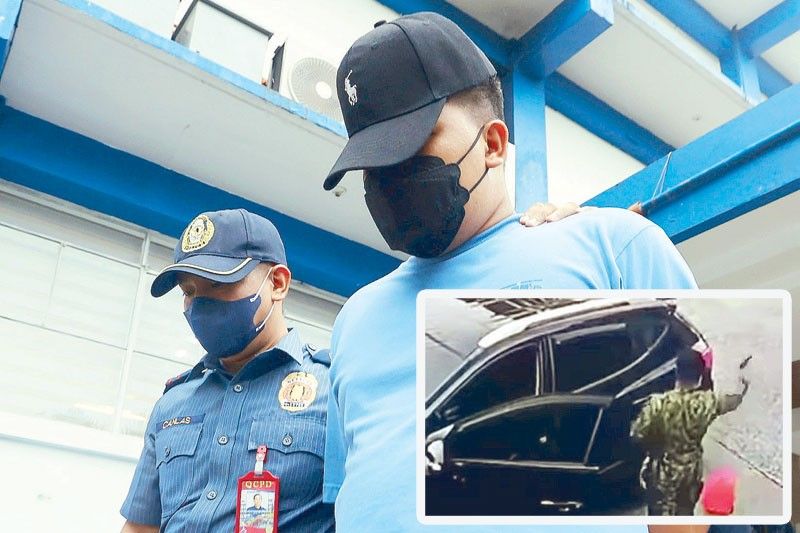 MANILA, Philippines — A man posing as a police officer, who was caught on video shooting a street dweller in Quezon City over the weekend, was arrested on Monday.
Aurelio Ramos IV, 25, was apprehended at his residence in Barangay Don Manuel at around 9 p.m., according to Quezon City Police District (QCPD) director Brig. Gen. Remus Medina.
Ramos was apprehended by operatives of the QCPD Station 11 after he was caught in a surveillance video shooting a street dweller at the corner of D. Tuazon and Lourdes Castillo streets at around 6:10 a.m. on Sunday.
In the video shown on GMA News, Ramos was driving a sport utility vehicle when the homeless man approached his SUV.
The victim spat on Ramos' SUV, which prompted the suspect, who was in a police uniform and armed with a handgun, to alight from his vehicle and try to confront the victim.
As the man walked away, Ramos shot the victim then returned to his vehicle and sped away.
Concerned citizens rushed the victim to a hospital for treatment of a gunshot wound on his shoulder.
Lt. Col. Richard Ian Ang, station commander, said they were able to track Ramos down after coordinating with the Land Transportation Office.
Under interrogation, Ramos admitted he is not a policeman and that he only bought the police uniform online.
"Nalaman namin hindi pala totoong pulis ito (We found out he is not a real police officer)," Ang said in an interview aired over GMA News.
Charges of frustrated homicide, illegal use of ranks or insignia and violation of Republic Act 10591 or the Comprehensive Law on Firearms and Ammunition are being readied against Ramos.