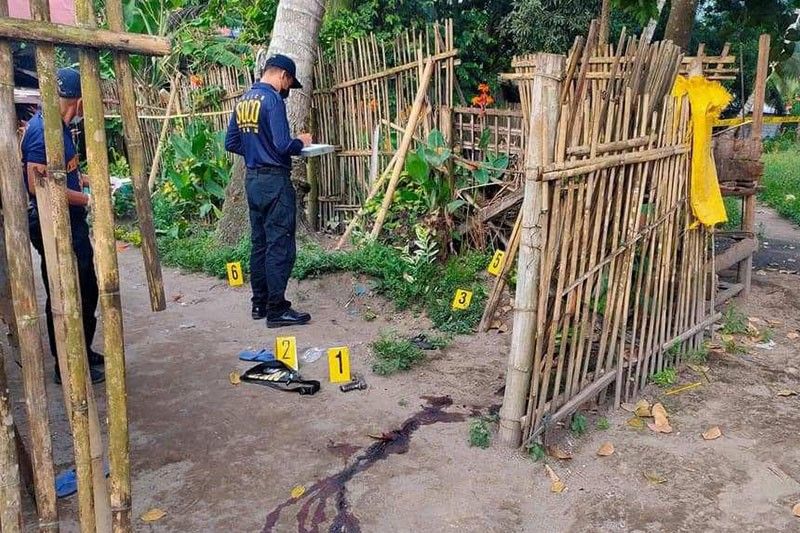 Two members of ISIS-inspired Dawlah Islamiya were killed in a police operation in South Cotabato on Tuesday.
John Unson
South Cotabato authorities bracing for Dawlah Islamiya retaliatory attacks
John Unson
(Philstar.com) - April 9, 2021 - 11:43am
SOUTH COTABATO, Philippines — Authorities are anticipating a possible retaliation by the Dawlah Islamiya following the death of two key members in a police operation in Polomolok town in South Cotabato last Tuesday.
Police Col. Jimuel Siason of the South Cotabato provincial police said Friday the slain Dawlah Islamiya members, Jorhan Utap and Mohaimen Utap, are wanted for acts of terror, drug trafficking and fabrication of improvised explosive devices used in recent bombings in central Mindanao.
He said a police team was to peacefully serve the duo warrants for their arrest but neutralized them instead when they resisted.
Responding police forensic experts found a pistol each and empty bullet shells beside their remains.
Army and police intelligence sources said the slain Dawlah Islamiya members had links with the outlawed Bangsamoro Islamic Freedom Fighters operating in central Mindanao's adjoining Maguindanao, Sultan Kudarat and North Cotabato provinces.
The Dawlah Islamiya, operating in the fashion of the Islamic State of Iraq and Syria, has a reputation for venting ire on civilian targets to avenge deaths of members in clashes with pursuing state security forces.
Major Gen. Juvymax Uy of the Army's 6th Infantry Division said Friday military units in South Cotabato and General Santos City are working along with the Police Regional Office-12 in guarding against possible attacks by companions of the two Dawlah Islamiya members killed in gunfight with policemen in Polomolok on April 6.
Uy said Army intelligence agents have been deployed in strategic areas to complement the security initiatives of the South Cotabato provincial police.
As It Happens
LATEST UPDATE: May 13, 2021 - 1:34pm
The last Plebiscite Committee leaves the distribution center in Buluan, Maguindanao for Tamontaka in Cotabato City a little past 6 a.m. on Monday as the first day of the plebiscite on the Bangsamoro Organic Law starts on Monday, January 21.
Today is #BangsamoroPlebiscite Day. Big day for everyone. Good luck to all. https://t.co/lBdPD90Ehb pic.twitter.com/0LQltCm1Ze

— COMELEC (@COMELEC) January 20, 2019
Commission on Elections spokesman James Jimenez said over the weekend that as high as 75 percent of the more than two million voters from Autonomous Region in Muslim Mindanao (ARMM), as well as the cities of Isabela in Basilan and Cotabato in Maguindanao are expected to go out and cast their votes.
A second plebiscite day is set for February 6 for areas in North Cotabato and Lanao del Norte.
May 13, 2021 - 1:34pm
Police agents seized two assault rifles and shabu from five men caught playing cards with hefty cash bets in Datu Odin Sinsuat town Wednesday.
Suspects Al-Muslimin Lauban, 33, Recto Mindalbus, 50, Mohammad Usman, 24, Bagundang Hadji Salik, 29, and the 39-year-old Kevin Gogo, are now in the custody of the Criminal Investigation and Detection Group-Bangsamoro Autonomous Region.
Police Maj. Esmael Madin, CIDG-BAR's provincial officer for Maguindanao, said Thursday they arrested the five men only for illegal gambling, but found out that they have two assault rifles, an M16 and an M14, in their hideout.
CIDG-BAR agents also found shabu in their trouser pockets.— The STAR/John Unson
May 11, 2021 - 2:43pm
The police are now in custody of two alleged members of the Bangsamoro Islamic Freedom Fighters believed involved in occupying the public market of Datu Paglas, Maguindanao over the weekend.
Jerwali Salem Zabel and Nasrullah Abdullah Walingan were turned over late Monday by the Moro Islamic Liberation Front to the Criminal Investigation and Detection Group-Bangsamoro Autonomous Region.
Police Major Esmael Madin, CIDG-BAR's provincial officer for Maguindanao, said Tuesday, the suspects were cornered by MILF members helping the military locate the BIFF gunmen who stormed the market of Datu Paglas on Saturday morning. — The STAR/John Unson
May 8, 2021 - 3:37pm
The provincial government of Sulu temporarily bans the holding of Eid'l Fitri congregational or group prayers and other public and private social gatherings following the spike of COVID-19 active cases in the province.
The prohibition was contained in Executive Order No. 5 – 2021 issued by Sulu Gov. Abdusakur Tan Sr., chairman of Sulu Task Force COVID-19, following a meeting and consultation with the Muslim religious leaders and concerned agencies. — The STAR/Roel Pareño
May 5, 2021 - 4:35pm
The military reports that the threat posed by the Islamic State-inspired Abu Sayyaf group has significantly declined in Basilan, Sulu and Tawi-Tawi, all island provinces under the Bangsamoro Autonomous Region in Muslim Mindanao.
This was presented by Western Mindanao Command (Westmincom) chief Lt. Gen. Corleto Vinluan Jr. as he paid a courtesy call on BARMM Chief Minister Ahod Ebrahim last Monday in Bangsamoro regional center in Cotabato.
Vinluan, with key commanders from the joint task forces in the region, made his visit to inform the BARMM chief minister of the security situation and the development challenges in the province of Sulu, an island which is gradually being cleared from the presence of the Abu Sayyaf group. — The STAR/Roel Pareño
May 2, 2021 - 10:53am
Local officials in three towns surrendered unlicensed firearms Saturday in compliance with the government's disarmament campaign as part of the Mindanao peace process.
In a statement Sunday, the Army's 103rd Infantry Brigade said the unlicensed firearms were voluntarily turned over by owners to the 82nd Infantry Battalion based in Barangay Pawak in Saguiran, Lanao del Sur.
The firearms the 82nd IB collected — a 12 gauge shotgun, a .50 caliber Barrett sniper rifle, a 7.62 millimeter sniper rifle, two launchers for 40 millimeter grenades, a KG9 machine pistol and a .38 caliber revolver — were surrendered by local officials in Buadipuso Buntong, Ditsaan Ramain and Bubong towns in Lanao del Sur.
Lt. Gen. Corleto Vinluan, Jr., commander of the Western Mindanao Command, on Sunday lauded the local executives for turning in their unlicensed firearms to the 82nd IB. — The STAR/John Unson