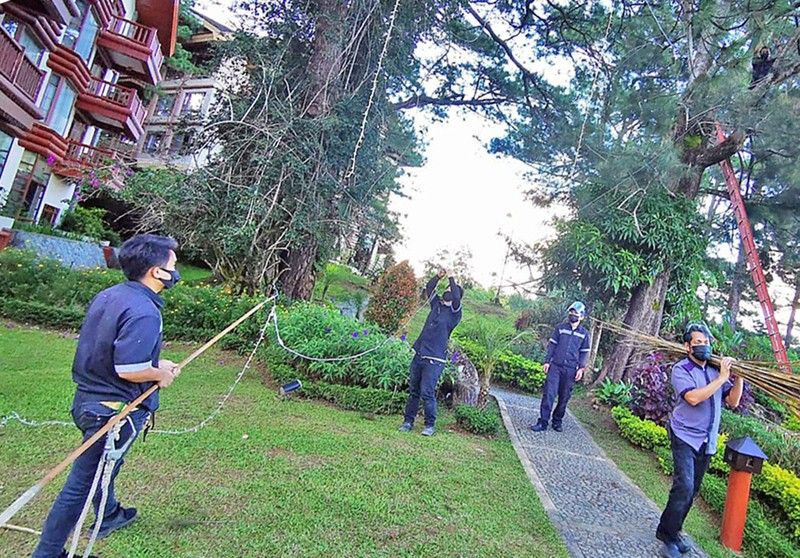 Workers install Christmas lights and decorations in the premises of a hotel in Baguio City yesterday.
Andy Zapata Jr.
Baguio to accept tourists from more Luzon regions
MANILA, Philippines — With restrictions on local travel eased, Baguio City will accept visitors from three more regions in Luzon.
Tourists from Metro Manila, Cagayan Valley and Central Luzon can visit the summer capital starting on Oct. 22, the Department of Tourism announced during a post opening assessment held in the city yesterday and attended by Tourism Secretary Bernadette Romulo-Puyat, Mayor Benjamin Magalong and other tourism stakeholders.
Puyat welcomed the decision of the city government to open its doors to more tourists in a bid for a faster recovery of the industry.
She maintained that a maximum of only 200 guests per day would be allowed to ensure proper visitor management.
Earlier this month, Baguio opened its doors to tourists from La Union, Pangasinan, Ilocos Sur and Ilocos Norte, which are part of the Ridge and Reef travel corridor.
Puyat said new health and safety measures would be finalized with the technical working group of the Inter-Agency Task Force for the Management of Emerging Infectious Diseases or IATF.
The DOT said documentary requirements in the digital platform Baguio Visitor Information and Travel Assistance would be eased.
At least 2,000 have registered and 200 travel requests were made through the online portal since it was launched on Sept. 22.
Meanwhile, the city health office warned the public against Baguio's signature chill, saying it could result in more coronavirus disease 2019 or COVID-19 cases.
Health services office chief Rowena Galpo said residents and visitors should keep themselves warm and dry during the cold months aside from keeping a healthy lifestyle and observing minimum health protocols.
"The prevalent chilly weather may possibly become a factor for the increase in COVID-19 cases in Baguio," Galpo said.
Baguio logged 40 cases on Friday, with two deaths and 16 recoveries.
The city has 525 active cases.