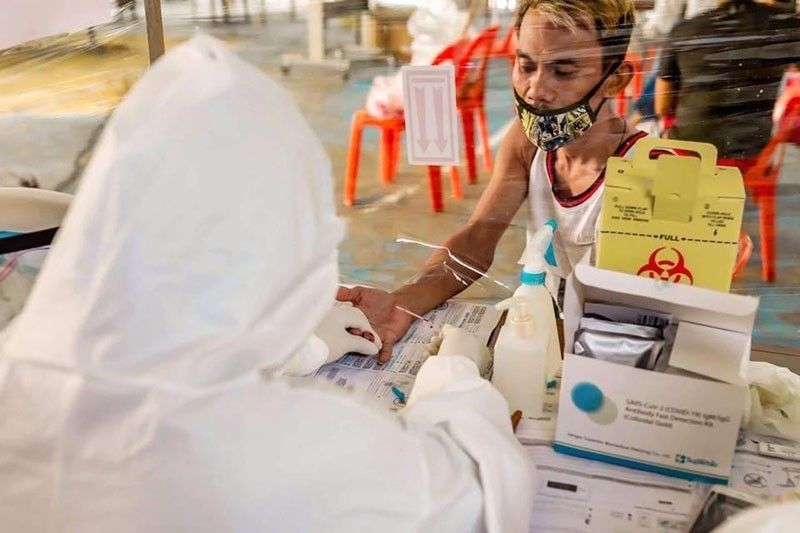 A Quezon City resident undergoes rapid testing for COVID-19 under Go Negosyo's Project ARK in partnership with Mayor Joy Belmonte.
STAR/File
4,800 tests conducted in Quezon City under Project ARK
MANILA, Philippines — Presidential adviser for entrepreneurship and Go Negosyo founder Joey Concepcion yesterday lauded Quezon City Mayor Joy Belmonte for the local government's strategy in mitigating the spread of the coronavirus disease 2019 or COVID-19.
More than 4,000 rapid tests have been conducted in the city under Project ARK (Antibody Rapid test Kits).
"I commend Mayor Joy Belmonte for doing this project successfully. It's a great accomplishment for Quezon City," Concepcion said.
He said 4,141 rapid tests were conducted in Barangays Kalusugan, Doña Aurora, Immaculate Concepcion and Kristong Hari.
Of the number, only 20 people were IgM positive while 642 were IgG positive, which means they have had the virus but were able to recover and build antibodies.
Concepcion said convalescent plasma could be a potential therapy for COVID-19.
He said 137 tested IgG/IgM positive and 30 were symptomatic.
A total of 186 people were ordered to undergo the Reverse Transcription-Polymerase Chain Reaction (RT-PCR) swab testing.
Project ARK medical team leader Dr. Minguita Padilla also lauded Belmonte.
Belmonte expressed her gratitude for Project ARK.
"We are great believers in testing," Belmonte said in an online press conference, adding the city government has established six community-based testing facilities.
Led by Concepcion, Project ARK partners with private companies and business conglomerates in the country to ramp up both rapid and RT-PCR testing.
Test kits used in Quezon City were donated by private sector partners GT Capital Holdings Inc., William Belo of Wilcon Depot, RFM Corp. and Joseph Lim Bon Huan of the Federation of Filipino Chinese Chambers of Commerce and Industry Inc.
To date, Project ARK has generated more than 1.2 million rapid test kits from close to 300 companies.
It also conducted close to 30,000 tests in partnership with the local goverments of Pasig, Taguig, Makati and Antipolo to bring mass testing down to the community level.