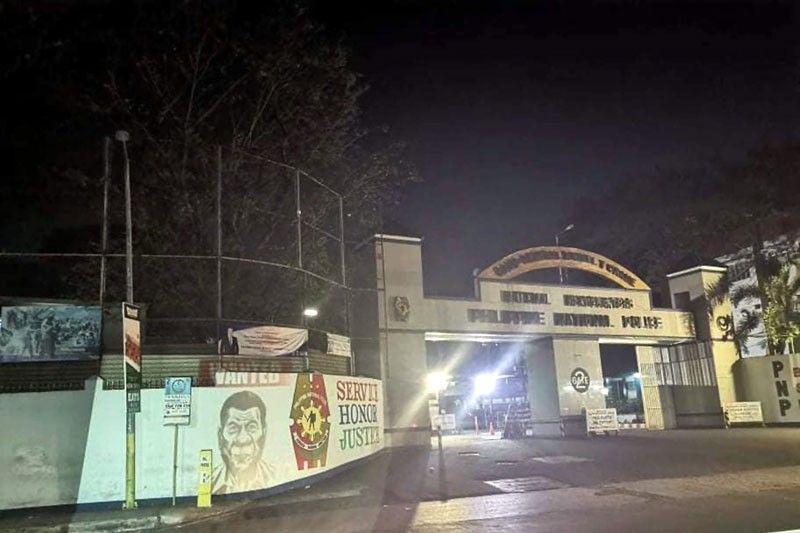 An image portraying President Duterte as a terrorist and fugitive is projected onto the wall of Camp Crame on Feb. 24.
Concerned Artists of the Philippines' Facebook post.
PNP hits artists' group over digital graffiti
MANILA, Philippines — The Philippine National Police (PNP) yesterday deplored the Concerned Artists of the Philippines (CAP) for "digital graffiti" it displayed on the walls of Camp Crame on the eve of the 34th anniversary of the EDSA People Power Revolution on Monday.
PNP spokesman Brig. Gen. Bernard Banac said the image posted on the walls of the country's main police camp, a national historical site of the bloodless revolution, was an "expressive attack" made by the artists' group on their institution.
"Although the vandals did not leave any visible mark, the fact that the attack targeted a national historical site on the same day that the country commemorates the anniversary of the EDSA People Power Revolution makes it totally deplorable," he said in a statement.
By using projectors, the CAP posted digital image of a wanted poster of President Duterte. In a statement on Facebook, the artists' group said the digital graffiti is their way of denouncing the various human rights abuses being committed under the current administration.
The artists' group said it is also part of its collective campaign to expose the government's accountability for the successive attacks on freedom of expression and public participation, civil and human rights, socio-economic and environmental rights and democracy.
While they respect people's right to freedom of speech, Banac said the CAP went overboard with its act.
"Much as we respect the freedom of the vandals to express their sentiments, we believe this freedom has limits and must not step beyond national interest," he said.