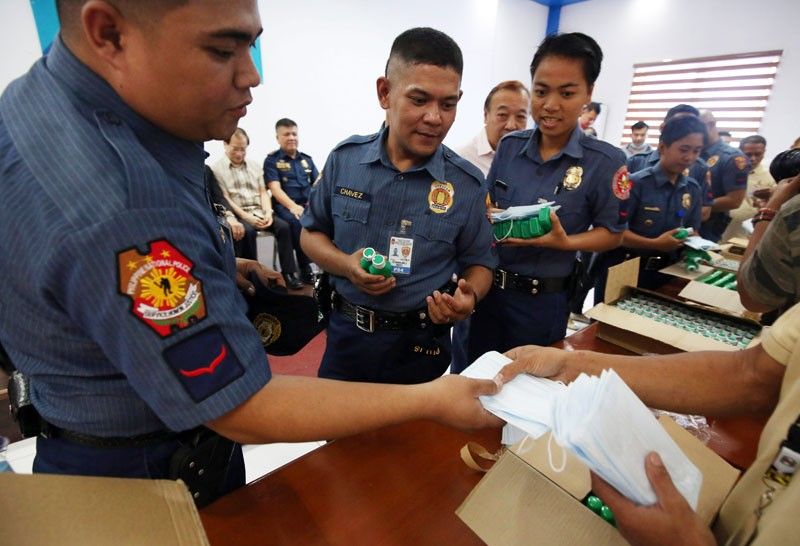 Officers and personnel of the Manila Police District receive bottles of rubbing alcohol and face masks donated by the Philippine-Chinese Charitable Association Inc., Chinese General Hospital and Medical Center, and Filipino-Chinese General Chamber of Commerce Inc. yesterday.
Krizjohn Rosales
Skip the test, CSC examinees with flu symptoms told
MANILA, Philippines — The pen and paper test of the Civil Service Commission (CSC) will push through at 66 testing centers nationwide next month despite concerns over the coronavirus disease-2019 or COVID-19.
The CSC advised examinees with flu-like symptoms to skip the test as a precautionary measure.
At least P295,700 individuals will take the exam on March 15, the CSC said.
Among those told to skip are examinees who recently returned from China and its special administrative regions or other countries covered by the government's travel ban.
The CSC also prohibits from taking the exam those who had recent contacts with persons confirmed or suspected to have COVID-19.
It said these examinees could be accommodated in the next schedule, which is in August.
The examinees should notify the CSC regional office where they filed their applications about their new exam schedule.
Examinees who will take the test on March 15 were advised to take self-protection measures before and on the day of the exam.