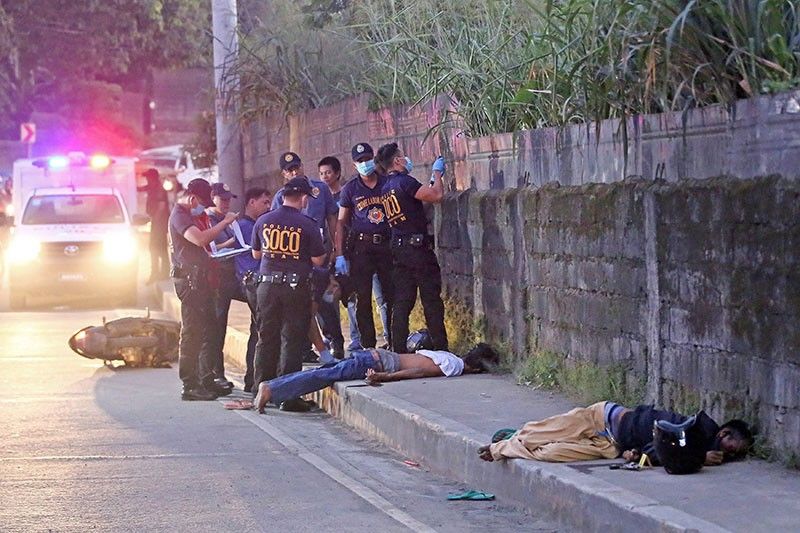 Investigators examine the scene of an alleged shootout between suspected robbers and police officers at the corner of San Jose street and Payatas Road in Quezon City yesterday.
Miguel De Guzman
4 suspected robbers slain in Quezon City shootout
MANILA, Philippines — Four still unidentified men, suspected to be robbers, were killed in an alleged shootout with police officers in Quezon City before dawn yesterday.
Col. Ronnie Montejo, Quezon City Police District (QCPD) acting director, said the encounter took place in Barangay Payatas at around 2:45 a.m.
The police official said the suspects and four other cohorts were being pursued by policemen after they robbed a gasoline station at gunpoint at the corner of San Jose street and Payatas Road.
The robbers posed as customers and robbed a gasoline attendant and a cashier of a convenience store.
The suspects took about P19,000 in cash and P22,000 worth of cell phone load cards. They sped off towards Molave street, where they were spotted by lawmen from QCPD Station 6.
Instead of surrendering, the suspects opened fire at the police officers, triggering a shootout. Four of them died at the scene while the other four escaped on two motorcycles.
Police have yet to identify the slain suspects, estimated to be between 25 and 35 years old. Three .38 caliber revolvers, a .22 caliber revolver, six sachets of methamphetamine hydrochloride or shabu, and P2,200 – believed to be their share of the loot – were found in the suspects' possession.
"The victims identified the slain suspects as the same persons who robbed them," Montejo said.