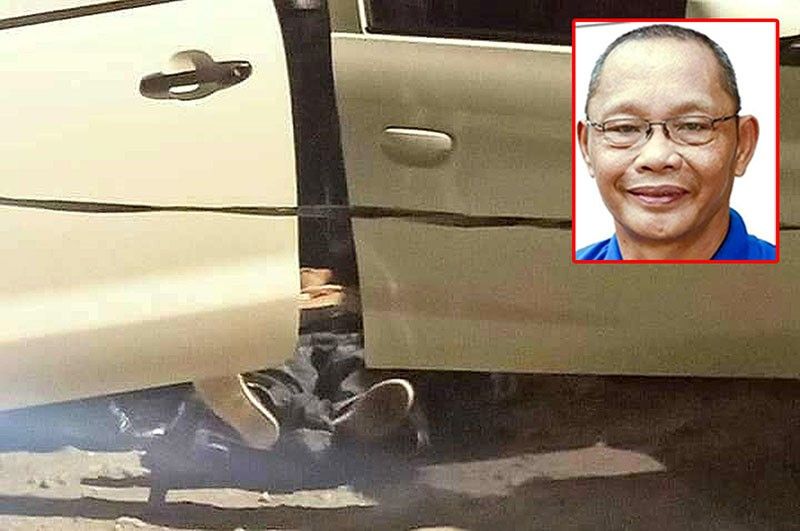 Broadcaster Eduardo Dizon was killed in an ambush in Kidapawan City last July 10 by gunmen riding a motorcycle together.
Philstar.com/John Unson
Suspects in Kidapawan broadcaster's slay indicted for murder
John Unson
(Philstar.com) - September 19, 2019 - 2:47pm
KIDAPAWAN CITY, Philippines — A state prosecutor has filed cases against four suspects in the July 10, 2019 murder of a broadcaster who was critical of the controversial KAPA money market scheme.
The slain broadcaster, Eduardo Dizon of the Brigada FM station here, was on his way home from nighttime work when gunmen on a motorcycle shot him while inside his car, killing him in the spot.
Dante Encarnacion, also known as Bong Encarnacion and Bong Tabusares, and alleged accomplices, Junell Jane Andagkit Poten, Hilario Cavan Lapi, Jr., and Sotelo Jacolbe, Jr., were named respondents to the Dizon murder case based on a September 13 resolution by acting Kidapawan City prosecutor Mariam April Mastura-Linsangan.
Encarnacion was then coordinator and endorser of KAPA through a radio program over a station here that the National Telecommunications Commission closed down several weeks later for operating without a permit.
Encarnacion has reportedly bolted for still unknown reason from KAPA, founded by Joel Apolinario, and launched this week his self-styled religious bloc, the Universal Church of God.
Mastura-Linsangan's resolution was logged in her office as XII-04-INV-2019 G-00138 and was, subsequently, docketed as Criminal Case 5281-2019 at the Regional Trial Court in Kidapawan City on Wednesday.
Mastura-Linsangan stated in the resolution that only respondent Poten, alias Junell Gerozaga, from among four suspects, failed to present a counter-affidavit for the complaint against him.
The slain Dizon and co-workers in the Kidapawan-based Brigada FM station had reported to the local police weeks before he was killed that pro-KAPA broadcasters had threatened to harm him for his commentaries against its operation.
President Rodrigo Duterte ordered the KAPA shut in late July for violations of regulations of the Securities and Exchange Commission and the Anti-Money Laundering Council.
"The facts and circumstances are sufficient to engender a well-founded belief that murder has been committed and that the respondents probably committed it. The respondents' defenses should be threshed out and properly ventilated in Court during trial." Mastura-Linsangan said in the resolution, apparently referring to the documents pertaining to the case that she evaluated.
She said respondent Lapi has availed of the Witness Protection Program and will help in the litigation of the case as a witness.
A number of reporters in Kidapawan City earlier signed a manifesto insinuating, as if a judicial ruling, that Jacolbe was innocent of the criminal offense imputed on him.
The manifesto became controversial when other media groups assailed its content and expressed apprehensions on its adverse effect if the prosecutor finds probable cause to prosecute Jacolbe and the other suspects implicated in the murder of Dizon.
Members of the largest media organization in central Mindanao, the Kampilan Press Corps covering the activities the Army's 6th Infantry Division, said they are grateful to the Presidential Task Force on Media Security in Malacañang for initiating interventions needed to put closure to the murder of Dizon.