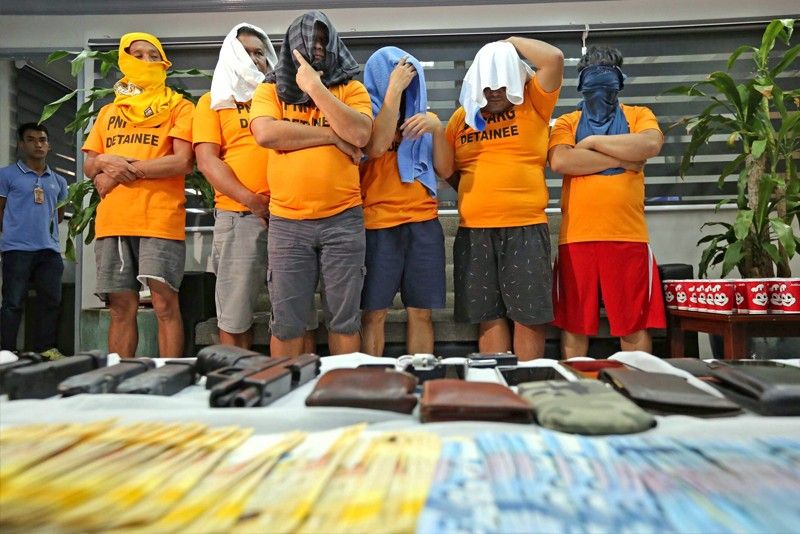 Six alleged members of a loan shark syndicate are presented in a press conference at the Anti-Kidnapping Group's headquarters at Camp Crame yesterday.
Boy Santos
8 nabbed for kidnapping in Parañaque, Pasay
MANILA, Philippines — Eight men, including two Chinese, were arrested in separate kidnapping cases in the southern part of Metro Manila, the Philippine National Police Anti-Kidnapping Group (PNP-AKG) said yesterday.
In Parañaque City, Deng Shiwu, 30, and Ou Jiamin, 28, were arrested on charges of kidnapping with serious illegal detention last Monday for allegedly detaining their compatriots Li Ning and Yang Yang at a casino resort and hotel.
AKG spokesman Lt. Col. Elmer Cereno said the victims borrowed one million renminbi worth of casino chips from the suspects on Saturday, then forced them to borrow more money when they wanted to leave after gambling the chips away.
When the victims woke up the following day, they were surprised upon seeing the suspects sleeping in their room, blocking the door.
They called their friend in Beijing, who in turn, alerted the hotel's security personnel.
Meanwhile, six men were charged with the same offense after they allegedly kidnapped two businessmen who owed them P2 million last Sept. 6.
Alleged loan shark syndicate members Reynaldo Parolina, 41; Rico Castillo, 45; Nathaniel Aragon, 35; Christopher Bagro, 38; Francis Reyes, 41, and Melvin Culala, 39, reportedly snatched Eugenio Santos, 39, from his house in Quezon City and Alvin Bangug, 45, from a casino in Parañaque City, Cereno said.
It turned out the victims borrowed P2 million from Culala, supposedly for a business partnership, according to Cereno. Santos admitted he lost the money when he gambled at a casino resort and hotel.
Asked what prompted him to use the money for gambling, Santos said he wanted to earn P300,000 as they needed more money for their proposed investment in a cigarette business.
"I needed P2.3 million," he said in Filipino.
The victims claimed they had no other option but to comply with the suspects' demands as their respective families were under threat.
Santos' family agreed to give the suspects a land title as a collateral but already informed the AKG, which in turn conducted an entrapment.