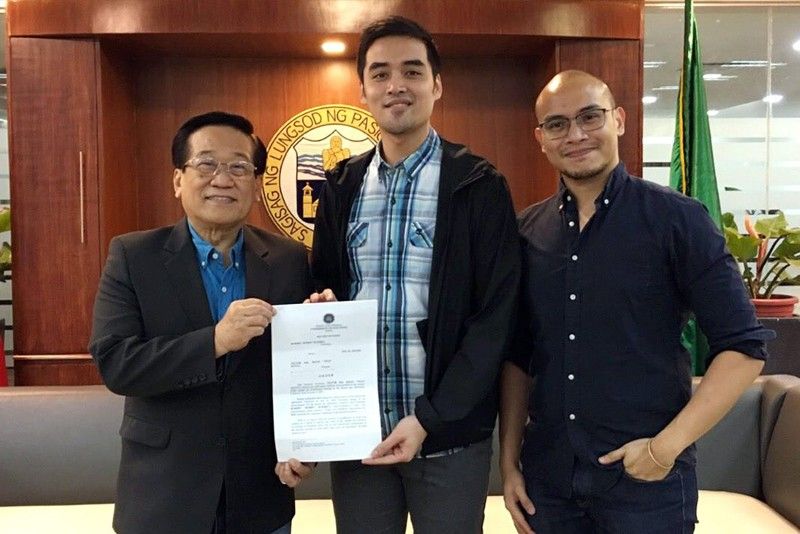 Pasig City Mayor Vico Sotto receives from his lawyers Romulo Macalintal (left) and Emil Maranon an official copy of the Commission on Elections order dismissing the poll protest filed against him by former mayor Robert Eusebio.
Comelec junks poll protest vs Vico Sotto
MANILA, Philippines — The Commission on Elections (Comelec)'s Second Division has dismissed a poll protest filed against Pasig City Mayor Vico Sotto by his rival, former mayor Robert Eusebio.
In a nine-page order dated Aug. 30, the division ruled that Eusebio's protest against the results of the mayoral race last May was dismissed because it was "insufficient in form and content."
"It failed to reflect a detailed specification of the acts or omissions complained of showing the electoral frauds, anomalies or irregularities in the protested precincts," the order stated.
Commissioner Luie Tito Guia presides over the Second Division, which has Commissioners Socorro Inting and Antonio Kho Jr. as members.
In a statement, Sotto's lawyer Romulo Macalintal said the ruling is a welcome development.
"The early resolution of protest cases, especially when the vote-lead of the winner is insurmountable as in this case, will surely ensure political stability in the concerned local government units," Macalintal said.
Sotto garnered 209,370 votes against Eusebio's 121,556 votes, a difference of 87,500 votes that Macalintal described as "overwhelming and impossible to be overtaken by a recount of the ballots."
Eusebio alleged that voting machines malfunctioned and SD cards had glitches in some clustered precincts. He also accused Sotto of vote buying.
"The bulk of proofs attached to the election protest consist of sworn statements from supporters and watchers of protestant, which on closer examination do not support or provide specific details on the averments to which they refer to," the order stated.
The Comelec said these sworn statements can "be considered self-serving and one-sided in protestant's favor."
Macalintal said Sotto's case is the fourth election protest he handled involving the 2019 polls that was dismissed for being insufficient in form and substance.