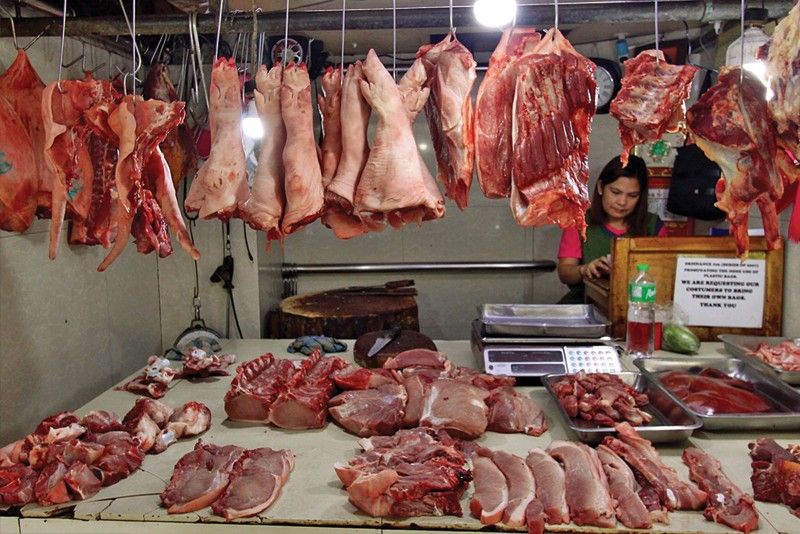 A woman sells pork meat at the Baguio City market on Wednesday.
Andy Zapata Jr.
'African swine fever caused pig deaths in Rizal'
MANILA, Philippines — The high pig mortality in three barangays in Rodriguez, Rizal was reportedly due to African swine fever (ASF).
A source told The STAR that ASF was the initial diagnosis of the Bureau of Animal Industry (BAI).
"They don't want to say it because they have to abide by the protocol," the source said. "I think they are being careful not to make a mistake. Japan, for one, made a wrong diagnosis last year."
The Department of Agriculture (DA) said it is waiting for the result of confirmatory laboratory tests.
Blood samples were sent to a laboratory in Europe to determine the cause of death of the animals.
In a television interview, Agriculture Secretary William Dar denied that the pigs died of ASF.
"It is a virus, but no name yet. I came from the science and development world, you have to be properly informed to make good decisions," Dar said.
"We are tracing some areas because there are pigs that were transported and transferred to other areas," he added.
BAI director Ronnie Domingo said the screening conducted by the agency is not enough to confirm that pigs died of ASF.
"We are waiting for final confirmation before we explain things to avoid panic," Domingo said.
Jason Cainglet, Samahang Industriya ng Agrikultura executive director, said the disease could have originated from imported meat products.
"We cannot pinpoint where... Until July, there have been imports from those included in the ban like Belgium. There was smuggling and airport measures have been lax," Cainglet said.
Initial investigation showed that 600 pigs raised by farmers in their backyards died while around 2,000 other pigs will either be culled or under surveillance.
Barangays Macabud, San Isidro and San Jose in Rodriguez have been quarantined since Saturday.
ASF is a highly contagious hemorrhagic disease of pigs, warthogs, European wild boar and American wild pigs. Mortality rates are high as 100 percent.
Intercepted
Meanwhile, authorities intercepted two trucks carrying pigs along the Tarlac-Pangasinan-La Union Expressway in Barangay Bobonan in Pozorrubio, Pangasinan on Wednesday.
The hogs came from Tarlac and were supposed to be delivered to La Trinidad, Benguet and Baguio City. The pigs were released to the owners after inspection by a quarantine officer.
Pangasinan Gov. Amado Espino III ordered a ban on the entry of pigs into the province amid the ASF scare.
In Bataan, Gov. Albert Raymond Garcia said checkpoints to be manned by representatives of the veterinary office aside from the police should be put up to prevent the entry of affected hogs. – With Eva Visperas, Raffy Viray