Manila bank robbed; inside job eyed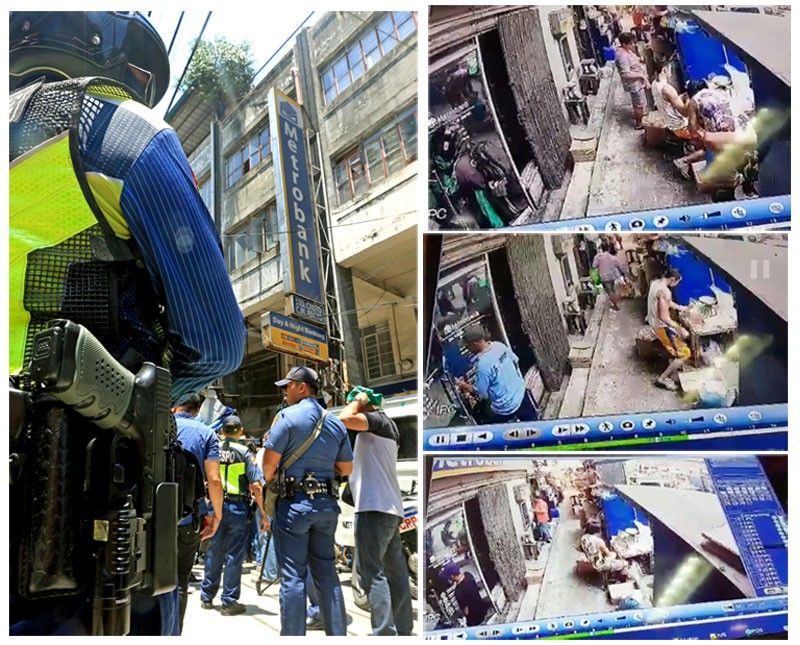 MANILA, Philippines — A Metrobank branch in Divisoria, Manila was robbed by at least seven men before banking hours yesterday morning, with someone in the bank seen in surveillance footage letting the robbers in.
A closed-circuit television (CCTV) video from a nearby store, obtained by The STAR, showed two men, one of them wearing a jacket and a helmet, knocking on the bank's doors at around 8:30 a.m., 30 minutes before the bank was due to open.
A few minutes later, another man wearing a green Grab jacket entered the bank, followed shortly by two more, while another stood on the sidewalk and acted as a lookout.
Metrobank said it "will be working closely with the Philippine National Police and other authorities to ensure that the perpetrators are apprehended."
It added that no clients were affected by the robbery and "all Metrobankers are safe."
Manila Police District (MPD) director Brig. Gen. Vicente Danao Jr. said the robbers stayed in the bank, located along Sto. Cristo street, for less than 30 minutes before leaving one by one carrying bags and speeding away on separate motorcycles.
He said the bank sent an alarm at around 9:18 a.m. and police officers from the MPD Station 11, several blocks away, arrived two minutes later.
"It seemed that the suspects knew where the CCTV digital video recorder (DVR) was hidden and they took it with them after getting the money. We are not yet sure how much was taken from the bank as we have just started our investigation," Danao, who was visibly upset after he was denied entry into the bank, said.
Danao and his team arrived after being informed of the heist but the bank's chief security officer, identified as Louie Opus, reportedly a retired general, stopped him from entering, citing Bangko Sentral ng Pilipinas (BSP) protocol.
A police major was heard telling Opus that "the mayor wanted him arrested" before handing him a cell phone to receive a call.
Opus then told Danao and Mayor Isko Moreno, who arrived at the scene, that they could enter the bank but the two declined.
"I do not understand why the bank would not allow access to the responding policemen. This is a crime scene. This is a police matter. The BSP should explain that," Moreno said.
Questions
Danao said there are questions that should not be overlooked by investigators.
"First, why did the people inside open the door to a stranger who was wearing a helmet before they could formally open business? How come that the robbers knew where the DVR was located? Why did it take them so long before they could sound the alarm?" he said.
An MPD investigator who interviewed bank personnel said the people in the bank were hogtied and the robbers knew their way around.
He said the first person who knocked on the door wore a security agency's polo on top of a blue jacket.
"Clearly, there was obstruction of justice here. We are now considering certain people in the bank as persons of interest. This is more than just a bank robbery," Danao said.
P1-M reward
Moreno offered a reward of P1 million to anyone who can give information that would lead to the robbers' arrest.
He also called on the robbers to "reconsider my offer and squeal on your cohorts and live a life on the reward that I am offering or suffer because we are going after you anyway." – With Jose Rodel Clapano, Lawrence Agcaoili